10 Ways to Make a Small Kitchen Feel Larger
November 23, 2020
The kitchen is often the heart of a household - it's an eating space, a sitting area, a cooking zone, and even sometimes a workspace. Your kitchen sees a lot of action, so it's easy for it to attract clutter and feel too cramped.


Luckily, there are several changes - both big and small - that can free up space in your kitchen. Below, we'll discuss a few ways to make a small kitchen feel roomier on just about any budget.


Demolition-Free Design Changes
Feeling claustrophobic in the kitchen, but not ready to knock out any walls just yet? Not to worry - there are a few small changes you can make to help your kitchen feel bigger without beating up your drywall.


1. Declutter Your Countertops
Tidying up your countertops is one of the easiest ways to free up space in your kitchen. This often means reorganizing your cabinets to be more space-efficient. Storage baskets or bins can be helpful in keeping things organized. If you end up needing more storage, refer to our shelving suggestions below.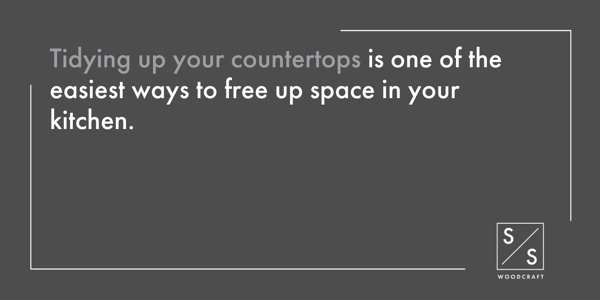 Small appliances are notorious for stealing your countertop space. Toasters, coffeemakers, kettles, and the like are often the cause of countertop clutter. To free up space, make homes for these items in your cabinets. Make sure to keep them somewhere accessible, especially if you use them a lot. Putting them away will make it so you have enough countertop space when they're not in use.
2. Use White Accents
The color white helps create the illusion of space in small areas because it reflects light. This doesn't necessarily mean you should rush to paint your walls or cabinets white - even adding smaller additions, like white dish towels and decorations, can help add light to your kitchen.


3. Add Mirrors and Reflective Surfaces
Like white, mirrors and reflective surfaces will reintroduce light into your kitchen and make it appear larger. Hang a mirror on the wall to create an optical illusion of a larger area. Choose reflective decorative elements to accentuate the space.



Weekend-Worthy Upgrades
If you have a bit of time to put into your updates, try one of these short-term projects.


4. Add Narrow Shelving Storage
Narrow shelves can be a great source of added storage for your kitchen - and, as an added bonus, they don't take up much space. Consider adding narrow shelving alongside your fridge or a large, pantry-style cabinet. The extra shelves will make room for small items without sticking out into your kitchen and creating visual clutter.


5. Incorporate a Rolling Bar Cart
Do you have way too many small items taking up space on your countertops? Place them on a rolling bar cart. You can move the cart to a part of the house where you have more space - the dining room, for example - and bring the cart to the kitchen when you need it.
Consider including items you'd often move back and forth - pitchers, serving dishes, platters, bottle openers, etc. Putting these wares on a cart will free up space on your countertops or in your cabinets, reducing clutter and adding a fun decorative piece to your dining space.

6. Paint Your Walls or Cabinets
Using light colors will help broaden your kitchen area, so if you have dark cabinets or walls, consider painting them. You can do this work yourself over a long weekend, or for even better results, let us reface or paint your cabinets for you.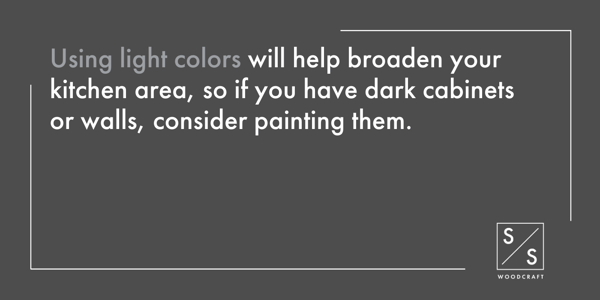 Full Kitchen Overhaul
If you're ready to revamp your kitchen entirely, think about making these big changes to maximize the space in your small kitchen.


7. Install Cabinets Up to the Ceiling
Ceiling-high cabinets are a smart option for extra storage and space efficiency. If you're planning on renovating your cabinets, make sure to take them all the way up to the ceiling. This will give you more room to store items that might otherwise take up valuable counter space, freeing up your work area and making your kitchen feel larger.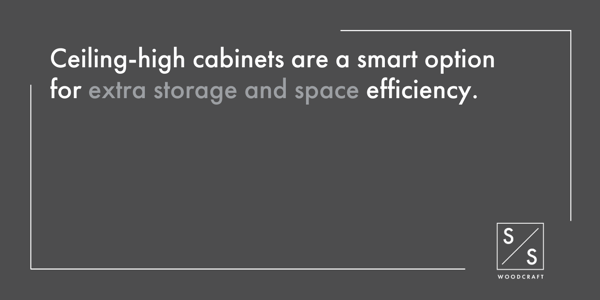 8. Add an Island
Putting in an island might seem like it would take up kitchen space, rather than increase it. However, a kitchen island can offer plenty of perks that will make your kitchen feel much bigger in the long run. Islands offer countertop workspace that will help you cook more efficiently. Islands can also include extra cabinets or appliance slots, or they can act as a breakfast bar - simply add barstools.
The versatility of an island makes it a great option for extending your kitchen and improving your space efficiency.


9. More Windows
Like we mentioned above, introducing light to a room is one of the best ways to make it feel larger. Adding or enlarging a window in your kitchen will let in more light and give the feeling of more open space. If you're willing to make a major structural change, then adding a window is a great option.


If you don't have the resources to put in a new window, consider making some improvements to the ones you have. You can simply replace any dark curtains with sheer varieties for a big impact. You may also want to consider removing any valances, cornices, or other bulky fabric above the window and opt for minimalistic shades to give the windows a clean, chic feeling and let in as much light as possible.


10. Ditch Your Galley Style Kitchen
Galley-style kitchens are common culprits when it comes to lack of space. These kitchens are naturally narrow, which makes it difficult to include an island or extra storage. If you're looking to move away from this layout, you can knock out a wall and extend your kitchen into another area of your house.


Ask For Help
If you're not sure how to take the next step in your kitchen renovation, schedule a design appointment with us. We can help you with anything from large-scale renovations to small cabinet changes.