When you're caring for your countertop, you're mostly looking after the sealant. The sealant coats your countertop and protects the material underneath. Countertops sealants can be either honed or polished. Honed countertops have a matte, natural finish, while polished countertops have a glossy look. Different countertop materials use certain types of sealants, which means you have to follow specific care directions.
We've prepared this guide so you can feel confident looking after your countertops for years to come. Follow along to learn the best strategies for cleaning and maintaining any type of countertop!

General Countertop Advice
No matter what type of countertops you have, some advice applies to all of them. There are a few general guidelines you should follow to keep any countertop looking great.
Don't ever set anything hot directly on your countertop. This includes pots fresh from the stove, hot pans, baking trays, and any other cooking tool that might burn the sealant. Although certain types of natural stone can withstand heat, the hot tools and pans can sear the coating. Without a hot pad, you can also end up with scratches from the textured bottom of pots and pans.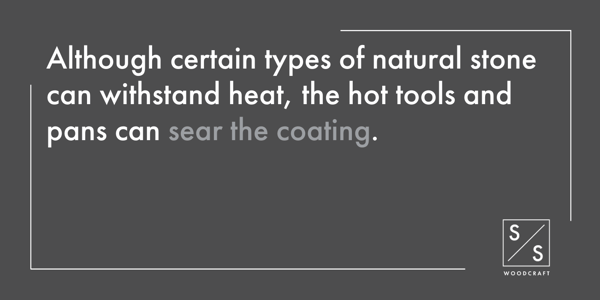 Don't slice or dice anything directly on top of your countertop. This even goes for butcher block countertops, which look like a big cutting board. Similar to cutting boards, butcher block countertops will eventually dent over time. Any type of countertop will accumulate marks if it comes in contact with a knife. To preserve the look of your countertops for as long as possible, always use a cutting board. BONUS: Your knives won't dull as quickly when you use a cutting board.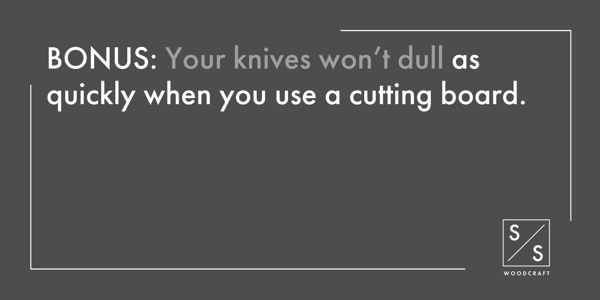 Different types of countertops need to be cleaned and sealed in specific ways. The sections below will discuss instructions for each type in detail.
Laminate
To clean a laminate countertop, wipe it down with soapy water or a kitchen cleaning agent. For laminate stains, apply a baking soda paste to the stain and wipe it off after a few minutes.
You can also use an all-purpose kitchen cleaner to clear away grease. If you're using store-bought cleaning products, it's best to use a solution specifically labeled for kitchens. If the product contains bleach or if you've never used it before, test a small portion before cleaning the whole countertop.
Laminate countertops typically don't need to be resealed. They can be re-painted or re-stained if you want to renovate them without changing out the materials.

Tile
When you install a tile countertop, you commit to caring for both the tile and the grout.
Clean your tile countertop with kitchen-specific cleaner, since soap can stick to tile and leave residue behind. If you do end up with residue on your tile countertop, you can use vinegar to clear it.
Go over your grout with a toothbrush or a grout-cleaning tool if it begins to look dingy. You can also buy grout-cleaning attachments for drills and multitools for easy cleaning. After you clean your grout, apply diluted bleach to protect against mildew.
You'll need to reseal unglazed tile with silicone every other year, but glazed tile doesn't need to be resealed after it's installed. Glazing your tile will make for a more manageable countertop, but you may prefer the matte look of unsealed tile. If so, just remember to seal your unglazed tile accordingly.
Granite
When cleaning, wipe down granite countertops with warm, soapy water. Chemical cleaners can degrade the sealant and cause scratches, so it's best to avoid them.
If you accidentally stain your granite, you can try removing it with a baking soda paste. Spread the paste to the stain and wait overnight, then wipe it off in the morning. If part of the stain remains, you may need to hire a countertop professional to remove it and reseal the spot. Never try to sand the stone yourself.
To determine whether your countertop needs resealing, try the water droplet test. Scatter a few water droplets on your counter and wait to see how fast they disappear. If the droplets are absorbed immediately into the countertop, it needs a few layers of sealant immediately. If they're absorbed after a few minutes, the countertop might need a single layer of sealant. If the water droplets aren't absorbed at all, your countertop doesn't need to be resealed!
Marble
Marble is one of the most striking - and delicate - countertop choices. It needs a lot of care, so make sure that you understand the maintenance obligations before installing it in your kitchen or bathroom.
You'll need to clean marble countertops daily to preserve the sealant. Use a soft, non-abrasive cloth and water anytime you're wiping down your marble countertop. Any cleaning products need to be pH-neutral so they don't leave behind marks or stains. Mild dish detergent is a great option for marble.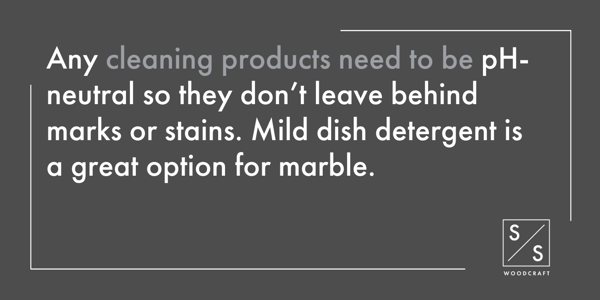 If you spill something staining or acidic on your countertop, wipe it up immediately. Common culprits are wine, fruit juice, tomatoes and tomato sauce, or soda. All of these substances can stain and permanently mark up your marble. If they do happen to etch the surface, this might need to be fixed professionally. The marble will need to be buffed and resealed to bring back its flawless finish.
To test the sealant, use the same water droplet test we mentioned for granite above. Marble sealant typically needs to be replaced more often, about every 6 - 12 months.
Quartz
Quartz countertops look similar to marble, but they require much less maintenance. Quartz is heartier than other natural stone materials because it's nonporous and won't etch if exposed to acids.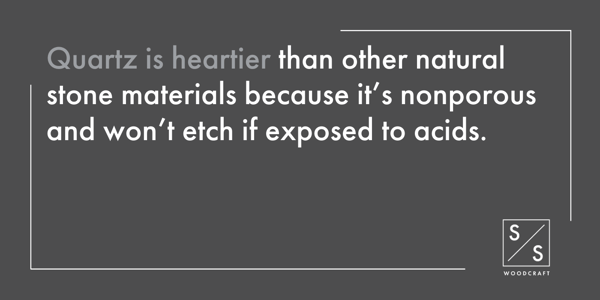 You can largely clean and care for quartz much like a granite countertop. Wipe it off using warm soapy water, and use baking soda paste to address stains. Many busy homeowners love quartz because they never need to reseal it.
Butcher Block
Next to marble, butcher block is one of the most high-maintenance countertop materials. Homeowners love it for its natural appearance and apparent utility, but butcher block countertops are not always as durable as they seem.
Wipe butcher block countertops with a damp cloth to clean them. You can scrape off some spilled foods - like dough or flour - with a razor blade. Any stains will need to be sanded off, which will lighten the surface of the sanded area. We recommend that you condition your butcher block countertops with mineral oil every time you clean them. This helps keep the wood moist and prevent it from staining. Oiling the countertops will also lessen any contrast between sanded and unsanded areas.


Final Thoughts
Countertops are an integral part of the kitchen. Most people do a lot of meal prepping on their counters, so it's essential to understand how to keep them in great shape for years to come. Still have questions about countertop care or which surface is right for your needs? Get in touch, or visit our showroom here in Cold Lake., AB (just a short drive from Edmonton).