Finding the Right Contractor: 6 Questions to Ask Before Renovating
July 20, 2020
Planning an extensive renovation can be equal parts exciting and stressful, which is why it's important to have an attentive contractor by your side throughout the process. Your contractor should listen to your design ideas, offer helpful guidance, and provide quality craftsmanship. Efficiency, availability, and flexibility are all important qualities to consider in your contractor.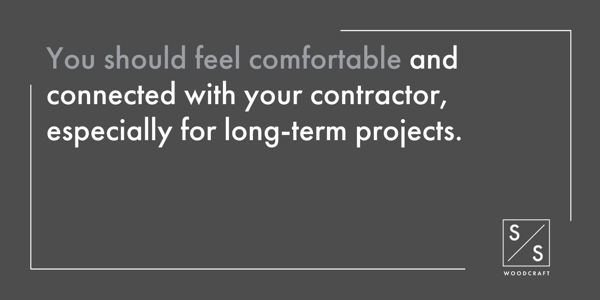 Below, we'll go over a few key questions to ask before you partner with a contractor long-term. And remember — at the end of the day, follow your gut. You should feel comfortable and connected with your contractor, especially for long-term projects.
1. Does the Contractor Answer Your Questions and Concerns Quickly?
If you call or email with a question or concern about your project, how long does it take for your contractor to get back to you? Are you stuck waiting for days at a time? Does a slow response hold up your renovation and make your stress skyrocket?
Great contractors try to minimize waiting periods for their customers. You'll want to get your questions answered quickly, so a contractor should have availability in-office and over the phone/email. This makes it easier for customers to contact their contractor during any stage of a project.
Of course, it's best not to rush any aspect of a project, but contractors should still be efficient. After all, they have lots of experience with many types of projects, which helps them tackle renovations swiftly.

2. Is the Contractor Open to Your Design Ideas?
Quality contractors work hard to bring their customers' dreams to life. They act as the bridge between an idea and the finished product. A contractor connects their customers to quality materials and craftsmanship so they can get the renovation they want.
If you suggest an idea to your contractor, how does he respond? Does he enable your ideas, or does he try to steer you in a different direction? If he does suggest a change, is it because it's the best solution, or because it's the easiest one?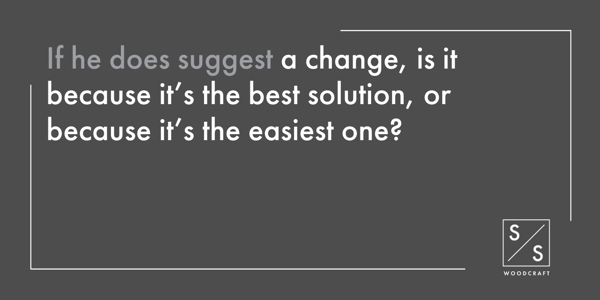 Your contractor should listen to your design ideas and offer suggestions that fit your tastes and needs. He or she will act as your link to the labour and materials you need. A contractor isn't there to take complete control of your renovation. You should feel like you're in the driver's seat while still working together.
3. Does Your Contractor Know Your Name?
This might not look like the most important question on this list, but it can say a lot about a contractor and how they do business. Long-term renovations require extensive cooperation between homeowners and contractors.
When you speak to your contractor, does he recognize you? Does he remember the details of your renovation? If you stop into the shop, is he attentive to your needs?
Contractors should make an effort to get to know their customers. This ultimately ensures a better understanding of your vision and a successful renovation.
4. Is Your Contractor Local?
Accessibility can be a key part of your partnership with a contractor. Having a shop nearby gives you access to design plans, materials, and labour. Working with a local contractor also cuts down on travel time for the customer and the contractor. You'll be able to meet with a contractor in-person, and you'll never be just another number or name on a sheet of paper.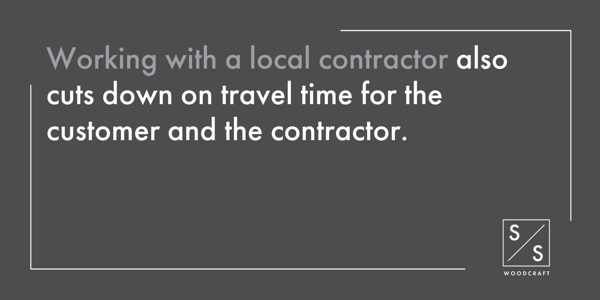 Additionally, using a neighborhood contractor supports your local economy. Working with a nearby business ensures you'll be in partnership with people who care about your project, ideas, and community.
5. Are You Meeting With the Same Person Every Time?
Larger contracting companies can put their customers on a carousel of different consultants. This makes it hard for clients to form a connection with a single contractor.
Do you struggle to get a hold of the contractor working on your project? Are you often referred to other workers you don't know? When you call your contracting company, are you able to get in touch with someone you trust?
Smaller contracting companies operate on a client-to-client basis, making customers feel like the MVC (most valuable customer). If you want to feel secure in your renovation, you may prefer a smaller company that prioritizes client relationships and takes a personal approach to its customers.
6. Is Your Contractor Transparent About Pricing?
Let's face it - costs can be the least fun part of renovating your home. However, it's still important for contractors to be clear about pricing and budgeting. The best contractors budget alongside homeowners so that they can achieve their dream renovations without breaking the bank. A clear budget is a win for the client and the contractor. Good budgeting builds trust in the relationship and opens possibilities for repeat projects in the future.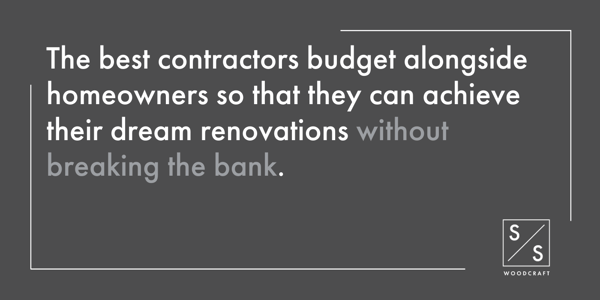 How We Do Business
At S&S Woodcraft, we pride ourselves on our individualized customer approach, local focus, and client connections. We forge solid relationships with local community members so that they can receive quality, trustworthy contracting work.
Our shop is always open to drop-in customers who need help with new or ongoing projects. In addition, we make sure that clients are always working with familiar, friendly faces. Every project is unique, and so is every customer. The best part of our job is forming partnerships with members of our wonderful community.
If you're interested in renovating your home, then stop by our showroom in Cold Lake to look at designs and materials. You can also fill out a short form below to get a free quote on your renovation.