How to Bring Natural Elements into a Modern Kitchen
November 2, 2020
When you picture a modern kitchen, what comes to mind? Maybe you think of sleek grays and blacks, matte finishes, stainless steel, or other cool, muted materials, and colours. If that's the look you're after, great! However, it's also possible to incorporate warm, natural colours and textures into a kitchen without sacrificing the clean lines of a modern design.
At first, it might be difficult to imagine a kitchen where nature and modernity collide. Natural elements are rugged and unique, whereas modern design is all about simplicity. That said, there are many creative ways to incorporate natural elements into a modern kitchen for a unique aesthetic. This guide will offer a few ideas so that you can get thinking about what designs might be right for you.
Choose a Few Favorite Highlights
Modern design strives to keep an area free of visual clutter. This means that you don't want to flood your kitchen with too many contrasting natural elements. Instead, pick a few that you really like and scatter them throughout your kitchen. This will highlight your natural design elements without convoluting your space.
Here are a few ideas for natural details that draw the eye and add natural warmth to your kitchen.
A Stone or Brick Wall
Stone and brick add texture and rugged appeal to your kitchen. Choosing one wall to cover with either brick or stone will create contrast, which draws the eye around the room without making things too busy. Though bricks and pavers don't technically occur in nature, they help bring a bit of the outside world into your home, which adds warmth and visual appeal to your kitchen.
If you want to incorporate texture while still keeping your walls clean and modern, you can paint over bricks to keep your kitchen's colours uniform. Opt for white or gray for a truly modern look.
Wooden Ceiling Beams
Some homes come with exposed wooden beams, which can be a great natural feature in any room of your home. You can also add them if they don't come as part of your house.
Because the beams are on the ceiling, they're not in direct view when you enter or work in your kitchen. Rather, they provide a natural element in the kitchen's backdrop that adds warmth to the whole space.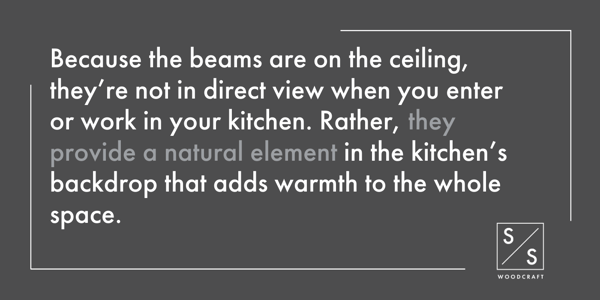 If you like the idea of adding beams but you're not sure about the look of natural wood, you can stain the beams darker to match the modern pieces of your kitchen.
Reclaimed Wood
Trendy, eco-conscious homeowners have been making use of reclaimed wood in their homes for several seasons now. For those who don't know, reclaimed wood is wood with a past. It generally comes from demolished structures that were built during the 18th-20th centuries, when wood was the principal building material in the western world. These days, the wood is recycled and used for design in modern homes.
Reclaimed wood can be used to make many different parts of your kitchen, including the floor, island, wall paneling, dining furniture, countertops, shelving, or decorations. The nicks, dents, and slight inconsistencies in the wood create a natural, weathered look that some homeowners prefer to the sleekness of new flooring. In addition, using reclaimed wood is environmentally friendly and helps combat deforestation.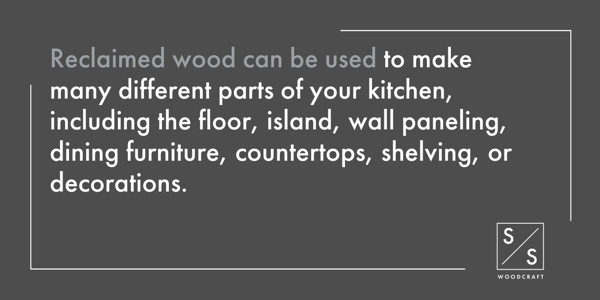 There are a few considerations to make before you use reclaimed wood in your kitchen. Source your reclaimed wood from a reputable dealer. The best reclaimed wood dealers will provide documentation from either the Forest Stewardship Council or the Rainforest Alliance. Seek an FSC or Rainforest Alliance label to ensure that you receive good quality reclaimed wood. Unverified reclaimed wood can have structural inconsistencies, leftover nails or hardware, volatile chemicals or paints, or pests.
Remember that the point of reclaimed wood is to enhance the natural look of your kitchen. Not all of your wood will look the same, so if you're worried about maintaining a pristine appearance, consider using traditional lumber. Reclaimed wood can also be more or less expensive than traditional lumber, depending on how much processing it requires before it gets to your kitchen.
Plant Life
One of the easiest ways to bring nature into your kitchen is to incorporate some plant life. Use window sills, open shelving, or countertop space to house plants of your choice. Kitchens often receive plenty of natural light, which makes them suited to growing plants of many varieties. Common kitchen plants include herbs and small vegetables, which work both as an attractive decoration and a source of foods and spices.
Mimic Nature
Not every natural element in your kitchen has to come directly from the outside world. There are plenty of ways to mimic nature in your kitchen using modern materials and engineering.
Stained, Dyed, or Stamped Concrete
Concrete can be manipulated in many ways to look like natural elements. Stamped concrete often resembles natural stone, and it works as a much cheaper alternative. If you want a natural look but you don't have the budget to shell out for stone flooring, consider using stamped concrete instead.
Stained or dyed concrete can resemble almost any natural material ranging from granite to glossy water.
Though these techniques are often used for outdoor applications like patios, concrete shouldn't be overlooked as an indoor design option. Many modern kitchens make use of concrete flooring for its versatility and budget-friendliness.



Opt for Quartz Countertops
Several countertop options are organic by nature. Butcher block countertops are made of wood, while granite and marble are pricier (though still nature-inspired). If the price tag of these options seems a little daunting, consider opting for quartz.
Quartz countertops are technically made from stone, but they're often made from the ground-up remnants of other manufacturing processes. Quartz countertops can also be engineered to look like other more expensive materials, including marble, except they don't require nearly as much care or money upfront. And, because countertop quartz is merely a byproduct of other projects, it's environmentally friendly.
Best of Both Worlds
Modern kitchen design welcomes the use of natural elements. There are several ways to incorporate nature into your kitchen without sacrificing modernity. For more ideas on how to bring nature into your space, visit our Cold Lake showroom or schedule a free, no-obligation design meeting.