6 Kitchen Hacks and Design Ideas that Make Holiday Baking Easy
October 26, 2020
As the holiday season approaches, you might find your kitchen is getting a bit cramped. Between holiday cooking and baking, things can get busier than usual, and you might find yourself wanting more space.
Adding a baking station to your kitchen during the holiday season can help spread out the work area, keep things neat, and create fun for the whole family. Keep reading for baking station ideas for kitchens of all shapes and sizes!
Go Big
If you're looking to redo your kitchen in the near future, these ideas might be the right fit for you.
1. Reengineer your Countertops
Avid bakers might want to consider the boldest choice on this list: redoing your countertops. Lowering a portion of your countertop space makes it easier to mix, stir, and roll out dough. Some countertops come with a lowered portion specifically for baking. If you log lots of baking hours in the kitchen, this might be the perfect option for you.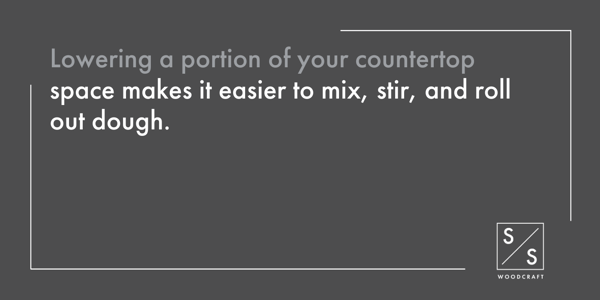 Of course, you don't have to overhaul your countertops in time for the holiday season. After all, the holidays are a busy time, and home renovations aren't always top of mind. Consider adding this feature during a larger kitchen renovation. If you're opposed to doing any large-scale renovations, we have more temporary options listed below.
2. Add an Island
If you have the space for it, an island can be a great source of extra countertop and cabinet space. Islands can also house appliances and sinks if needed. Before you plan to install an island, make sure your kitchen layout provides adequate space. Narrow layouts - like galley kitchens - often aren't big enough to accommodate an island.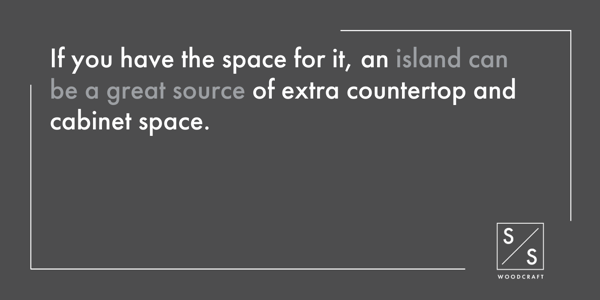 Try Something Temporary
Does your kitchen only feel cluttered during the holidays or other big baking and cooking events? If so, you might want to try out one of these temporary baking workstations.


3. Purchase a Rollaway Table or Bar Cart
A rollaway table or bar cart can offer some extra workspace in the kitchen during the holiday season. Use your cart to store baking supplies, mixers, or nonperishable ingredients. Alternatively, the bar can travel between your kitchen and dining room as a serving station for large holiday meals.


When the holidays are over, you can store your rollaway cart if you aren't using it. If extra counter or storage space would be a lifesaver, but you don't have space for a permanent island, then a mobile table or cart could be a good option for you.


4. Choose an Existing Spot for Your Set-Up
Making space for holiday baking might be a matter of simply getting organized. If you're planning to bake up a storm throughout the holiday season, begin by designating a spot in your kitchen as your baking area. Set up or store your mixer, along with baking sheets, utensils, and ingredients. Having everything in one area will help you stay organized and bake efficiently throughout the season.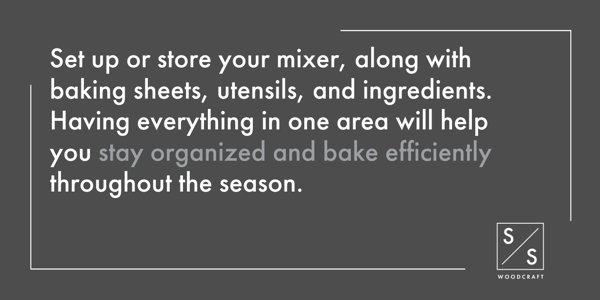 To do this, you'll need to have adequate storage and countertop space. Place flour and sugar in airtight, labeled containers. Put these items together with baking soda, salt, vanilla, and any other spices or flavorings you think you'll be reaching for over and over. You can organize your ingredients in a cabinet or on a bar cart, as mentioned above.
Storing your baking trays in upright slots will make for easy access. If you don't have cabinet space for your mixer, leave it tucked away in a corner near the baking area.
Delight in the Details
A big part of creating a holiday baking station in your kitchen is having fun! Jazz up your area with some of the ideas below.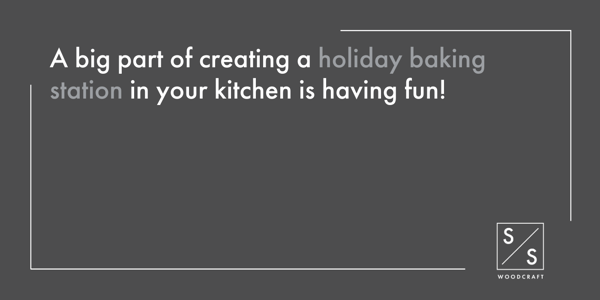 5. Make Festive Labels
If you're someone who loves using a label maker in the kitchen, you'll enjoy marking up your baking ingredients with a festive font. Label your flour, sugar, spices, and any other ingredients. This will make it easier to find things - and, as an added bonus, they'll look great on display when guests come over to enjoy your treats.


6. Display your Holiday Recipe Books
Do you have a favorite book of holiday recipes? How about a collection of family kitchen secrets? Put these near your baking station using a decorative stand or a small shelf. They'll be easy to access when you need them, and they'll look adorable on display.

A Baking Station for Every Kitchen
If you love baking during the holidays, you might benefit from carving out a baking station in your kitchen. This will give you more space to work and store items, and there's also the added convenience of having everything in one spot. No matter your kitchen size or layout, there's a way to make a baking station accessible and fun for you.


If you want to get more ideas for your baking space or a larger kitchen renovation, come to our Cold Lake, AB showroom. We provide design guidance and project quotes for a wide range of kitchen modifications and renovations.