Where Do I Start My Kitchen Remodel?
October 19, 2020
A kitchen renovation is a big undertaking, and it's hard to know where to start. Luckily, you don't have to make up the steps as you go along. We've prepared this guide so that you know the right order for your kitchen remodel. Following these steps will prevent common renovation slip-ups, helping you stay on budget and complete your renovation in a smooth and timely manner.
1. The Planning Phase
It might seem obvious, but you'll want to lay solid groundwork before your renovation before you start any construction. Having a detailed plan will help you take on your renovation with confidence, especially if you run into any hitches down the line.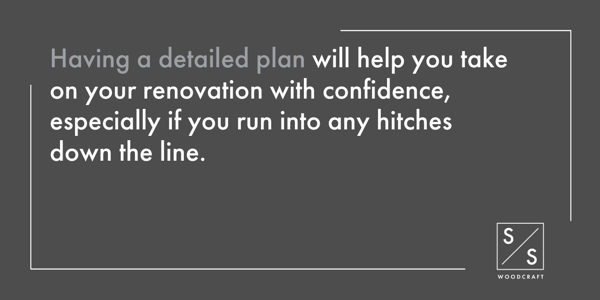 First, you'll want to decide on a budget for your project. This is probably the least "fun" aspect of the whole thing, but it's definitely one of the most important parts to establish early on. After you decide on a budget, think about a timeline for the renovation. Does it need to be done by a certain date? Are you looking to finish it before a large event, like a wedding or a party?


Thinking about budgeting and timing will lead you into the next phase of the planning stage — partnering with a trusted contractor. Your contractor should help guide you towards achieving all of your design, budget, and timing goals. You should establish a solid budget and schedule with your contractor before the project begins. Though a kitchen renovation is a long and multi-faceted process, having these settled will make it easier to solve any problems that arise later.
2. Measurements and Research
Before you break any ground in your kitchen, you'll want to take measurements for appliances. It's important to get these measurements early in the renovation process, because your flooring, cabinets, and countertop dimensions will all revolve around your appliances.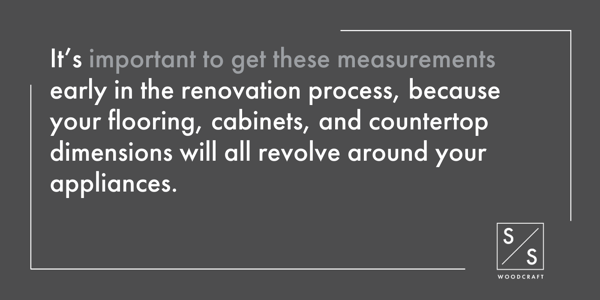 If you're planning to keep your current appliances, measure those. If you're planning on getting new appliances, you'll want to pick them out and take down the measurements before doing anything else. Research and choose the appliances you want. You don't have to purchase or install them yet (in fact, appliance installation will come much further down the line) but it's important to have the appliances selected and measured in advance.
3. Demolition
Now that all the important planning is in place, it's time to start demo work. You'll be taking out anything that won't be part of your kitchen renovation. This might look different depending on the scale of the project. For example, if you're simply refinishing your cabinets rather than replacing them, you won't have to do too much demo work in that area.


Handling demolition is an important part of your renovation, so you'll want to work with a licensed contractor or do plenty of research ahead of time. Make sure to avoid delicate pipes and wiring behind your walls and under your floors. It's a good idea to shut off your water in advance and consider hiring a dumpster or other waste service to help handle debris.

4. Framing, Plumbing, and Wiring
If you're planning on changing any fundamental elements of your kitchen, now is the time to do it. You'll want to make these changes before you start adding anything new. Make sure your plumbing and appliance hookups are in the right areas. If you're planning to change the layout of your kitchen, your plumbing and electricity might have to shift, too.
After installing new plumbing, wiring, and framing, your kitchen will undergo a brief inspection to make sure it meets all necessary building codes. After the inspection, you can continue with your renovation.


5. Drywall and Paint
Once the fundamentals are taken care of, it's time to install drywall and apply paint. Hang your drywall and nail in trim and molding. When it comes time to paint, we recommend using a semi-gloss variety for easy cleaning. You might return to do some touch-ups after you install your cabinets and countertops, but it's a good idea to get the majority of the painting done at this stage.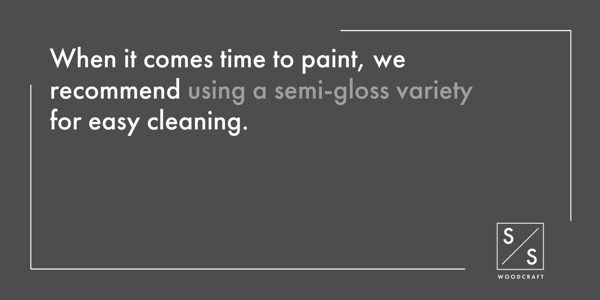 6
. Flooring
Flooring installation is a subject of some debate among home renovation experts. Some suggest saving the flooring for last to reduce costs, since you won't have to place flooring under cabinets and appliances. However, we recommend that you avoid cutting corners and have your flooring installed early in the renovation process. This will make it possible to do any emergency changes to your appliances or cabinets later.


You'll have to choose a material for your floor. Wood, tile, concrete, and linoleum are some of the most popular options, but there are other eco-friendly alternatives to consider as well, including bamboo, faux wood, and reclaimed wood.


7. Cabinets
After your flooring is in, you can begin hanging your cabinets. Make sure to work around your appliance measurements, which you should've taken in the earliest phase of your renovation. Confirm the specifics of your kitchen layout with your workers before they begin the installation process.

8. Countertops and Backsplash
Countertops — especially those with custom designs — often take a while to manufacture and ship. Though your countertop installation will be one of the last parts of your kitchen renovation, you may want to order the slabs early in the renovation process. Your countertops will go in as soon as your cabinets are installed.


Since the countertops and cabinets are finished, this is also a good time to add the backsplash. You can choose between several different backsplash materials, including plain paint, tile, brick, natural stone to match your countertop, wood, and more.


9. Install Appliances
Now that the majority of your kitchen renovation is complete, you can reintroduce appliances. Since you carefully selected and measured them in advance, you shouldn't have any trouble slotting the appliances in with your new cabinets and countertops.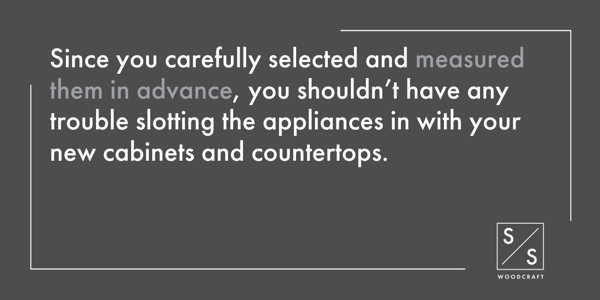 10. Lighting, Hardware, and Other Details
The last phase of your renovation involves all the finishing touches - lighting fixtures, cabinet hardware, and any other smaller elements you desire. Wait until the end to add these features so that you can minimize damage to any delicate pieces.


11. Enjoy Your New Kitchen!
Once you've added all your favorite details, your renovation is complete. Now, it's time to enjoy your new space and make great memories with your loved ones!


If you're looking for more guidance for your kitchen renovation project, you can get started here. You can also visit our Cold Lake showroom to get an idea of how certain designs might work in your home!