How to Create a Kid-Friendly Kitchen
December 7, 2020
A kitchen is a busy part of the house, especially if you have kids running around. It can be a bit tricky to put together a kitchen that's both kid-friendly and kid-safe, but don't worry - we've put together a few design ideas to help you create the best space for your little ones.
Take these steps to child-proof your kitchen, keep your space safe, and reduce maintenance for yourself.


Make Cleaning a Breeze
Let's face it - kids aren't exactly tidy creatures, and if they're spending lots of time in the kitchen, you won't want it to be difficult to clean up after them. This means choosing hardy, low-maintenance materials. Focus on finishes that are easy to clean after a messy lunch or an afternoon of arts and crafts. Here are a few of our favorite (and most forgiving) kitchen options.


Quartz Countertops
Quartz is one of the most durable countertop materials out there. Unlike marble, its finicky cousin, quartz doesn't scratch or stain easily. It can stand up to tons of daily use, and it's easy to clean - simply wipe it off with a wet rag and some diluted dish soap. In a pinch, quartz also holds up under some harsher store-bought cleaning products.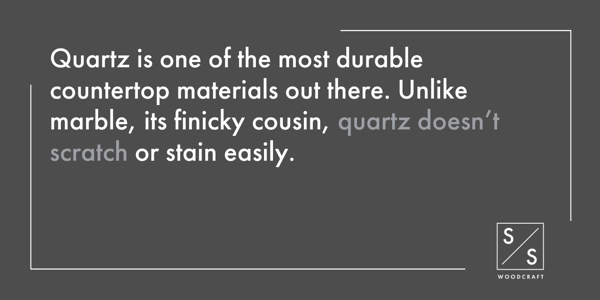 Semi-Gloss Paint
Semi-gloss paint is a versatile option for both kitchen cabinets and walls. It's the most low-maintenance paint finish available, and you can usually wipe up any stains or spills fairly easily. As a bonus, semi-gloss paint typically works well with most kitchen styles!


Faux Flooring
There are plenty of sturdy flooring options out there, but which are best for busy families? Hardwood, concrete, and some types of tile make for long-lasting kitchen floors, as long as they're properly taken care of.
That said, if you're looking for a low-maintenance option to use during the messy toddler years, consider opting for faux wood flooring. It's cheaper and easier to clean and care for than traditional wood. When the kids are grown, you can replace it with one of the more expensive options listed above.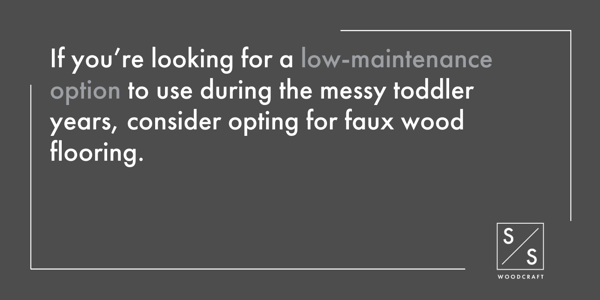 Give Them Their Space
If you have room in your renovation budget, carving out a kitchen space for your kids can make a great addition to your home. Your kids will benefit from having a space of their own, and, as a plus, it might help them keep their messes confined to one area of the kitchen. Here are a couple ways to design a space for your kids in the kitchen.


Add a Breakfast Nook
A breakfast nook is the perfect family gathering space. If you're planning on installing a traditional or peninsula-style island in your new kitchen, consider making the upgrade to a breakfast nook. Often, this simply means adding some extra counter space and leaving space for a few barstools.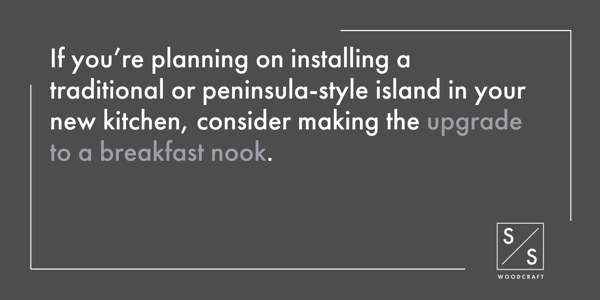 A breakfast nook is a great place to serve casual meals, do homework, or just hang out together as a family.


Make Space for a Desk
Plenty of popular kitchen layouts leave space for a desk. This could be a great place for your kids to do homework or crafts while you're working on dinner. Having a designated desk space helps teach kids to focus, but keeping it in your kitchen means they can still hang out with the family and that you're nearby for homework support.


Designate a Safe Play Area
It can be difficult to keep an eye on small kids while you're cooking in the kitchen. You can work around this by creating a small, safe play area in your kitchen. Floor seats, bouncers, and swings are all secure options that are easy to move into your kitchen. Your child can stay entertained and safe while you prepare food nearby.


Prioritize Safety
While your kitchen should be accommodating for your kids, it should also be as safe as possible - especially if your little ones are young. There's an endless supply of childproofing equipment available to buy, so focus on securing the riskiest parts of your kitchen. That way, you can keep your kids safe without locking down this entire area of your home.


Secure Any Unstable Shelving
If your kitchen features open shelves or a pantry overflow unit, you'll want to secure it before your kids are able to scoot around the kitchen by themselves. You can purchase a pre-designed shelf security kit or rig up your own - just make sure that prying hands won't be able to topple anything over.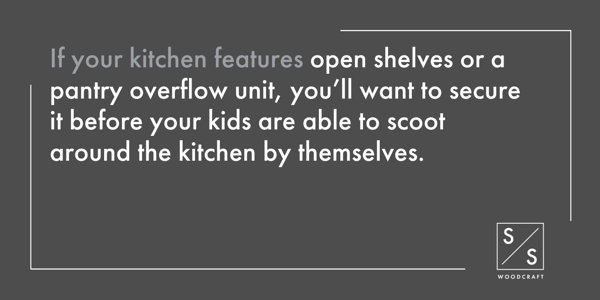 In addition, consider removing breakable items from exposed shelving. You might want to reorganize your overflow shelves or place all delicate items in closed cabinets until they're older.


Lock Lower Cabinets
There are plenty of options available for child-safe cabinet locks. If you don't like the look of external locks, you can opt for no-show magnetic latches that attach to the interior of your cabinets. These won't affect the look of your cabinets, and it's impossible for your kids to open them without a key.
Choose which cabinets you'd like to keep locked. Prioritize the areas under your sink and appliances. Danger-free cabinets probably don't need to be locked.


Pro tip: Set aside a specific "kid cabinet" (or drawer!) that has Tupperware, utensils, and other kitchen gadgets that are toddler-safe. When you're busy cooking, you can send your little one to his or her own cabinet so they'll be engaged rather than underfoot.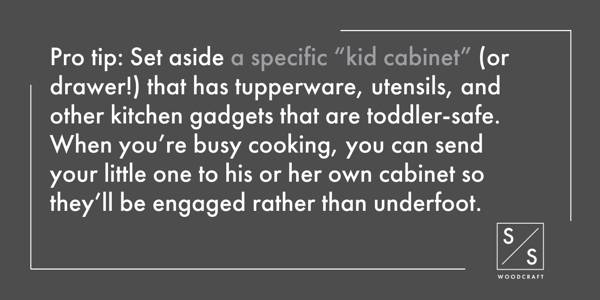 Think About Appliance Knob Covers and Locks
Depending on your kitchen layout, you might want to cover up exposed knobs or latch appliance doors. This will usually only apply if your kids are tall enough to reach dangerous stovetops or oven controls. If these areas are naturally out of their reach, there's probably no need to install any protective measures just yet.


Keep a Kitchen Helper Stool Nearby
Curious toddlers want to know what their parents are up to in the kitchen. Keep a kitchen helper stool (one that has side and back supports so they don't fall) around so that your child can help or watch you cook. This way, they won't be tempted to reach blindly up toward a hot stove or oven, and you can teach them how to navigate the kitchen safely.


Safe & Sound
Install the child-friendly features that work best for your family's individual needs. There are plenty of ways to incorporate your kids' needs into attractive kitchen designs, so don't hesitate to reach out for further guidance. We can help you create a kid-friendly kitchen during a free, no-obligation design meeting. Click below to schedule one!