Guide to the Ultimate Holiday Bash
December 14, 2020
For many families, the holidays are the best part of the year: a time to gather with loved ones, enjoy great food, and exchange gifts. There's nothing like digging into a home-cooked holiday meal with your favorite people!
The winter months can also be the busiest time of the year, and planning a large family gathering might get a little stressful - especially if you're the host. It can be hard to balance time in the kitchen and quality time with friends and family, which is why we've prepared this guide to plan the ultimate holiday bash (without spending all your time in the kitchen).
We'll go over some guidelines for grocery shopping, meal prep, cooking, and serving so that you can enjoy your holiday gathering to the fullest.
The Prep
Getting ready for your gathering ahead of time will help relieve some tension on the day-of. Think and shop ahead for a stress-free day of cooking.
Decide & Delegate
Start thinking about which foods you'd like to serve about a week before your gathering. This will give you plenty of time to get to the store before the holiday rush. As an added bonus, you'll be able to delegate some items to other family members or friends. This is a great way to give your loved ones some advanced notice and save time in the kitchen during the gathering.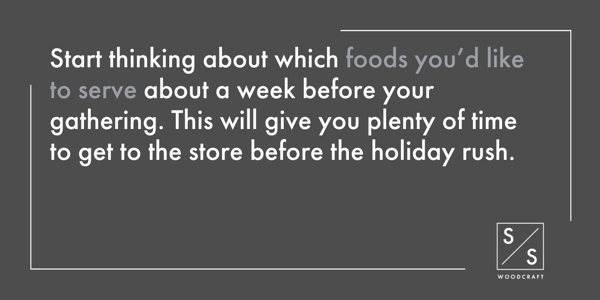 Take Stock of What You've Got
Do you already have the necessary ingredients for any of your planned dishes? Are all your spices stocked and ready to go? Can you use the green beans in your freezer for your casserole, or would you prefer to buy fresh ones? Ask questions like these before you skip out to the store. You might save yourself from making multiple trips or buying things you already have.
Shop Smart
Make sure to plan a trip to the store a couple of days before the big day. Grocery stores are swarming on Christmas Eve, Christmas Day, and New Year's Eve, so do your shopping ahead of time. There's nothing worse than jostling past hoards of people to get the last good ham!
Get Cooking
Now that everything's ready to go, it's time you get your hands dirty in the kitchen. Follow these guidelines to cook smart and fast.
Chop and Store the Day Before
On the day before your gathering, chop up any vegetables you plan to use in your cooking and store them in air-tight containers overnight. This will save you lots of time in the kitchen the following day.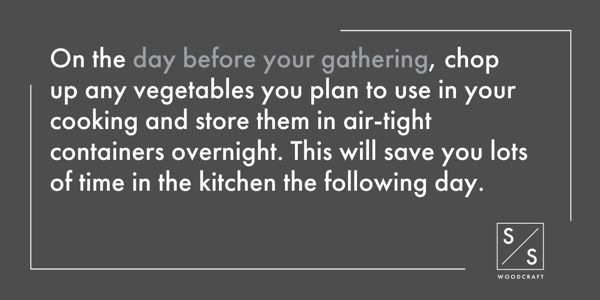 Use the Right Equipment
If you're not too fussed with tradition, consider using a slow cooker or an instant pot to cook your meat. This frees up your oven for side dishes and desserts, and your meat can cook on your countertop with less attention from you.
Skip Preheating
If you're dead-set on roasting your meat in the oven, don't bother preheating your oven. Turkey and ham cook for a long time, and waiting for your oven to preheat won't cook it any faster. The only dishes that absolutely need preheating are things that contain yeast or other rising agents (think breads, cinnamon rolls, some desserts). These dishes have to cook at a steady temperature, so preheat your oven before you bake.
Simplify Serving
Once your dishes are cooked, it's time to serve them up. Streamline your process to smooth out the trek from kitchen to table.
Enlist Some Helpers
There's no need to do all the serving yourself! Rally a couple family members or friends to help carry out serving platters and pour drinks. This will ensure the food gets out to the table quickly and stays hot for everyone to enjoy.
Try a Bar Cart
A rolling bar cart can be a great help when you're trying to get lots of large serving platters out to the dining table. A bar cart can also be a serving station for drinks or desserts. Choose a few items to place on a cart to save room on your table and reduce strain on your arms.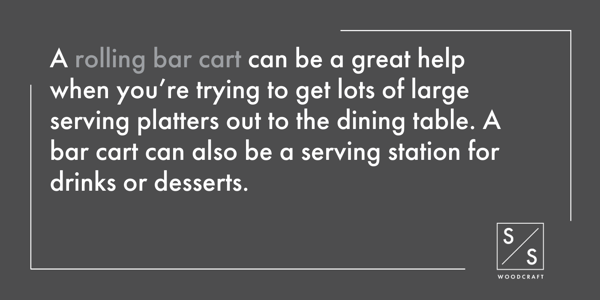 Skip the Fine China
Every holiday meal comes with inevitable aftermath - lots and lots of dishes. For a low-maintenance clean-up, use dishwasher-safe plates and silverware. Run the dishwasher overnight, once the meal is completely cleared away. This will save lots of hand-washing time, and your kitchen will be good as new by morning!
Determined to bring out your finest wares? Prepare a soaking tub for delicate silver ahead of time. Fill a large Tupperware or pan with a bit of dish soap and warm water. After the meal, let the silverware soak overnight and rub it clean with a damp dishtowel in the morning.
Take a Deep Breath
Picture-perfect holiday gatherings are few and far between, and there are bound to be a few slip-ups along the way. Good planning and efficient cooking will help you put a great meal on the table and spend lots of quality time with the people you love most. If things get muddled, don't worry - it's all part of the holiday experience.
Happy holidays from us here at S&S Woodcraft in Cold Lake, AB, and happy cooking!