Kitchen Island Design Inspiration
December 21, 2020
A kitchen island is one of the most versatile parts of your kitchen space. Islands add storage and improve workflow, streamlining cramped or disorganized kitchens.
Islands come in all shapes and sizes, so it's important to plan and research your design before you begin construction. We'll go over a few tips for choosing your island, as well as some design ideas that'll get you ready to start your project!
You can also come see some design options at our showroom here in Cold Lake, AB (just a short drive from Edmonton).
Is an Island Right for Your Kitchen?
Considering an island? First, you'll have to take stock of your kitchen layout. Though most kitchens are big enough for an island, certain layouts - like galley kitchens, for example - don't fit islands easily.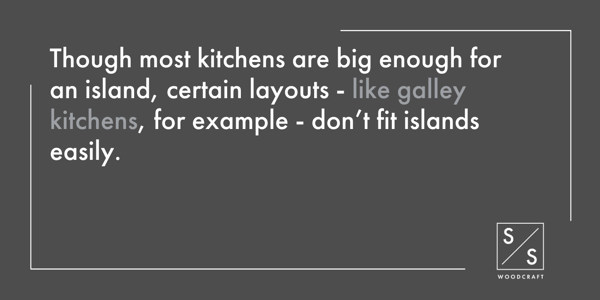 You'll also have to take measurements in your kitchen to find out how large your island can be. Smaller kitchens won't be able to fit large breakfast bars, for example, so you'll need to choose a more compact design.
Before designing your island, make sure to assess your kitchen layout and take accurate measurements.


Types of Islands
There are several kinds of islands out there, and each one is perfect for a certain type of kitchen. Here are some of the most common designs and layouts.
Island With Appliance Hookups
The most complex islands come complete with appliance and/or plumbing hookups. This makes it possible to include a range, sink, oven, or dishwasher in your island.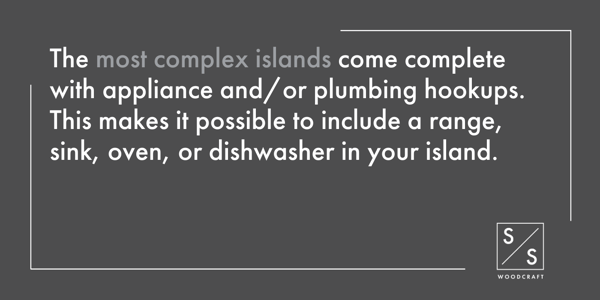 Appliance hookups can be useful for big renovations. Moving some appliances to an island triangulates your workflow and makes cooking easier. However, rerouting your plumbing and electricity to an island can be expensive, so keep that in mind when considering this island design.
Cabinets With Countertop
If you don't need to include appliances or plumbing in your island, consider opting for a base cabinet with a countertop. This simple island design offers elegance and permanence without extra hassle. Plus, you'll have plenty of added storage and countertop space.
Small, Convertible Island
Hesitant to put something permanent in your kitchen? Consider opting for a small, convertible island with a fold-out leaf. You can build these compact islands at home with household tools. They don't attach permanently to your kitchen floor, and they come with a leaf that you can extend or retract, depending on your available space.
Though these islands are small and affordable, they don't usually hold up for a long period of time. The leaves can bend and become unlevel, and the materials don't last as long as crafted cabinetry or countertops.
However, these islands are a great option for homeowners with small kitchens or a tight budget. Consider this island if you're looking for easy access to a little bit of extra space.


Kitchen Table Island
The description is in the name - a kitchen table island is simply a table that can work as both an island and an eating area. This is a great choice for small kitchens that need multipurpose islands.
Kitchen table islands don't provide the same amount of storage space as a traditional island, but there are plenty of ways to get creative with your island to add storage. Including shelves or a small bar cart can help solve storage problems without installing a large, expensive island.
Rolling Bar Cart
A rolling bar cart is a creative option for small kitchens that can't accommodate a large island. Bar carts also work as an add-on to smaller table islands. Since bar carts are small and mobile, they can fit into kitchen layouts that don't work with traditional islands.
There's a bar cart for almost every budget, and they come with a number of add-ons, depending on your needs. If you're planning to use your bar cart for food prep, consider choosing one with brakes to keep it from sliding out from under you. Lacking storage? Choose a cart that comes with cabinets or built-in shelving.
Island Shapes and Layouts
In addition to your island's features, you should think about its shape and size before adding it to your kitchen. We'll discuss a few of the most common island designs, as well as some alternative ideas for the creative homeowner.
Double-Tiered Island
A double-tiered island is an ambitious choice for an all-out kitchen renovation. These islands require lots of extra space, and they're built to house appliances and plumbing hookups. The first tier sits at about 36" - the ideal height for cooking. The second tier sits between 42" and 48", tall enough to accommodate barstools and hide the kitchen workspace.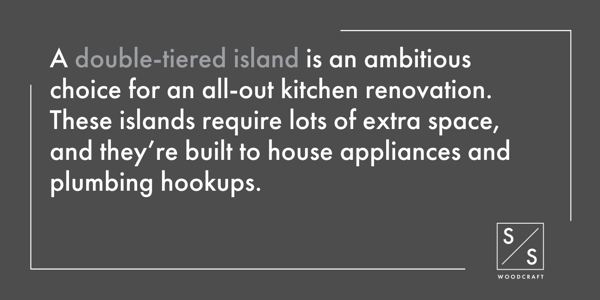 Double-tiered islands aim to add storage, countertop space, and a seating area - all in one island. If you're looking to make the most out of your island, consider going double-tiered.


Peninsula Island
As you can probably guess, a peninsula island is not exactly an "island." A peninsula island extends from a preexisting kitchen wall or countertop. These islands work best when the kitchen is connected to another room and there's not enough space for a traditional island. Peninsula islands often make great breakfast bars and serving areas.
Non-Traditional Islands
Not all islands come in a traditional rectangle shape. There's no limit on how creative your island design can get: islands can be round, hexagonal, or completely asymmetrical. If you have your eye on a non-traditional design, consult with your contractor to make sure it will work with your kitchen layout.
Make Your Design a Reality
After you've decided on the right shape, size, and add-ons for your island, it's time to get to work. If you need more inspiration or guidance before you start your project, schedule a free design meeting with our team in Cold Lake, AB.