How to Create the Coziest Farmhouse Kitchen
March 25, 2021
The farmhouse kitchen is an interior design marvel: it's been around for decades - if not centuries - and it never seems to go out of style. It's hard not to feel at home in a kitchen that features warm colours, classic textures, familiar decor, and simple but sturdy crockery.
Embracing the farmhouse style is a great way to keep your kitchen on-trend and timeless at the same time. Here are a few of our top design and decor recommendations for a long-lasting farmhouse kitchen.
1. Stick with Neutral Cabinets
One of the best parts of a farmhouse kitchen is its ageless simplicity. In general, farmhouse kitchens feature simple, high-quality cabinetry with a focus on rich textures. Farmhouse cabinetry often features intentional scuffing and texturizing to create a worn-in look.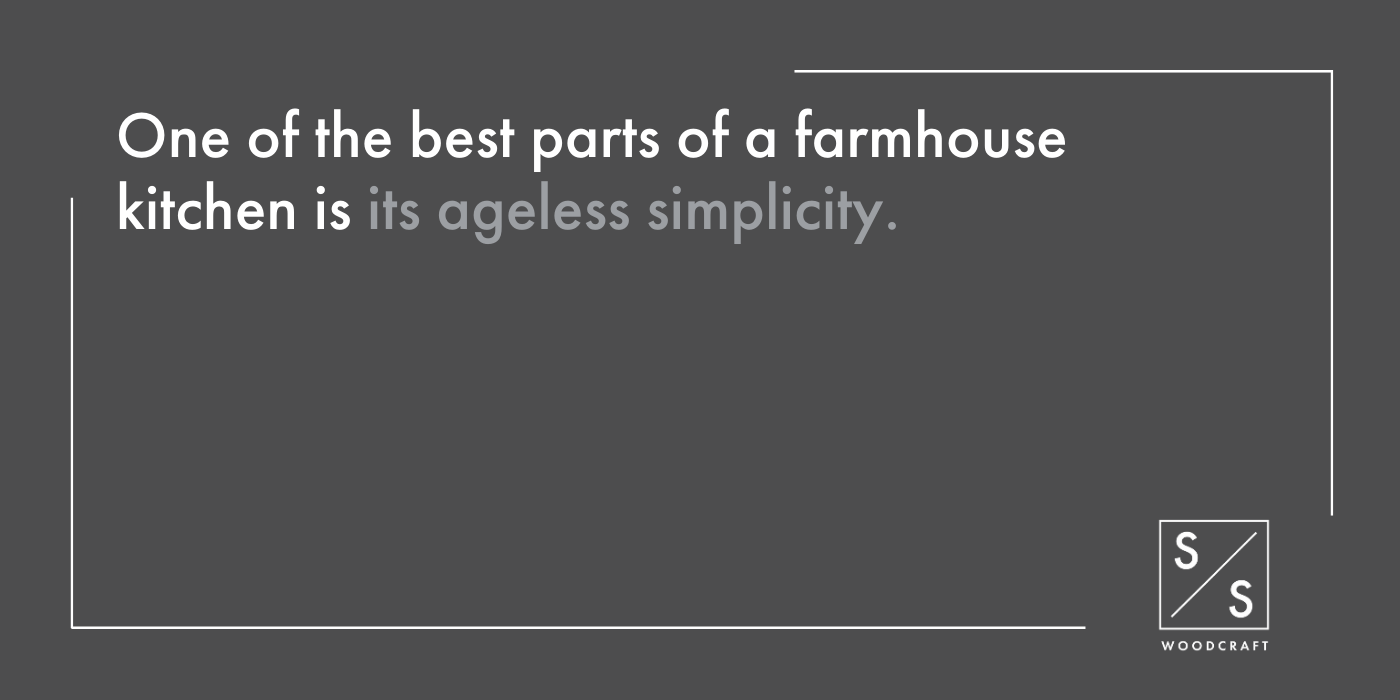 Start by choosing a neutral colour for your cabinets. Many modern farmhouse designs feature white cabinets, but you can also opt for brown, gray, or even muted blue if you're looking to be a bit more adventurous. You can then add texture if you'd like, or keep things simple with a smooth finish.
2. Select a Sturdy Countertop
Farmhouse kitchens are designed around sturdy countertops built for plenty of food prep. Butcher block, quartz, and granite are all popular choices, and each one brings a different look and feel to your kitchen. Butcher block is well-loved for its natural look, while quartz is one of the heartiest countertop materials on the market. Granite comes in a wide variety of textures and colours, offering homeowners lots of choice when it comes to their countertops.
When choosing your countertop material, make sure to think about how much cooking you do, as well as how much maintenance time you're willing to spend on your countertop. Butcher block requires regular oiling, while granite and quartz are both low-maintenance options. Take stock of your cooking habits before settling on your countertop material so you don't end up with a surface that takes more effort to maintain than you'd like.
3. Install a Farmhouse Sink
Perhaps the most recognizable piece of the farmhouse kitchen is the farmhouse sink. This sink style focuses on size and typically features a wide basin and a large curved faucet. Farmhouse sinks come in a variety of colours and variations, and some require a bit more maintenance than others.
Modern farmhouse catalogs feature picturesque images of clean, white farmhouse sinks. A large, white sink has the look of a classic farmhouse kitchen, but beware: some white materials stain easily over time. If you're set on the look of a white sink, opt for a quartz basin. This will be easier to keep clean than other materials.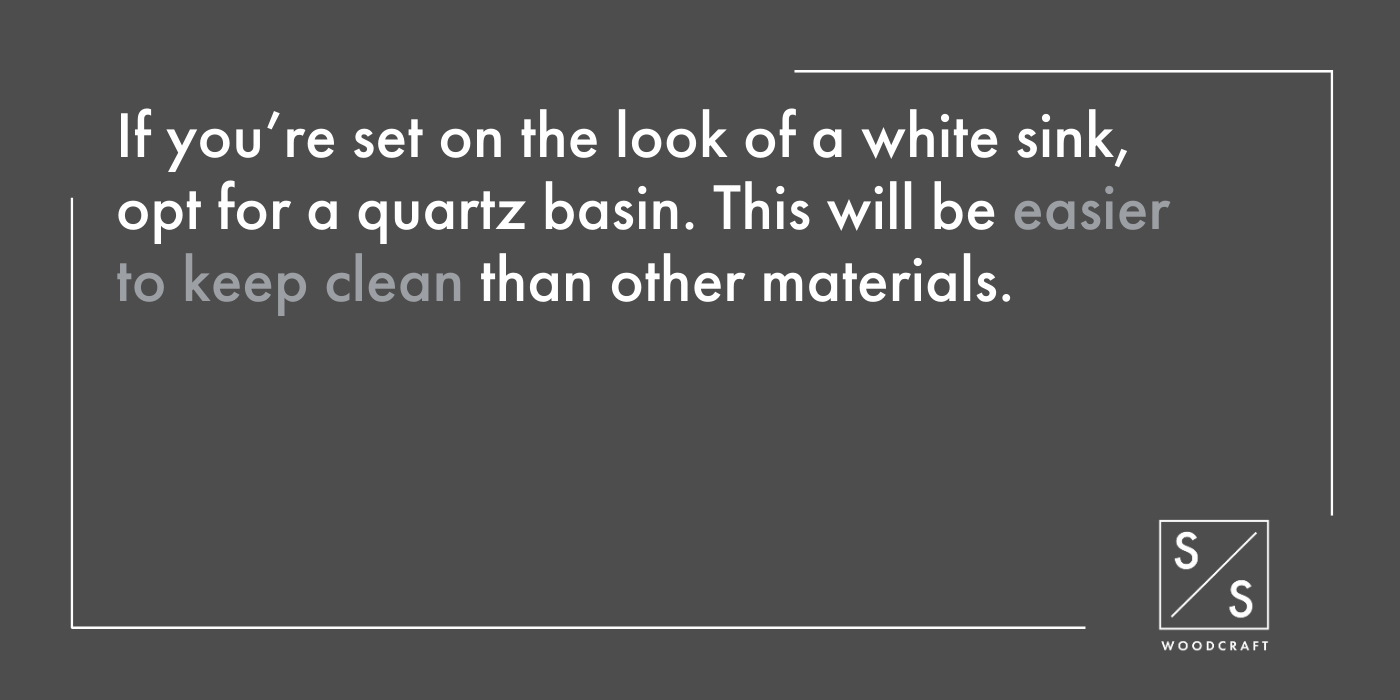 Still in doubt? A stainless steel farmhouse sink can look just as striking as a white one.
4. Experiment with Chalkboard Paint
The chalkboard is another staple of the farmhouse kitchen. You can feature a small daily menu on a countertop chalkboard, or you can experiment on a larger scale with chalkboard paint. A chalkboard accent wall makes for a striking addition to your farmhouse kitchen, and, as a plus, it's a great source of entertainment for kids during breakfast time.
5. Show Off Your Storage
Farmhouse kitchens often feature open shelving and visible storage. To get this look, store some of your crockery - like plates, bowls, and pitchers - out in the open, where it can be seen. A hanger for pots and pans is also a great tool for freeing up storage space and playing into the farmhouse aesthetic. Avoid clutter by leaving adequate space between your items.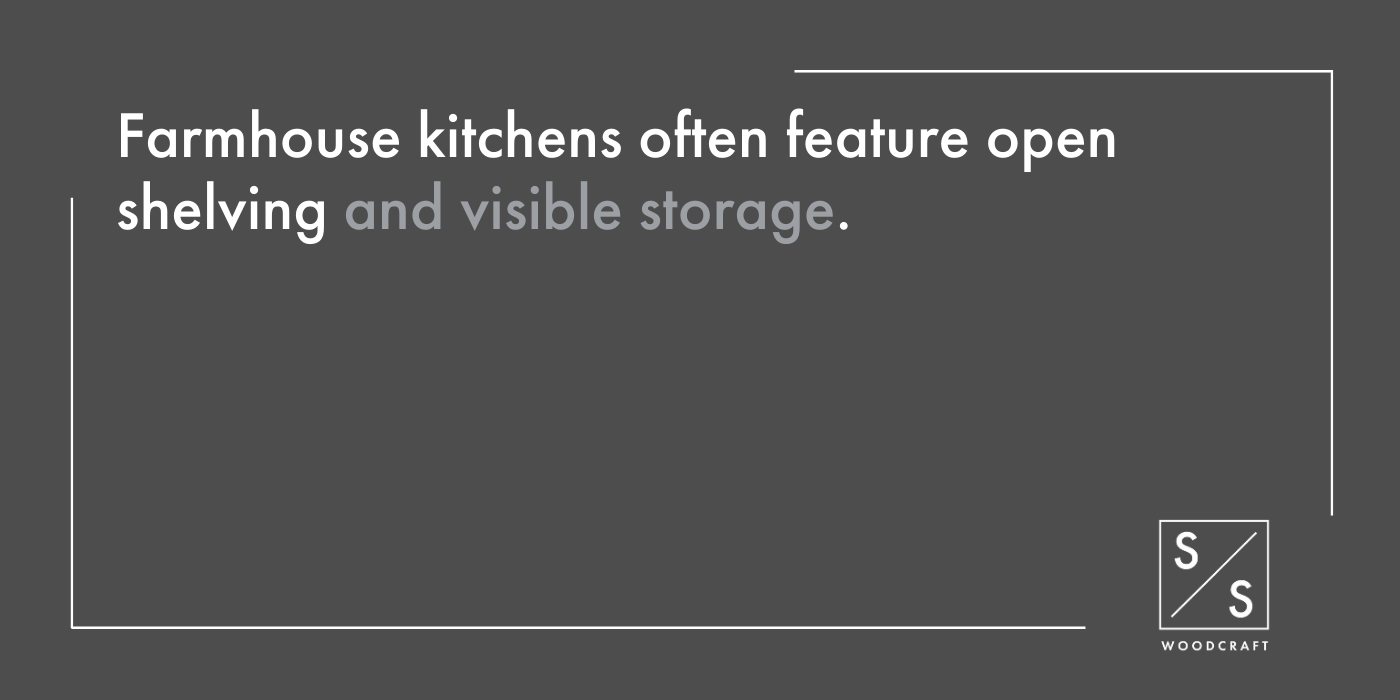 Additionally, you can store certain non-perishables - like pasta, rice, and other dry goods - in clear containers that are visible in your kitchen. For an extra cute look, create handmade labels for jars and storage areas.
6. Choose Pulls That Have Character
Though a farmhouse kitchen is simple by nature, that doesn't mean it doesn't have a personality. A great way to customize your farmhouse kitchen is by choosing unique cabinet and drawer pulls. Opting for an antique design will add charm to your kitchen and enhance the farmhouse look. Brass and antique bronze are a welcome departure from the more modern brushed nickel look.
7. Think About Quality Materials
Because farmhouse kitchens are known for their timelessness, you'll want to invest in elements that will last for many years to come. Often, farmhouse kitchens are home to strong, timeless materials like wood, cast iron, and brass. Feature these materials in your kitchen to help it last longer (and, as a bonus, they add plenty to the farmhouse design).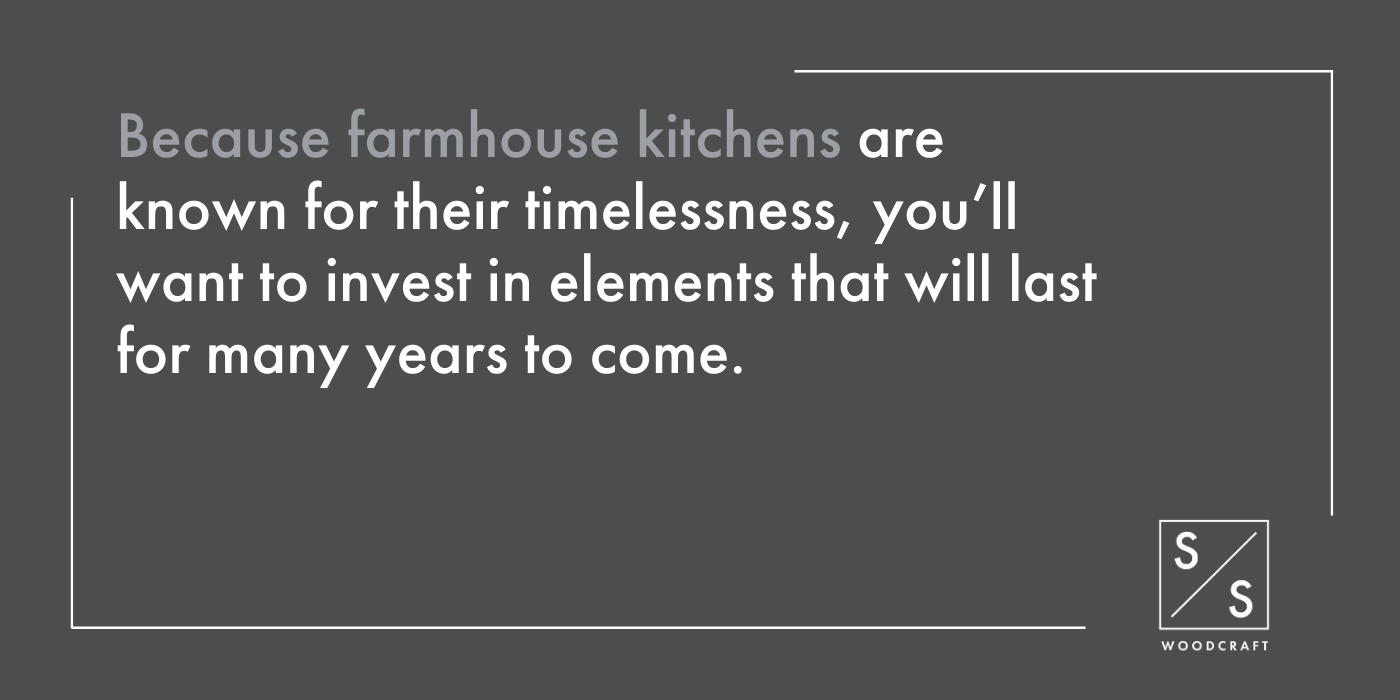 Make It Your Own
A farmhouse kitchen offers simplicity and quality without taking away your home's character and charm. It's no wonder that this design has remained popular for so long. For more advice on how you can get the farmhouse kitchen of your dreams, schedule a free design meeting with our team in Cold Lake, AB.