Should You Paint Your Kitchen Cabinets?
February 6, 2020
They say that the kitchen is the heart of the home, so what does your kitchen say about your home? If your cabinets and countertops are starting to feel dingy and your flooring looks like it's seen better days, it may be time for an update. If you're tempted to refresh your space by painting your cabinets, you're not alone. Many homeowners love do it yourself projects, but is this really a good DIY?
In this article, we'll explore the pros and cons of painting your own kitchen cabinets so that you can decide which renovation option is best for you.
Pros of DIY Cabinet Painting



1. Budget Friendly
The number one reason that most homeowners choose to DIY their kitchen refresh is because it can be much more affordable than a full, professional renovation. When you compare the cost of tearing out and replacing cabinets, installing new countertops and flooring, and updating all of your major appliances, doing a DIY update may seem like a no-brainer if you're on a budget. However, the question remains: is the cost savings worth all of the work, and how will the finished product look?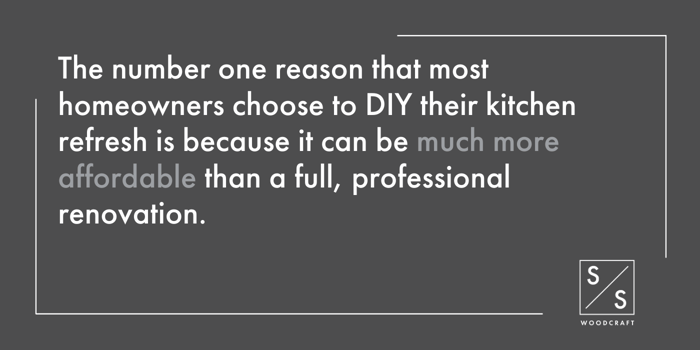 Cabinets often account for just under half of a kitchen's cost, so salvaging your existing cabinets saves a lot of money that you can then spend on other renovation expenses. If you think you may be able to afford a full renovation in a few years but want to update and extend the life of your existing kitchen, painting your cabinets could be an excellent option.
2. Customizable
DIY cabinets open the door to nearly endless color, pattern, and texture options for homeowners who are willing to put in the work. You can, with a little practice and time, create a unique aged texture for a vintage, cozy kitchen. Alternatively, you could create a streamlined, modern look with a bit of paint and updated hardware.


3. You CAN Do It Yourself
If you're content with the current size and layout of your kitchen, and if your existing cabinet doors and drawers are still in good condition, then your space is a good candidate for a DIY update. However, painting dented, dinged, and beat up cabinet doors won't cover up the cosmetic issues very well. Also, if you don't like the inlay of your doors, painting them is unlikely to make you fall in love with them again.
Under the right conditions, painting your cabinets can increase the value of your home without doing a full remodel. If you're getting your house ready to sell, you can modernize the space for a fraction of the cost of renovating the entire thing, which gives you more money to spend on other necessary updates.
Cons of DIY Cabinet Painting
1. Time-Consuming
First and foremost, painting your kitchen cabinets and drawers is NOT a quick renovation. There's a lot of prep work to do before you can paint, so you need to be committed to doing it all and doing it well if you want your project to turn out. You'll need to clean, sand, prime, and paint every door, drawer, and panel in your kitchen. Some homeowners also paint the interior of their cabinets.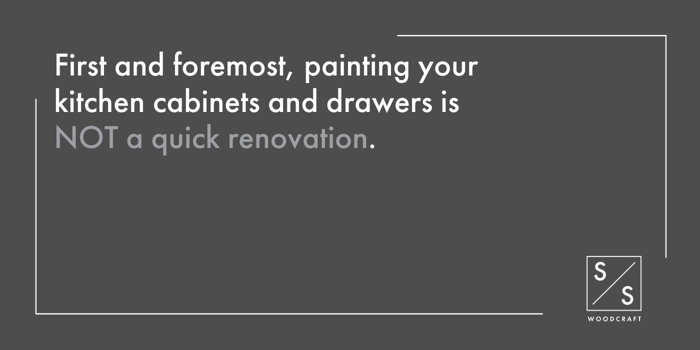 2. Takes More Work Than You Expect
There's a lot of work to do, so you should expect it to take you several full days to complete. If you have a lot of other things going on and you can't drop everything to work on the project, it may even displace you from your kitchen for a couple of weeks until you can complete the work. If you're not willing to give up the use of your kitchen for that long, and you don't want to work hard to complete the project well, then painting your cabinets may not be the right decision.
You'll also need to disassemble each cabinet and drawer yourself, and then put it all back together when you're done. When you consider the cost savings of the project, be sure to factor in the cost of your time and your stress level. Spending a little more to have professionals reface, refinish, or replace your cabinets may be worth the money if it saves you from a stressful and time-consuming DIY project that you may end up regretting halfway through.
3. The Results May Not Be What You'd Hoped For
Cabinet doors made from real wood are the easiest to paint yourself, but not all cabinets are natural wood. Many kitchens have engineered wood doors, which are challenging to properly prep so that the new paint sticks. Engineered wood doors are much more likely to peel and chip than natural wood, so you'll need to be extra diligent with your sanding and priming.
Do your existing doors have a texture that you like? If so, you're likely to lose that beautiful character when you sand down the doors. How do you feel about trading in that gorgeous, natural wood grain for paint brush strokes? If you prefer a smooth, flawless finish, you may not be the best candidate for a DIY project because perfection is difficult to achieve on your own.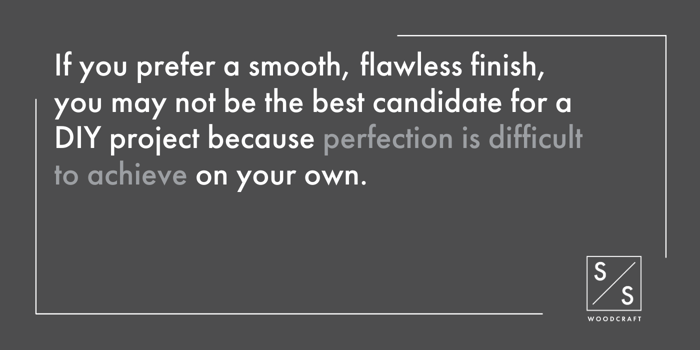 Not all paint is suitable for kitchen cabinets, so be sure to pick one that won't flake or peel within a year. The paint should be able to stand up to grease splatter and frequent cleaning without wearing unevenly. You may need to spend extra time prepping and painting high-traffic areas like your silverware drawer and where you stow your trash to help the paint last as long as possible.
Should You Hire a Professional?
DIY cabinet painting nearly always leaves the doors and drawers with some "character," no matter how careful you are.
Cabinet professionals like S&S Woodcraft have specialized equipment and expertise to resurface your cabinets within a few days for a polished, flawless result. If you're seeking perfection and you're not interested in spending several days on the project, then you should choose a professional solution.
Did you know that DIY projects and tearing out your entire kitchen aren't your only renovation options? S&S Woodcraft offers custom solutions for a variety of renovations. Click below to schedule a free, no-obligation design meeting to talk about your vision for your space.