10 Tips for Staying on Budget During Your Kitchen Remodel
February 13, 2020
Without careful planning, it's easy for your kitchen renovation costs to skyrocket. Maybe you're overzealous about fancy upgrades, or perhaps you underestimated the cost of the project. Whatever the cause, going over budget can be stressful. In this article, we're sharing our top 10 tips for keeping your renovation on-budget and your stress level in check.
1. Set your renovation budget!
It sounds obvious, but the first thing you should do is figure out how much you can realistically afford to spend, then stick to it. If you spend haphazardly or blow the budget, you risk regretting your renovation rather than loving it.
If you're remodeling to sell your house, make sure that you don't overspend in comparison to other homes in your area, or you may not be able to recover the cost when you sell. However, if you're remodeling for yourself, you may end up spending more to create a space you'll love.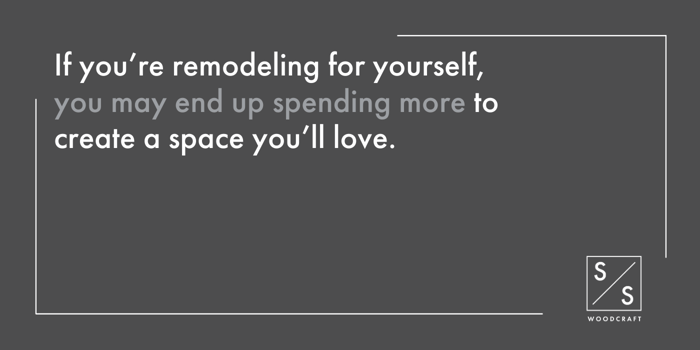 2. Reserve some of your budget for unexpected expenses
You never know what your contractor will find when he removes your existing flooring, appliances, or cabinets. Make sure that you set some of your budget aside for surprises because there are sure to be at least one or two. If you need to replace some wiring or redo the drywall behind your sink, it won't break your budget or force you to make concessions on other design elements.
Didn't run into as many emergencies as you thought you might? Great! Now you can spring for upgraded lighting, more storage accessories, or a fancy dishwasher.
3. Know how you'll pay before you start the work
If you plan to secure a loan to pay for your updates, make sure that you at least get pre-approval before hiring a contractor. Even better? Have your loan money in hand so that you can start making deposits for your materials.
4. Get some design inspiration before you begin
Are you a Pinterest lover? If so, find some designs that you love and then research the cost of your favorite styles before you begin shopping for your space. You can end up with a broken heart if you visit a showroom and fall in love with marble countertops, only to later learn that you can't afford them.
5. Prioritize your upgrades
If granite countertops are non-negotiable, then set aside the money for those first. If you start by buying fun, small items like a fancy faucet or expensive storage accessories, you may end up short on cash to buy the big-ticket items that you want the most, like the nicer dishwasher or refrigerator. If you prioritize, you'll be able to get the most important things on your list and then spread the leftover cash on the lower priority items.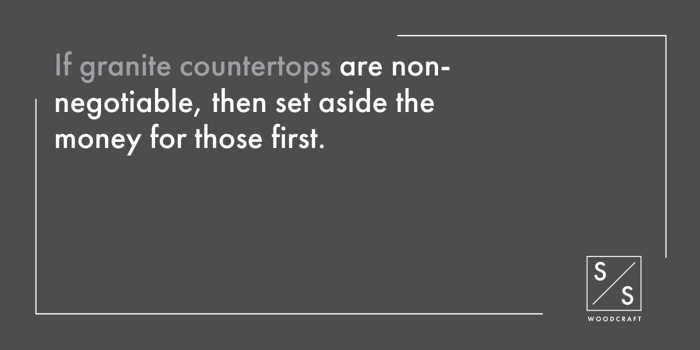 6. Nerd out with your spreadsheet!
It's hard to keep track of loose receipts, especially as your remodel progresses and you spend more money. You don't need to be a data genius or accountant to create a simple spreadsheet. Follow along with an easy online tutorial, and you'll be able to quickly add each purchase and keep a running total to make sure that you aren't overspending.
7. Budget for your meals during the renovation
You won't be able to use your kitchen during the remodel, so you'll have to make alternate meal plans. Eating at restaurants gets expensive, so you may want to find more affordable options. Do you have family, friends, or neighbors who will take you in for dinner once a week? Can you pre-cook meals or set up a hotplate in your living room? Price out a few different scenarios, choose which will work the best, and include the estimated cost in your budget.
8. Budget for your lodging costs during the renovation
You can save money by staying at home during the renovation but be prepared for noise and more mess than usual. If you'd rather stay elsewhere, make sure that you include the cost in your budget. Staying in a rental home or long-term hotel with a kitchen can cut down on your food costs since you won't have to dine in restaurants each night, which can offset some of the lodging expenses.
Alternatively, you may be able to stay with family or friends for free and cook in their home, which is a very budget-friendly option.
9. Do some of the work yourself
Your labor is free, but you pay for every minute of your contractor and his team's time. Can you do any of the demolition yourself? Is your brother-in-law available to help you install the new flooring? Even doing the painting yourself can add noticeable cost savings.
If there are any parts of the work you can do yourself, you'll end up with more money to spend on your priority areas.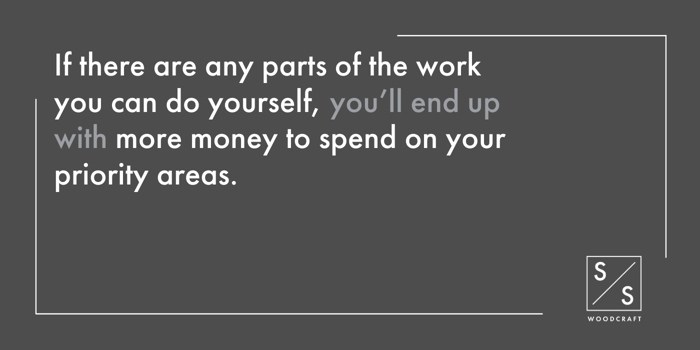 10. Salvage pieces of your existing kitchen that are in good shape
If your cabinets are in great shape, consider having them refaced rather than replaced to save money. If your refrigerator is still working great, you may want to keep it. You don't have to throw everything out! Avoiding even one or two high-cost upgrades will make a huge difference in your budget.
How do you feel about your current kitchen layout? If it's working for you, keep it! Moving plumbing and electrical is very expensive, so save money by sticking with your current layout as long as it's meeting your needs.
BONUS: Choose a contractor who won't push you into budget-busting upgrades
Choose a project partner who you can trust. Your contractor should be respectful of your budget and upfront about your costs. If you're ready to get started on your kitchen remodel in Cold Lake or in the Edmonton area, then stop by the S&S Woodcraft showroom. Once you choose your materials, we'll prepare you a comprehensive bid and a 3D rendering so that you can see how your finished project will look and how much it will cost.
Let's get started building the kitchen of your dreams today!