Splurge vs. Save: How to Build Your Best Kitchen
March 12, 2020
Most homeowners only remodel their kitchen every decade or two, so it's super important that you take time to plan the entire project before you begin making purchases. You can create a beautiful, functional kitchen with lots of special touches, without busting your budget.
The secret? Think about how you'll use the space and prioritize your wish list items. If you love to cook, splurge on high-end appliances. If you like to entertain, you may want to spend more on a large island where your loved ones can gather. If you have a house full of teens, consider upgrading to an oversized refrigerator or more pantry storage so that you never run out of food.
In this article, we're sharing our top items to save on, and the upgrades we think are worthy of a splurge.
Budget Savers
The best way to save money on your kitchen renovation is to discard trendy upgrades that don't suit you. Sure, your sister-in-law spent a pretty penny on a custom backsplash, but that doesn't mean that you have to. Keeping up with the Jones's is a surefire way to bust your budget and end up with a kitchen that underwhelms you.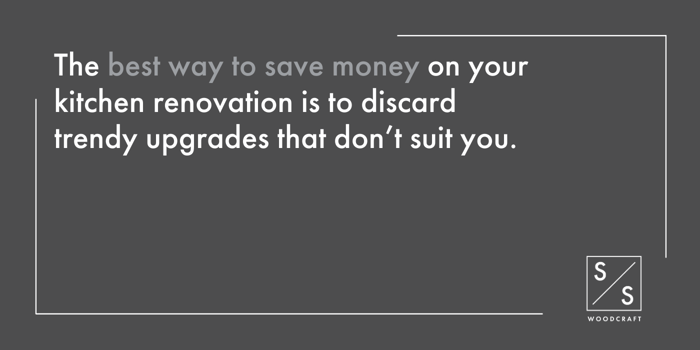 Backsplash
In general, horizontal surfaces are for work, and vertical surfaces are decorative. While your backsplash is an important aesthetic element of your kitchen, it doesn't have to break the bank. Simple subway tiles are trendy and affordable, plus highly functional! Keep in mind that your backsplash will get, well, splashed. Carrera marble may make a beautiful statement, but faux marble tiles are a fraction of the cost, won't patina over time, and are super easy to clean when you (inevitably) splatter them.
Cabinets
If your renovation budget is tight, consider refacing your cabinets instead of replacing them. Refacing is a smart choice for homeowners who like their current kitchen layout and whose cabinet boxes are still in good shape. By replacing the doors and keeping the rest, you can save a ton of money on both materials and labor.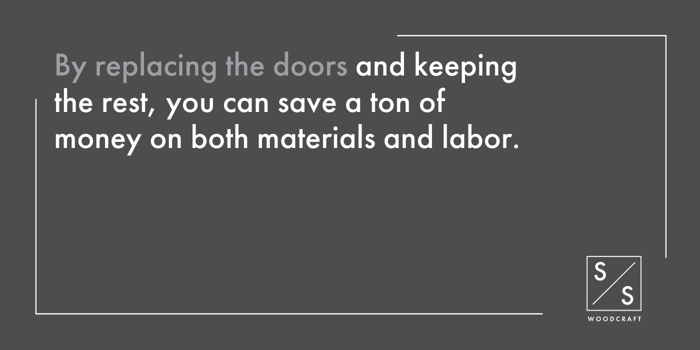 You can make your refaced cabinets feel more like a splurge by adding luxe touches like soft-close doors and pull-out storage. You can also opt for engineered wood rather than real wood. It costs much less, and most people won't be able to tell the difference.
Hardware
In a large kitchen, replacing the hardware on every drawer and cabinet door can add up quickly. There's no need to purchase $15 handles when you can achieve the same look for a tenth of the price. Even affordable hardware can elevate the elegance of your space, so this is a great place to save.
Flooring
Modern flooring has come a long way from the thin, rollout laminate floors from the 80s. While tile floors are beautiful, they're also expensive and easy to crack if you accidentally drop something. Instead, opt for a vinyl floor that looks like real wood. The maintenance is basically nonexistent, they're highly durable and often waterproof, and the installation is easy. Porcelain and cork floors are other sturdy, stylish options that will keep your budget under control.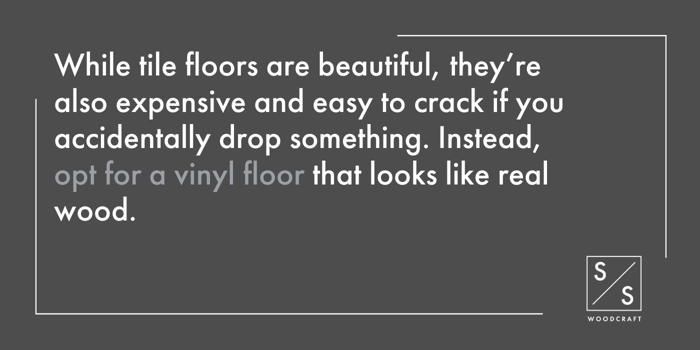 Layout
If the size of your kitchen and its current layout still work for you, keep 'em! Moving plumbing, knocking out walls, and adding windows can get super expensive. If your kitchen is just too small, keep all of the elements that will still work, like plumbing, and only move what you absolutely have to.
Lighting
Recessed cans are super affordable and provide excellent light above your workspaces. You can add them to the ceiling or under your cabinets for a steal. If you want to splurge on a statement piece, choose one beautiful fixture for over the island and save on the rest. There's really no need to splurge on all of your fixtures, plus the styles can compete with each other and create a jumbled design if you go overboard.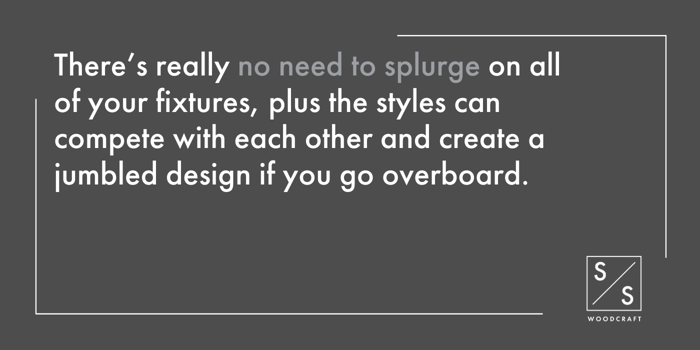 Sink
If you're crazy about farmhouse sinks and having one is a priority for you, go ahead and splurge. However, you can get a good quality, sturdy, stainless-steel sink for just a few hundred dollars. Remember: you don't have to splurge on the sink just because your neighbor did! If you opt for an affordable sink, you can make it feel more luxurious by pairing it with a great faucet.
Best Splurges
Picking out at least a few swoon-worthy upgrades is what makes a kitchen renovation fun! As you imagine how you'll use your new space, consider splurging on the elements you'll use frequently or those that will give you a daily "wow" feeling. If you love to drink wine, add a built-in wine rack. Upgrade to custom storage solutions if you have tons of kitchen gadgets. As long as you'll get a lot of benefit from it, it's a good candidate for splurging!
Storage
Ingenious storage solutions are not only functional, but they also keep your gorgeous new kitchen decluttered. If you decide to spring for a gorgeous custom backsplash, go ahead and upgrade your storage too. When you have places to stow your toaster, blender, and cookbooks, you'll be able to see more of your backsplash. Plus, you know you'll accumulate more gadgets, dishes, and random Tupperware lids over time — so plan ahead and maximize your storage space now.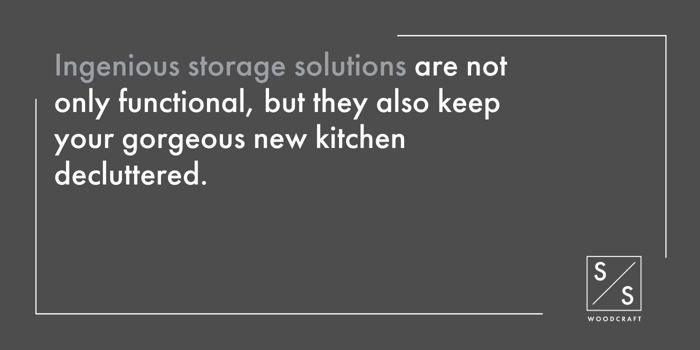 Countertops
Countertops are the showpiece of your kitchen, so set aside a portion of your renovation budget for your ideal surface from the beginning. Counters that are both beautiful and durable may cost a bit more, but they're worth the splurge if you'll use them a ton and if they'll make you say, "wow!" each time you walk into your kitchen. Another advantage of choosing your countertops first is that they can anchor the rest of your kitchen design, which makes it easier to select your cabinets and flooring.
Appliances
If you love to cook, go ahead and splurge on a high-end range. Since most people do use their appliances heavily, it makes sense to spend a little more for energy-efficient varieties with a good warranty. However, if you prefer takeout and don't see yourself turning into the next Julia Child, this is not a smart place for you to spend a lot of money.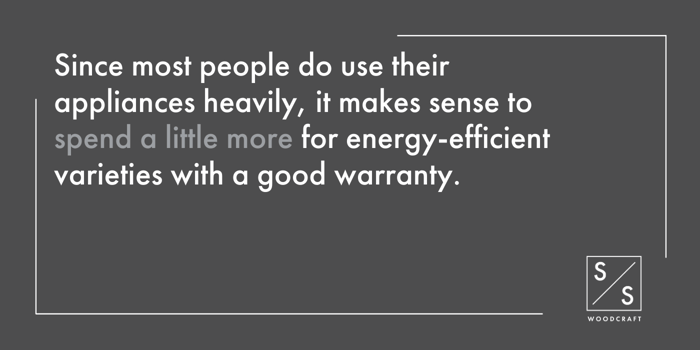 Vented Hood
Great ventilation, especially a hood that vents outside, is worth the money. The air quality in your home will be better without all of the cooking oils and smoke. That's good for the smell of your home and your health!
Start Designing Your Custom Kitchen
Your perfect kitchen is one that has the elements that will wow you, and one that's within your budget. S&S Woodcraft is an expert in building custom kitchens, so stop by our showroom to start planning your renovation today. We operate in Cold Lake and Edmonton, AB. Together, we'll mix and match material swatches and then create a free 3D rendering so you can visualize how your dream elements look together.