Cabinet Refacing: A Quick, Easy Way to Refresh Your Kitchen
March 5, 2020
Is your family the kind that spends more time gathered in the kitchen than any other room of your home? Maybe you start your morning by feeding your kids breakfast while you pack their lunches. At night, you whip up a one pot meal while they do their homework at the island. Each weekend, you make pizza and popcorn together for family movie night. How many holidays have you spent making cherished family recipes together in this space?
When you look around your kitchen, do you see the past? Every scratch, ding, and dent is a memory. What else do you see? Are your cabinets faded from thousands of steamy dinners and millions of fingerprints? That bottom drawer gives you fits every time you open it. Even though it reminds you of your youngest using it as a pedestal to watch you cook, it may be time to finally refresh the space.
If taking your kitchen down to the studs isn't an option, don't worry! Refacing your cabinets is budget-friendly, plus it's quicker and much less disruptive than a total kitchen remodel. You can achieve an updated, fresh look without losing the use of your most essential room. Read on for more details about how S&S Woodcraft can help you revive your kitchen without digging into your kid's college savings account.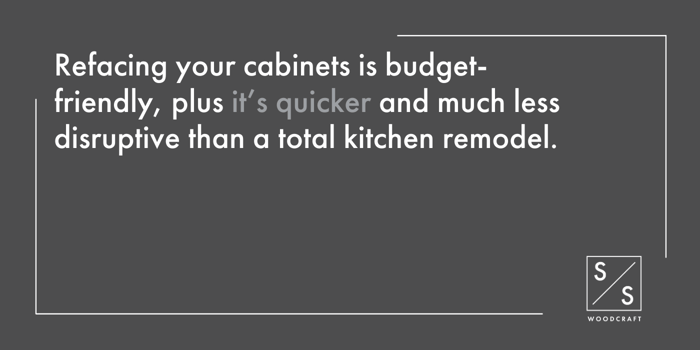 What is Refacing?
When we reface (or refinish) your cabinets, we only remove and refurbish the front-facing parts of your woodwork — the doors, drawer fronts, and cabinet/drawer knobs or pulls. Want to try a lighter paint or stain color to make your room feel more spacious? Need drawer pulls that don't pinch your little ones' fingers? Maybe you want to incorporate a few glass doors so it's easier for your family to find what they need. Refacing is a great way to achieve all of these goals without the hassle of a full remodel.
The Upsides of Refacing
Before moving forward with a full remodel, consider the following benefits of refacing:
1. You'll Spend Less Time & Money
Since you preserve your cabinet boxes and only replace the front-facing components, refacing usually costs about half as much as a complete remodel. What homeowners usually appreciate the most about refacing is that we can finish the entire project in as little as one to three days. A full remodel often takes weeks.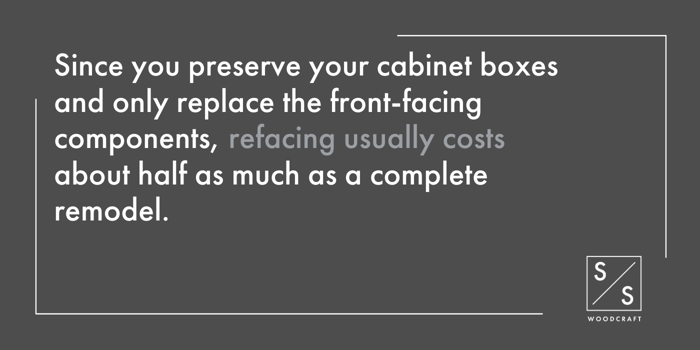 2. You'll Still Be Able to Use Your Kitchen
Refacing doesn't require completely demolishing your kitchen. That means that you won't have to spend time and effort emptying your cabinets, finding temporary homes for everything, and then trying to remember where things are if you need them during the remodel. Also, you won't be able to cook for your family when your kitchen is torn out, which means budgeting for expensive meals out. Refacing your cabinets doesn't disrupt your life like a full renovation.
Think you have no choice but to demo your existing setup because you recently purchased new, larger appliances? Think again! We can make some design modifications during a reface so that the cabinets you have still work perfectly with any new appliances.
3. It's Eco-Friendly
Less demolition produces less waste, which means less material will end up in our already overflowing landfills. Preserving as much as you can from your existing cabinets also means you'll be preserving the trees that would have been cut down to make new cabinet boxes.
Some Important Caveats
Refacing can be a great option for many homeowners, but there are some times when it might not be right for your kitchen. Here are some key things to be aware of before committing to refacing:
1. Your Cabinet Boxes Need To Be In Good Shape
Since refacing preserves your existing cabinet boxes, they need to be in good condition. If the boxes are warped, rotting, damaged, or just very aged, you may need to replace them.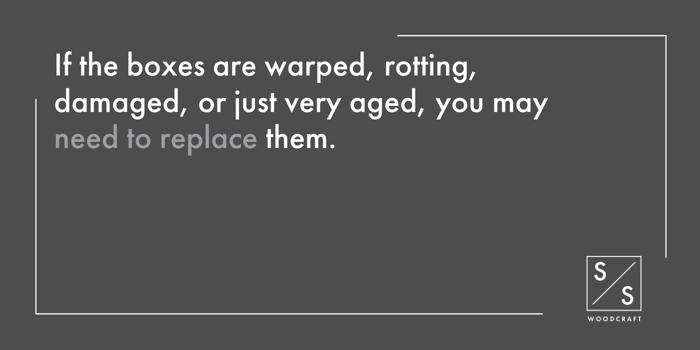 2. Refacing is Affordable, But It's Not Free
Refacing typically costs about half the price of a full remodel, but that can still be a significant sum. It's a good idea to make a list of the updates you want, prioritize them, and then budget for them from the start. If you aren't careful, accessories like hinges or expensive handles can eat into your anticipated savings.
3. You Can't Change Your Kitchen Layout
During a reface, we can make small modifications to fit new appliances. However, refacing preserves the general layout of your current kitchen. If you want to expand the size of your kitchen or want to make major changes to the design, refacing isn't the right choice.
Are Your Cabinets Begging For a Little TLC?
We understand the important role that a kitchen plays in your life, and we want your space to be functional and beautiful without breaking the bank. If you still have questions about whether refacing is right for you, schedule a free design meeting. We'd love to discuss your options, talk about designs, and help you create a fresh space where you can make new memories with your family.