18 Ways to Make a Small Bathroom Feel Larger
April 2, 2020
When you picture your perfect bathroom, what features does it have? A large, luxe bathroom with a double vanity, walk-in closet, walk-in shower, claw-foot tub, and room for a chaise lounger would be a dreamy start. Unfortunately, many homes, especially those that weren't built in the last decade or two, have small bathrooms that are just too small for all of those amazing features.
Even if you can't have a bathroom fit for royalty, there's no reason why your bathroom can't feel like a roomy escape, even if it's short on square footage. In this article, we're sharing our top tips for maximizing your bathroom space. Some suggestions are best for full remodels, but others are simple swaps you can make with zero demolition.
Demolition-Free Design Changes
Many small, quick changes are completely demo-free! The following changes take just a few hours, or sometimes mere minutes, and can make your space feel noticeably roomier.
1. Reduce Towel Clutter
If you want to make your bathroom feel larger in seconds, reduce the number of towels hanging on hooks and bars. Each towel adds bulk to the room, so limit the number of towels that hang out in the open, and you'll instantly open up the space.
2. Swap Thick Shower Curtains for Sheer or Clear
Clear or sheer shower curtains let more light filter throughout a room, which gives the illusion of more space. Opting for clear curtains rather than dark, thick, fabric curtains also creates a view from wall to wall, which expands the room by 30 inches or more! That has a huge impact on the spaciousness of your bathroom for just a few dollars.
3. Choose Light Colours
Using light colours in a small space is a classic interior decorating trick. Dark colours shrink a space, so opt for light wall and floor colours. If you really love dark colours, integrate them in small pieces of décor, or choose just one accent wall to paint dark.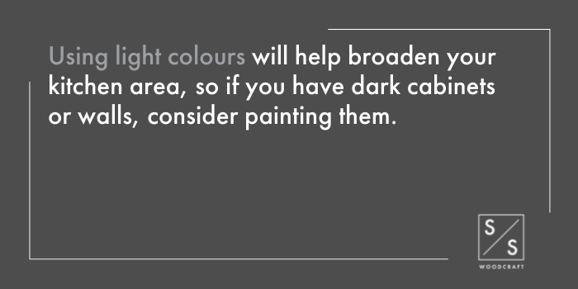 TIP: Choose glossy paint rather than matte. Dark, matte colours tend to absorb light, but glossy paint reflects light. Another bonus is that glossy paint is much easier to clean than matte, which is a serious bathroom win!
4. Install a Large Mirror
Mirrors are another time-tested design trick because they reflect light and make a small space feel larger. Opt for a big mirror with a simple frame above your vanity to reflect the maximum amount of light without adding the bulk of an ornate frame.
Can't find the mirror of your dreams? We can build a custom frame of any size and perfectly match it to the style and color of your cabinets.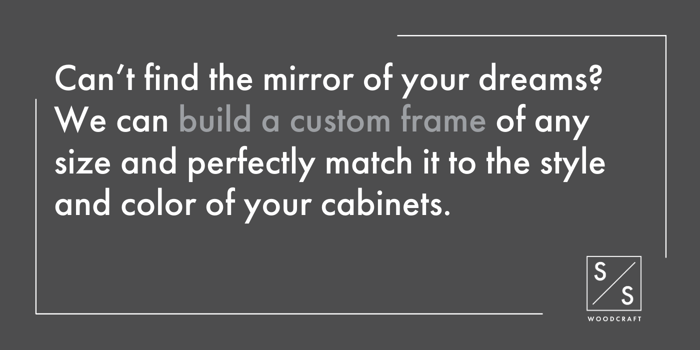 5. Remove Items That Stick Out
Although it's fun to add shelves and decorate them with unique items, it just takes up precious space in a small bathroom. If you currently have bulky décor that protrudes from the wall, removing it is a free, quick way to expand your open space. If you're in the process of remodeling, save some cash and skip any unnecessary shelving.
Weekend-Worthy Upgrades
If you're in the market for a mini remodel, but not a full bathroom gutting, then keep some of the following design tips in mind to be sure that your new pieces don't waste any space.
6. Opt For a Small Vanity
Half and guest baths don't usually need a vanity with a large counter. You can save a lot of space with a simple pedestal sink. A modest floating vanity is another great option because they often have storage shelves below for essential items like towels or toilet paper.
If you're upgrading a small master bath, you may have enough room to squeeze in two sinks, but you may not want to. If your options are two sinks with very little counter space or a single sink with a more sizable counter, the latter may be the better choice. Countertop space is precious, so consider which is more important: a second sink, or an extra 18 inches of countertop.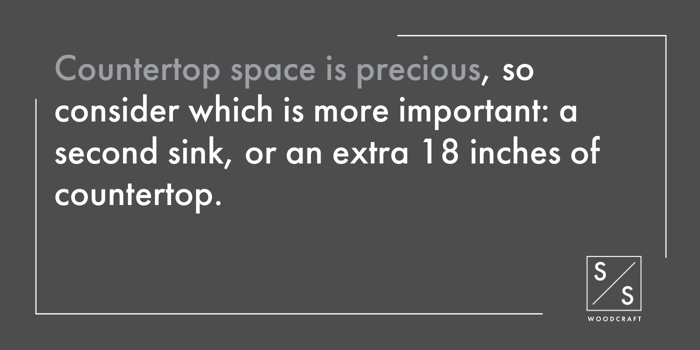 7. Get Creative with Your Sink Shape
Modern sinks come in a variety of shapes, from trough to round, rectangular, and everything in between, which is great for small spaces. Choose a sink that compliments the shape of your bathroom.
TIP: A great companion to a trough sink is a wall-mounted faucet. You don't have to steal any of your room's width to accommodate a faucet in the countertop!
8. Extend the Countertop Over the Toilet
There's a lot of wasted vertical space above a toilet. If your vanity is beside your toilet, consider extending the countertop across the back of the toilet to take advantage of that great space.
9. Be Smart About Your Shower Door
Swinging shower doors that open into the bathroom are a hassle to accommodate in a small space. Instead, choose a sliding door or a shower curtain that doesn't encroach on the main area of the bathroom.
10. Use Lines!
Horizontal lines make a room look wider, and vertical lines make a room appear taller. Depending on the dimensions of your space, you can use lines to create an optical illusion that it's more spacious without actually adding square footage.
Try alternating paint colours in wide bands to create horizontal or vertical stripes. Another way to achieve this effect is with paneling or shiplap that has built-in lines.
11. Go Big with Tiles and Patterns
Choosing large tiles and patterns is another design hack for modest spaces. Small, busy patterns can overwhelm a space, but using large floor tiles or wallpaper with a big, bold pattern can make the room feel larger.
12. Consolidate the Towel Bar
Towel bars can add unnecessary clutter to a tight space. Opt for a shower door that has a built-in towel rack to eliminate bulk on the bathroom walls. Try to keep the majority of towels stowed and only put one on the bar to reduce the overall volume of towels in the room.
If you don't care for towel bars, consider a small hook on the shower door instead.
13. Light It Up!
Light makes interior rooms feel airier and more open. Install a few new lights (especially recessed lights that don't protrude into the room!) inside the shower, above the mirror, or near any storage areas.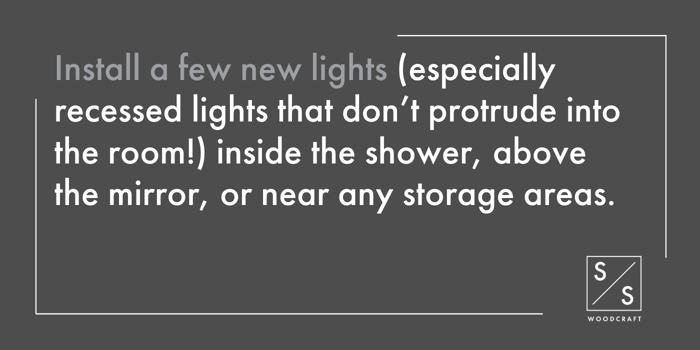 TIP: Install dimmer switches so you can turn down the brightness at night and avoid disrupting your body's natural circadian rhythm.
14. Update Your Door
Pocket doors are a great space saver! If you're not a fan of them, you can refresh your door so that it swings out of the bathroom rather than in. It'll make maneuvering inside the bathroom much easier!
Full Bathroom Overhaul
If you're tearing your small bathroom down to the studs and starting over with the design, we have some great ideas for changes that you can make to maximize the openness of the new room.
15. Ditch the Tub For a Walk-In Shower
Bathtubs take up a lot of space physically and visually. If the tub isn't a necessity, then install a tile walk-in shower instead. If you create a storage niche inside the shower, you'll even have somewhere to store your bottles rather than scattering them around the perimeter of the tub. Clean, organized spaces feel larger than messy, cluttered ones.
When you install the tile, make sure that you take it all the way up to the ceiling to extend the visual line and make the room feel taller.
If you do decide to keep your tub, opt for one that is a standard width but extra deep. Doing so makes it possible to have a great soak, without encroaching on the room like a wide, standalone tub can.
16. Place Your Shower/Tub on the Wall Furthest From the Door
To make your room seem longer than it is, place major plumbing like the shower or tub on the wall furthest from the door. Having the shower on a side wall breaks up the flow of the room and makes it feel more claustrophobic.
17. Install Smart Storage
You may not be able to fit a large linen closet, but then again, maybe you can if you choose the right spot. Take advantage of the space behind a door, under the sink, or above the toilet to add cabinetry for much-needed storage. When you add storage above or below existing components, it doesn't jut out, so it won't shrink the room.
18. Recessed Medicine Cabinet
Recessed medicine cabinets "steal" space from the interior of your walls, so you get an extra four inches of storage without using any of the bathroom's space. Installed between the studs, these ingenious storage solutions keep your most-used toiletries right at hand while maintaining the interior size of the room.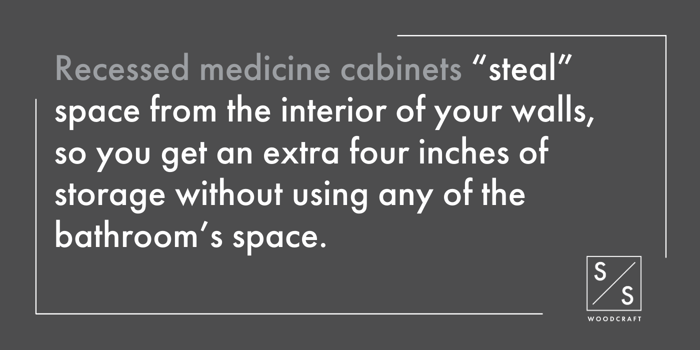 Make Your Small Bathroom Feel Spacious
Clean, modern décor and space-saving designs can make even the tightest bathroom feel spacious. Our number one tip is to use restraint in your renovation — too much of anything will crowd and clutter the space. Think about what's essential, and refrain from adding anything beyond that.
If you want to test out some materials and see how different components would fit into your space, stop by our Cold Lake showroom. You can compare flooring, cabinetry, and vanity materials, and then we'll create a 3D rendering so you can see how great your finished bathroom will look.