4 Things to Remember When Planning Your Kitchen Reno Budget
May 7, 2020
Taking a leap and deciding to renovate your kitchen is the first and most important step in the remodeling process. The second step, however, is just as important — and that's creating a budgeting plan for your project.
Simply stated, money is the backbone of any home improvement project. In order to get everything you need and want out of your new kitchen, you want to ensure that you spend all of your hard-earned savings wisely. Budgeting ensures that you won't breeze through your budget before getting to the most important parts of the renovation.
Whether you're upgrading outdated materials and appliances or fixing a dysfunctional layout, there's a reason why you've decided to take this big step. It's important to keep your "why" at the forefront of your mind when you plan where to spend the majority of your budget.
With the right tools and mindset, you can save yourself time, stress, and money with just a few simple renovation budgeting tips.
Create a Detailed Plan
The best thing that you can do for your budget is to be clear about what you want and form a solid plan for your new kitchen before you start working on the renovation.
Have a clear idea of what you're looking for in your new space before you undo a single screw of your current kitchen. If you're not sure where to begin, try looking for inspiration in places like online blogs, design magazines, and showrooms. It's also helpful to collect and compare samples in person.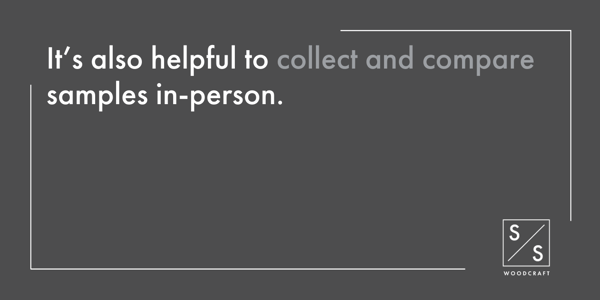 If you're struggling to decide the exact style or layout that's right for your space and your needs, that's okay! There's no sense in rushing straight into a remodel and throwing a bunch of money at an idea you aren't one-hundred percent sure that you're going to love.
It's worth taking your time in the beginning stages because making changes mid-project is expensive and can bust your budget.
Prioritize, Prioritize, Prioritize!
Whether your budget is large or small, you'll want to set aside money for the features that are most important to you first. Priorities vary from one homeowner to another, but a good rule of thumb is to budget for your biggest investments before choosing smaller details.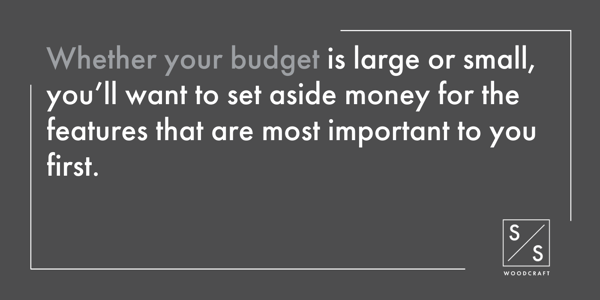 If your remodel includes new cabinets, countertops, or appliances, choose and pay for them first. These are all costly but functional elements that will have the greatest effect on the overall quality of your new kitchen, so you definitely want to budget for these items early on.
It's easy to get carried away with things like backsplashes and other cosmetic updates. However, you may look at that high-end backsplash with regret if it means you get stuck with a lower-end stove because you blew your budget too early.
If you have an idea for a custom element to include in your renovation, you'll want to prioritize it at the beginning of your project as well. Things like a cozy breakfast nook are spaces that you'll get a lot of use out of, so invest in these special touches before putting money toward less significant items like a flashy vent hood or pricey wallpaper.
Expect the Unexpected
It's impossible to prepare for everything, but that doesn't mean you shouldn't try!
With just about any major construction or home improvement project, you're bound to hit some bumps along the way. Jobs that include rearranging your kitchen's layout and redirecting gas or water lines are especially prone to unexpected (and oftentimes unpleasant) surprises.
No matter the size and scope of your project, it's always a good idea to give yourself a little cushion for unforeseen circumstances. A reasonable amount to set aside is somewhere between 15-20% of your total reno budget.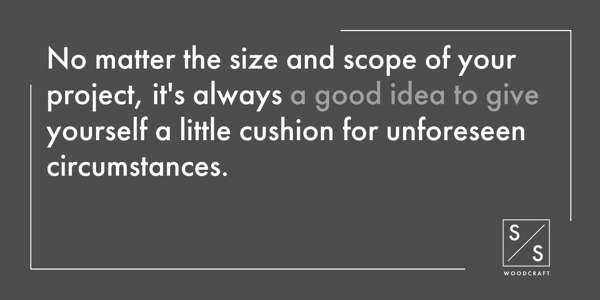 Then, if you've made it through your remodel without drying out this emergency fund, you can either save it or use it for fun finishing touches you wouldn't have budgeted for otherwise.
Find a Reliable Contractor
Finally, after developing clear goals for what you want, prioritizing which purchases you'll make first, and planning for unexpected mishaps, the next crucial step is finding a reliable contractor.
Your contractor should be a partner who listens to and understands your goals and makes an effort to be available to you throughout the entire process. You don't want to hire a company that lowers their service standards after making the sale and becomes difficult to get a hold of when you have a question or concern.
Asking around and getting reviews from trustworthy sources is a good way to find reputable contractors in your area. Local, privately owned contractors are great options because they tend to have a less commercialized approach than chain stores.
We're Happy to Help!
At S&S Woodcraft in Cold Lake, AB, we hold ourselves to the highest standard of customer service from start to finish. We've done right by our customers for over 30 years by giving them exactly what they hoped for.
If you're searching for a trustworthy, high-quality contractor near Edmonton to help with your kitchen renovation, stop by our showroom to browse our materials or for a free consultation with one of our shop experts. We'll answer your questions, make recommendations, provide samples of different materials, and even create a 3D rendering of your new kitchen — all at no cost! We can also provide the same great service remotely through email, text messages, and video calls, so get in touch today.