Renovation Tips for Creating a Kitchen You'll Never Grow Tired Of
May 14, 2020
A kitchen renovation is an extensive project that requires a lot of thought, time, and money. After everything you put into it, you want the result to be something that meets all your cooking needs and brings you joy every time you set foot in it for many years.
Whatever your motivation for renovation, the bottom line is that your new kitchen should look and function just the way you want it to. Whether you're hosting this year's Thanksgiving dinner, baking three dozen cupcakes for a bake sale, or simply preparing a weeknight meal for your family, your kitchen should make your job easy and enjoyable.
With some careful planning, consideration, and expert wisdom, you can create a kitchen that you'll never grow tired of. To help you get started, here are some tips for designing your new kitchen.
Plan a Functional Layout
Nothing will help you enjoy your kitchen more than carefully planning a layout that's most efficient for you.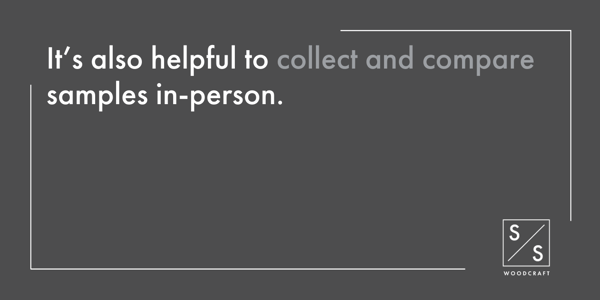 When deciding how to arrange your new kitchen, you'll first want to consider where your major appliances should go. In most cases, the overall shape of your kitchen will be determined by where you choose to position your stove, sink, refrigerator, and dishwasher.
Most people prefer to keep the distance between essential appliances minimal, such as your sink and stove. An example would be if you have a large kitchen with counters that run the length of the room, you don't want to space the stove and sink too far apart.
Likewise, you also want to be careful not to place barriers between your most-used appliances. If you already have an island or plan to install one, make sure that your appliances are positioned around it in a way that won't have you constantly circling around it to get to everything you need while cooking.
Include Customizations to Personalize the Space
Incorporating custom features can give your new kitchen a "wow" factor. Personal touches that speak uniquely to you and your family set a custom kitchen apart from pre-built cabinet arrangements purchased from a hardware store.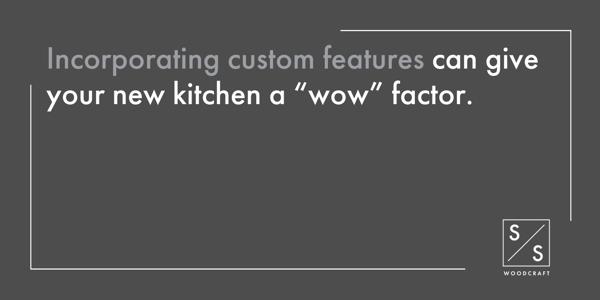 If quality time is something you prioritize, make it a point to include a comfortable seating area in your kitchen for loved ones to gather while you're cooking. Adding something like an extension to your island with some cozy stools is a great way to create a homework station for your children to use while you make dinner.
Or, if your home has a large kitchen but lacks an office, you might consider sectioning off a portion of your room to create a built-in desk nook. This is a fantastic way to make your kitchen more multi-purpose, and you can even add custom shelving for additional storage.
Speaking of storage, this is another area where you can get creative with a custom kitchen. While narrow spaces between drawers and cabinets or appliances may go to waste with pre-made cabinets, these narrow spots are ideal for incorporating a hidden pull-out spice rack or utensil shelf in a custom kitchen.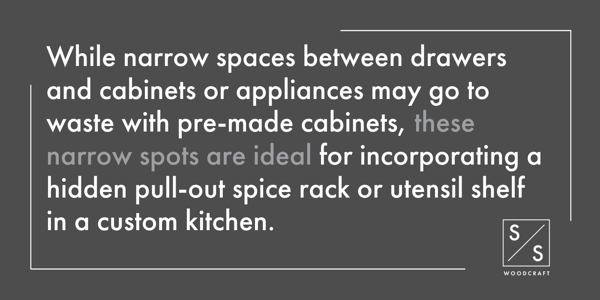 With custom cabinetry, every inch of your space can have optimum functionality and aesthetic appeal.
Select Durable, Low-Maintenance Materials
It's hard to enjoy spending time cooking in your kitchen when you dread the lengthy cleanup process afterward. Messes and spills are inevitable in any kitchen, so when you're choosing materials for your renovation, make sure they're easy to maintain and wipe clean.
The material for your countertops, for example, is one element of your new kitchen you'll especially want to think about. Some options are family-friendly and easy to maintain, while others are more high-end but also higher maintenance.
Non-porous quartz countertops are the most durable and easy to clean, making them an ideal option for heavy-use kitchens and households with children. Natural stone options like marble or granite are beautiful and have a classic look; however, they're also susceptible to cracks, chipping, and staining without careful upkeep.
If you're not sure which option sounds right for your new kitchen, we recommend viewing samples in-person to get a better idea of the look and feel of each material.
Talk to an Expert
There's no better way to build a kitchen you love than to start with a solid plan. Thorough planning involves creating a list of your priorities, taking the time to choose materials that suit your style and needs, and consulting with an expert to ask questions and get more information.
If you're ready to start working on your kitchen renovation, be sure to visit the showroom at S&S Woodcraft in Cold Lake, AB (just a short drive from Edmonton). Our in-house and remote consultations are completely free and include a 3D rendering of your kitchen so you can see what it will look like in your home.