4 Custom Organizing Must-Haves to Include in Your Bathroom Renovation
May 28, 2020
Have you ever considered the significant role that your bathroom plays in your day? It's likely the first room you visit in the morning and last place you visit before going to bed at night, making it an essential part of your routine.
Whether you're washing up to prepare for a new day or winding down and getting ready for bed, your bathroom should help your routine flow as smoothly as possible. However, this can be difficult if there's clutter constantly occupying valuable counter space or a hodgepodge of toiletries scattered beneath the sink.
Good organization is essential for making your bathroom a relaxing place to begin and close each day — and there's no better time to prioritize organizational features than during a bathroom renovation.
Put an end to hectic mornings where you're running late and can't find the toothpaste that you know is hiding somewhere in your vanity's messy drawers. Having a place for everything from bobby pins to bathroom cleaners is a great way to bring some much-needed zen to your morning and nighttime routines.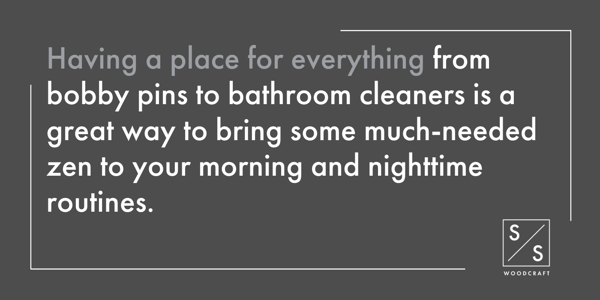 Without further ado, here are four organizing must-haves every bathroom renovation should include.
Drawer Dividers
Drawer dividers are a simple organizing tool, but one that many people overlooked. Your vanity's drawers may not seem that big, but they can quickly get out of hand if you're not careful.
Tossing makeup, skincare products, and hair accessories into one wide open drawer makes it difficult to find what you need. Digging through dozens of different products while you get ready is a sure way to add time and frustration to your morning.
Simplify your morning by adding built-in drawer dividers to your new vanity. S&S Woodcraft offers dividers in a variety of compartment sizes so you can finally create dedicated spaces for everything from small cosmetics to larger hair care products.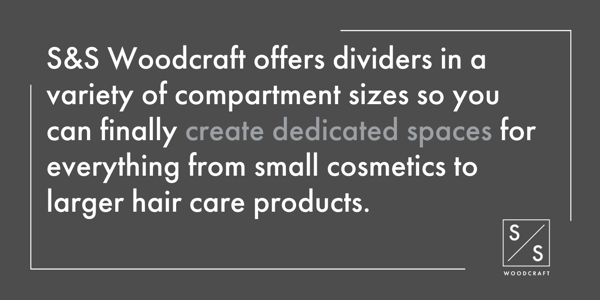 Vertical Under-Sink Storage
An area of your vanity that you certainly don't want to neglect is the space under your sink. With a few smart features, the area beneath your sink is a goldmine in terms of storage — particularly when it comes to vertical space.
Adding vertically stacked drawers or cubbies to your under-sink space is the perfect way to gain additional storage for products that can't fit in your drawers or that you don't use as often. This allows you to neatly tuck away extras like hand soap, cleaning products, or large styling tools, while still keeping them close at hand for when you do need them.
To supplement your vertical storage, try using baskets or similar containers to compartmentalize any other loose items and maximize the accessibility of all of the items you store beneath your sink.
Pull-Out Stool For Kids
If you're like most parents with little ones, you probably have a small stool in front of your sink to make it easier for them to wash their hands and brush their teeth. While it's a necessary tool, even a tiny stool takes up valuable floor space. Plus, it always seems to jump out at your toes when you're sleepy and shuffling through the bathroom in the dark!
If you're looking for a creative alternative, consider customizing your new bathroom vanity with a sturdy built-in shelf that kids can pull out from the bottom and use as a platform. Pull-out stools can also provide hidden storage if they're hollow with a foothold that doubles as a lid.
With this simple customization, you're able to free up floor space and add some extra storage that will still be useful once your children are grown. Bonus: no more stubbed toes!
Custom Shelving Units
Older homes are notorious for having small bathrooms with little or no storage space. If you don't want to knock out a wall to expand the room, then wall-mounted shelves are a great way to utilize vertical space to store items that won't fit in your vanity.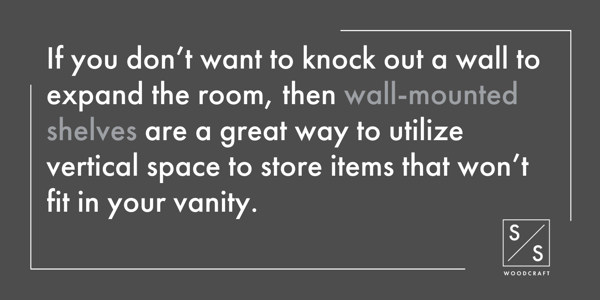 When you work with S&S Woodcraft, we can design custom shelving in a variety of styles and shapes so you can have storage that fits perfectly in your bathroom.
Ready to Improve Your Bathroom Storage?
Our Cold Lake showroom has an extensive collection of samples for you to browse, plus our design experts are available to discuss your ideas in-person or remotely.
Our design conversations are completely free, and we'll even create a 3D rendering of your bathroom with different materials and storage solutions to help you visualize your new space — all at no charge. Click below in touch to schedule your design conversation today.