Get DIY Control, But with S&S Expertise
June 1, 2020
Are you tired of contractors acting like they know what's best for your space and not respecting your vision? You're capable, and know exactly what you want, so why not DIY your bathroom or kitchen renovation and save yourself the headache? You'll have total control of your project, and you may even save money. That is, if a few small errors here and there don't accidentally burn through your budget.
That feeling of accomplishment doesn't hold up against the unexpected expenses and emergencies that you may encounter in a do-it-yourself renovation. When you consider the stress, time commitment, confusion about which materials are best, and the cost of purchasing equipment that you'll need to make the space look professional, your expected savings can begin to feel insignificant.
When you work with a trustworthy contractor like S&S Woodcraft, you can retain complete control of your project without having to do all of the nitty-gritty yourself.
We know what design choices work great and which you may end up regretting in six months. Whether you're working on your first renovation or your tenth, having an experienced contractor to bounce ideas off of is helpful. We've conquered many architectural puzzles that would defeat many a novice DIYer. If you want to know all of the ways our expertise pays off, without silencing your voice as the homeowner, read on!
1. Attractive Design
Will that cabinet style and colour choice look as good in your home as it does in the showroom? The S&S experts understand how dimensions and lighting affect the function and appearance of different materials. Better yet, we can actually show you what your completed design will look like!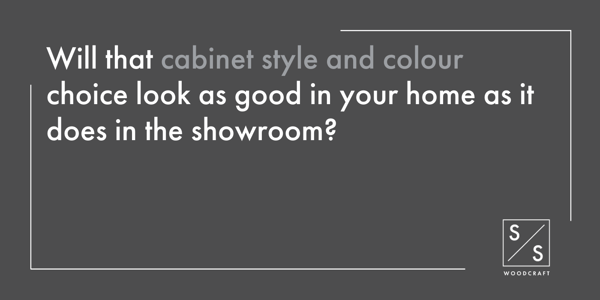 We offer free 3D room renderings right from our showroom so that you can actually see how your space will look with the materials you've selected. We find that visualization is key to figuring out if the cabinets and fixtures you've chosen will turn your kitchen into a timeless den of style or a space that you'll grow tired of in a year or two.
2. Long-Term Livability
Current kitchen design trends fall into three basic categories: traditional, transitional, and contemporary. Our goal is to help you create a space that you'll love for decades, so we'll ask essential questions to match your functional and style preferences with the right design. For example, if you have a high-use kitchen and prefer a simple, clean design that's still warm and inviting, you'll probably like a transitional kitchen. It offers the chic, modern style that you crave, while also being very usable and durable.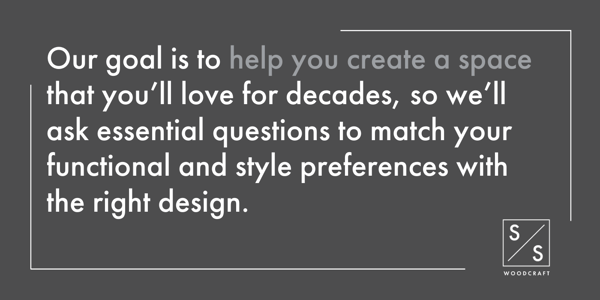 3. Construction
Wood splits. Stone chips. A bracket can only hold so much weight. We've worked with these materials for years, so we know how to avoid common mistakes that waste materials. On top of that, our experience makes us efficient.
When you stop by our showroom to choose your cabinet colour and style, we'll get right to work manufacturing them. Within 2 - 3 weeks, we'll have your install date scheduled. In most cases, we only need 1 - 2 days on-site to install your new cabinets. After that, you can move on to new countertops, if that's part of your renovation plan.
4. Safety
When should you wear eye protection? What's the proper way to operate a drill? Sure, you can watch a few YouTube videos to get a basic understanding of home renovation, but that takes up more of your precious time. Instead, let us do the leg work. We follow all industry safety standards and those set by regulating organizations. You can do the enjoyable design part, and then we'll safely put all of the pieces together.
5. Damage Control
Whoops! You hit the nail at an angle, and now it's bent. An expert knows how to fix or replace a mistake without leaving any evidence that it ever happened. If you want your kitchen to look like it was done by a professional, then hire a professional. Bonus: you won't waste money on supplies that you used incorrectly or had to redo along the way.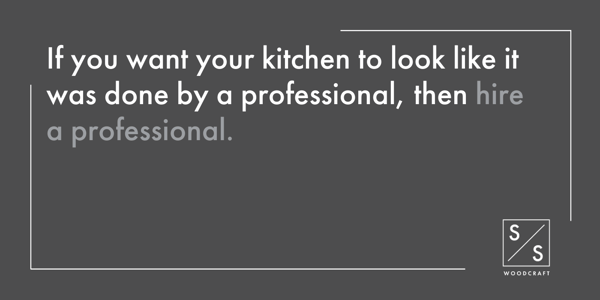 Do It Yourself, But With an Expert
We understand that you want to have a lot of input in your kitchen. Consultation is a big piece of what we offer because we're passionate about helping homeowners create their dream spaces. We'll never push you into a certain material or design trend. Instead, we'll listen to your goals, look at your Pinterest boards, and make suggestions about what we think will best suit your taste and lifestyle. The final decision is 100% up to you!
If you're ready to take control of your project but want someone to help with the design and do the labour, then schedule a free design appointment. Let's bring your vision to life.