Don't Forget to Include Smart Storage in Your New Kitchen
June 4, 2020
During a renovation, it's easy to get caught up in the fun design items like backsplashes, flooring, and paint swatches. Those things are essential to your overall enjoyment of your new kitchen, so they deserve your time, but don't forget about the functional elements that will make using your new space easier.
The ideal kitchen is equal parts gathering place and workspace, and one thing that makes the work easier is smart storage. The options for custom storage are plentiful, so you'll never struggle to find a kitchen tool again. Bonus: thoughtful storage helps keep your space organized and clean!
Let's take a look at a few of our favorite smart kitchen storage options now!
Drawer dividers
Remember that kitchen junk drawer we all had as kids? The one where your parents stored all of the extra stuff that didn't have a "home"? With drawer dividers, you can give everything in your kitchen a proper home and stop wasting time digging through a mess!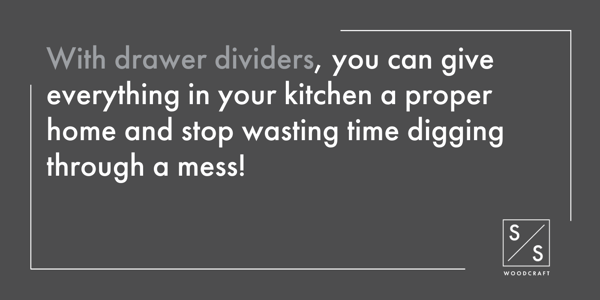 Drawer dividers come in all shapes and sizes, so it's helpful to decide which items you want to store in a particular drawer before buying your dividers so that every item fits perfectly.
Blind Corner Organizer
Some of the hardest to reach places in your kitchen are where the cabinets intersect. If you are designing your kitchen to have standard base cabinets under your countertops, then you are going to want to invest in a blind corner organizer. These types of organizers roll right out to bring all of their contents right to you. No more crawling halfway into the cabinet just to get that one pot!
Pull-Out Shelves
Are you tired of having to kneel down on the hard floor to search for something in the back of a cabinet? Deep cabinets provide wonderful storage, but it's a challenge to reach items all the way in the back, so try using a pull-out shelf instead!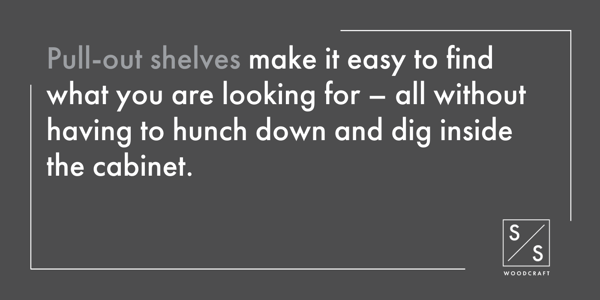 Pull-out shelves make it easy to find what you are looking for – all without having to hunch down and dig inside the cabinet. Pull-outs with taller sides are perfect for your pots and pans, while shallower pull-outs can house smaller items like oven mitts or kitchen gadgets.
Utensil Organizer
No one wants to spend time searching for kitchen utensils in a drawer that is just a pile of clutter. Luckily, you have several utensil organization options. The simplest is a wall-mounted rail with hooks so that your favorite spatula is always in sight.
Another alternative is a narrow pull-out pantry with built-in utensil bins. This type of pull-out can be as little as six inches wide and is extra convenient when you install it right beside the stove. All of your most-used utensils will be right at hand while you're whipping up a feast.
Charging Drawer
Does your household have an abundance of cellphones, tablets, and laptops? Each piece of tech comes with its own charging cord, but a charging drawer can help keep the cord clutter under control. A charging drawer can come equipped with plugs, or you can DIY this and install a surge protector in an existing drawer.
Trash Can Pull-Out Drawer
No one wants to see their trash right out in the open, so the perfect way to solve this problem is to move your trash and recycling cans into a lower cabinet. Try a double pull-out drawer to separate your trash from your recycling easily.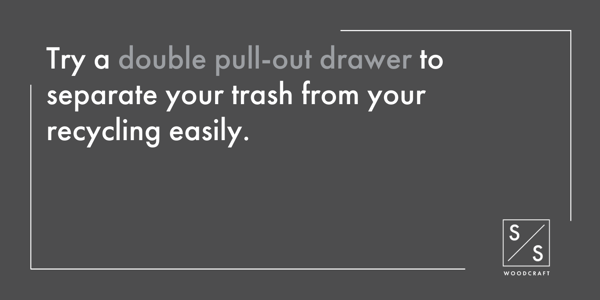 Another advantage of the pull-out drawer is that you can quickly dispose of trash while standing at your workstation instead of running across the kitchen to throw it away. No more dropping potato skins on the floor!
Perfect Your Kitchen With Smart Storage
With these smart kitchen storage solutions, you can focus less on finding a spot for your bulky pots and pans and more on actually enjoying home-cooked meals with your family. If you'd like to learn more about custom kitchen storage, stop by our Cold Lake, AB showroom to speak with one of our design experts or click below to schedule your free, no-obligation design meeting.