Tailor-Made vs. DIY: The Benefits of a Custom Kitchen
June 8, 2020
When you hear the words "custom kitchen," do you think of fancy materials and high prices? It's true that some contractors charge a lot for a quality renovation, which drives homeowners to try DIY renovations instead.
However, crafting a DIY kitchen is not always cheaper than going custom (and may not turn out the way you're hoping). Working with a reasonably-priced contractor can save you money on materials, labour, and unforeseen circumstances. A custom contractor can also help you stick to your budget. Ultimately, a custom kitchen adds value to your renovation that you can't always get with a DIY project.
Linking You with Quality Materials
DIY homeowners have to source their own materials. Depending on their comfort level, they may look for supplies at big-box stores or online. This isn't the best way to find quality materials and fixtures, and purchasing the wrong materials can sink the value of a renovation.
DIY Do-Over
Shopping big-box will lead an aspiring DIY-er to mass-produced cabinets and countertops. On the surface, these options seem to save money. That said, they're often built from lower-quality materials that'll degrade over time. For example, particleboard and composite material — two common big-box products — don't last as long as solid wood.
Say a homeowner purchases cabinets from a large retailer. These cabinets might be 80% cheaper than custom cabinets, but the homeowner will need to replace them in five years. Well-built custom cabinets might've lasted 20 years or longer. Though big-box cabinets might be cheaper upfront, their value is only worth a fraction of the custom cabinets.
Spending less money early doesn't mean you will save money down the line. No matter how you go about it, a kitchen renovation is an expensive investment that's meant to last a long time. Choose quality materials now so that you don't have to replace them in just a few years.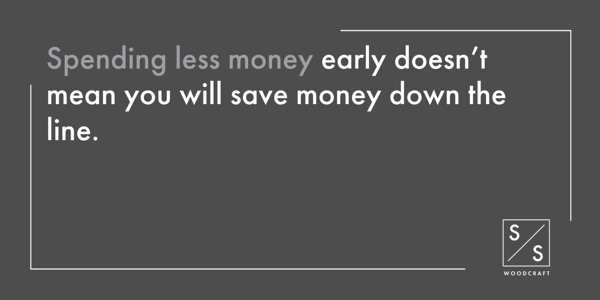 How Can a Contractor Help?
A trusted, reasonably-priced contractor can guide you to quality materials and innovative designs. At S&S Woodcraft, building and designing are our passion. We want to help you find attractive, high-quality materials (that won't break the bank!) so that you can have a lasting renovation.
It's important to work with someone who prioritizes quality as well as affordability. We want your renovation to be beautiful and valuable.
Managing Labour
Sometimes, homeowners commit to DIY projects before they consider every aspect of the work. Added labour costs can break a DIY budget, especially if the homeowner has to hire labour halfway through a project.



Not Exactly "DIY"
DIY renovators may bring plenty of skills to their projects, but they might not be able to tackle everything. A homeowner might be a great woodworker, but what if he doesn't know how to connect appliance hookups? This homeowner may finish his cabinets just fine, but he'll have to outsource some work if he plans to replace his appliances.
Often, large-scale kitchen renovations become hybrid projects. The homeowner may do some of the work and hire out the rest. Pretty soon, there are plenty of extra, unbudgeted costs to settle. There may also be new worker schedules that interfere with when you hoped to have DIY work completed. Eventually, outsourcing help adds back costs and time that the homeowner was trying to cut.
All-In-One Service
At S&S Woodcraft, we specialize in woodworking and cabinetry. However, we still help you keep all your renovation needs in one place. You can work with us to source paint, flooring, countertops, and many other parts of your complete kitchen. We also provide free digital renderings of your kitchen remodel so that you can see your vision before work begins.
Our goal is to create a partnership with homeowners. We aim to complete timely renovations, answer questions, and provide guidance where needed so that you can get the kitchen of your dreams, within your budget and with no stress.

Unforeseen Circumstances
Overhauling a kitchen is a big job. Whether you work alone or with a contractor, you're bound to run into problems you didn't expect at the start. Maybe you've got wonky plumbing, mildew under your flooring, or new tile that doesn't match the sample.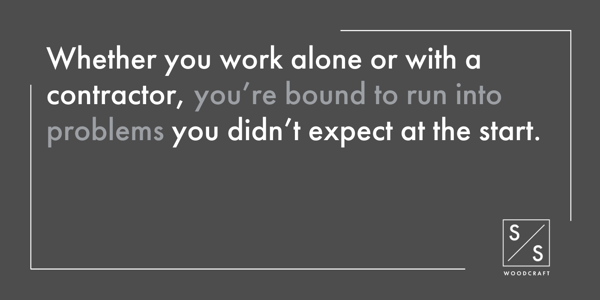 Problems like these often end up costing you more time and money than expected. DIY budgets don't always take unforeseen circumstances into account. An experienced contractor can help you budget for everything - even the not-so-fun parts of a renovation.
A hitch in your plans is always frustrating, but it's especially troublesome when you're working alone. Partnering with a contractor from start to finish ensures that you always have someone to go to for help. At S&S Woodcraft, we've got plenty of problem-solving experience, so we can quickly find budget-friendly solutions. If something doesn't go as expected, we have your back.
Budgeting Help
Contrary to what you may think, going custom can help you stay on budget instead of spending too much. A contractor can help you plan for each step of the process and distribute funds accordingly.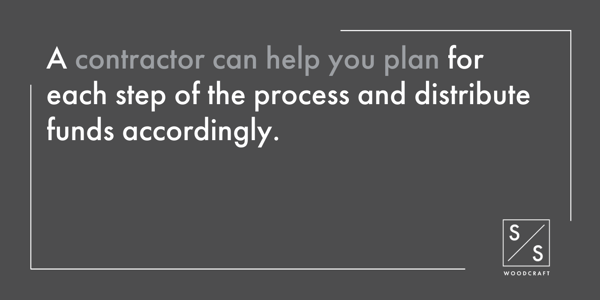 If you want to go big on new cabinets but you're not fussed about a smart fridge, that's fine! Renovating your kitchen is all about choosing which aspects are most important to you.


Lifelong Value
A new kitchen is a big investment. If you've decided to take the plunge, you'll be looking to get the most for your money. The best way to ensure good value is to work with a custom contractor. You can be confident that you'll end up with a great new kitchen while staying on budget.
Ready to work with a contractor you can trust? Click here to get started or just stop by our showroom.