Samples First: Look Before You Buy
June 11, 2020
Renovating your kitchen is an exciting process. It's hard to stop yourself from jumping right into paints, styles, and materials without weighing all of your options first. It can be tempting to order key items before you try samples. The internet is full of design ideas, and a purchase is only a click away.
However, samples and swatches are important tools for getting your renovation just right. We'll go over the hazards of foregoing samples, as well as the ways they can help you achieve your design dreams!
Why Use Samples?
These days, homeowners often fall in love with images they see online. Pinterest, Instagram, and Facebook offer dreamy pictures of kitchen and bathroom reworks. They often include product links, and the pretty snapshots make for convincing marketing.
However, it's important to see colours and materials in person before you click "purchase". Samples can help you make decisions about your renovation in a couple of different ways.
1. Accurate Measurements
Large fixtures like cabinets need specific measurements before installation. Measuring and sampling will help you choose cabinetry that fits your kitchen layout. Cabinets are an important part of the kitchen, so you'll want to be sure they'll fit all your kitchen utensils and crockery.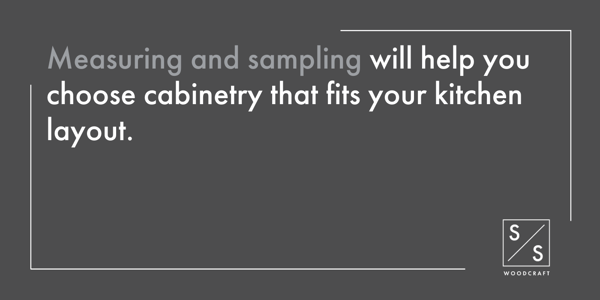 When you measure cabinets, you'll want to look at height, depth, width, and framing. Seeing sample cabinetry in person will help you get an idea of how it might fit into your kitchen. When you see dimensions online, it can be really difficult to visualize just how much space it will take up in your room. Is 12 inches deep enough? Is 18 inches way too large? When you can see different cabinet samples in person, you're able to get a better idea of how they'll actually look, plus you can try those measurements out at home afterward.
2. The Devil is in the Details
How often have you seen a picture of yourself from an unflattering angle and thought, "I hope that's not what I look like in person?" Luckily for you, digital images distort details like colour and texture. This is a little less lucky for your home renovation - pictures can trick you into purchasing fixtures you won't like as well in person.
Remember, photos often use professional lighting and staging to make rooms look perfect. On top of this, social media posts are often filtered or edited. The colours and textures you see in a picture might look completely different in real life.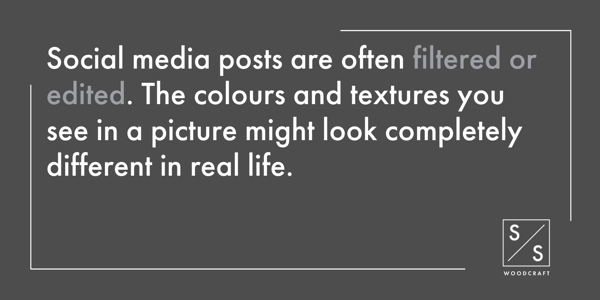 Nine times out of ten, the lighting in a photo won't match the lighting in your kitchen. The background colours, textures, and overall environment aren't likely to resemble your house. To truly get an idea of how a new fixture will look in your space, you'll have to see it at home.


How to Make the Most of Samples
Seeing samples is important, but how you end up using them is just as key. It just won't cut it to look at paint swatches in fluorescent hardware store lighting.
To really plan for your renovation in advance, experiment with samples using the tricks below.
1. Take Them Home
Finding a colour or pattern you like is exciting, and it might make you want to jump the gun on a large purchase. Like we said above, looking at colours and textures at home is the best way to visualize how your renovation will turn out.
If you do pick up a paint swatch while shopping, take it home before you purchase the paint. Hold it up to your home's wall to see how it looks in the lighting. This also goes for carpet, tile, wood flooring, upholstery - any material you can sample.
Pro Tip: Choose and install your new lighting as early as possible in your renovation so that you have the most accurate lighting to test materials under.



2. Test, Test, Test
If you come across a sample you can test at home, go for it! This works most often with paint and wallpaper, but you may be able to get small samples of flooring, countertops, and cabinets too.
For example, if you're looking to paint your kitchen, purchase a small can of the colour you like. Take the colour home and paint a section of your wall. Look at the colour in different lighting - morning, midday, and nighttime. Once the paint dries, you'll be able to really get a feel for how it will look in the room.
Do the same with any other sample you can get your hands on. Turn the lights on, turn them off, test multiple times during the day to make sure that you like how it looks. You may be shocked at how different a single material can look with direct morning sunlight compared to dim, ambient evening light.
3. Compare and Contrast Samples
If you're planning to refurbish many parts of a room at the same time, it's important to sample products together so you can see how they look in unison.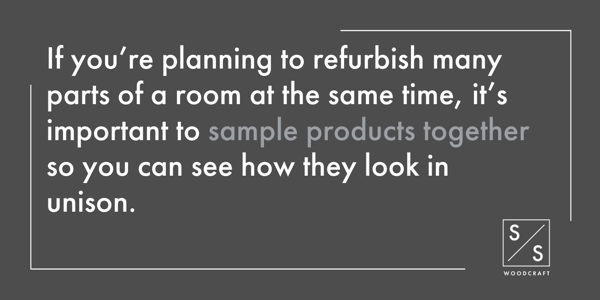 During a kitchen renovation, be sure to match your cabinets with your countertops. Compare sample materials like flooring or upholstery with a new paint colour.
Changing a large fixture like cabinets, countertops, or paint can completely overhaul the look of a room. Make sure you like your choices before going through with the full renovation.
4. Plan for Some Variety
Remember, samples will give you an idea of how a colour or material may look, but they won't always tell the whole story. Materials like fabric and tile have dye variations that will make some sections look different than others. Allow for a little margin of error when looking at samples.
Tie It All Together at Our Showroom!
Looking at samples at home is vital, but you might want a little extra help envisioning your ideal renovation. If so, stop by the S&S Woodcraft showroom in Cold Lake (or drive on down from Edmonton!).
We have many sample materials on-site that you can see and touch so that you can weigh how they look together. Match cabinets with countertops, compare stains and finishes, and set it all against new paint or wallpaper swatch. Once you've picked out your favorite materials, we'll create a 3D rendering of your renovated room. You can visualize what it will look like and make changes if needed.
Our showroom is a great tool for helping you imagine future renovations and make changes before you start working — which helps avoid costly changes mid-project later. Click here to get started, or just stop by today!