Guide to Interior Cabinet Finishes
June 3, 2021
We know it's fun to focus on the material and finish of your external cabinets, but the interior is key, too. After all, this is where you'll store dishware, small appliances, food, and other cooking accessories, so it's important that the interior of your cabinets is stable and well-finished.
Your interior cabinet boxes and shelves can be made out of a variety of different materials, including MDF, particleboard, and plywood. At S&S Woodcraft, we also offer different finishes for these interior components, including:
White Melamine
Wood-Grain Melamine
Prefinished Birch Plywood
This article will discuss these different materials in detail, going over the quality, durability, and cost of each one.
What Goes Inside Your Cabinets?
The interior of your cabinets is complete with cabinet boxes and shelves. As we mentioned above, these components can be made out of MDF, particleboard, or plywood. These three materials have different benefits, and they range in price.


The cabinet boxes and shelves can be covered up with various materials, depending on the exterior of your cabinets. This is where our interior cabinet finishes come in. You'll want to choose a finish that matches the outside of your cabinets and that's easy to clean and maintain. Our three cabinet finishes are all high-quality, long-lasting, and hassle-free.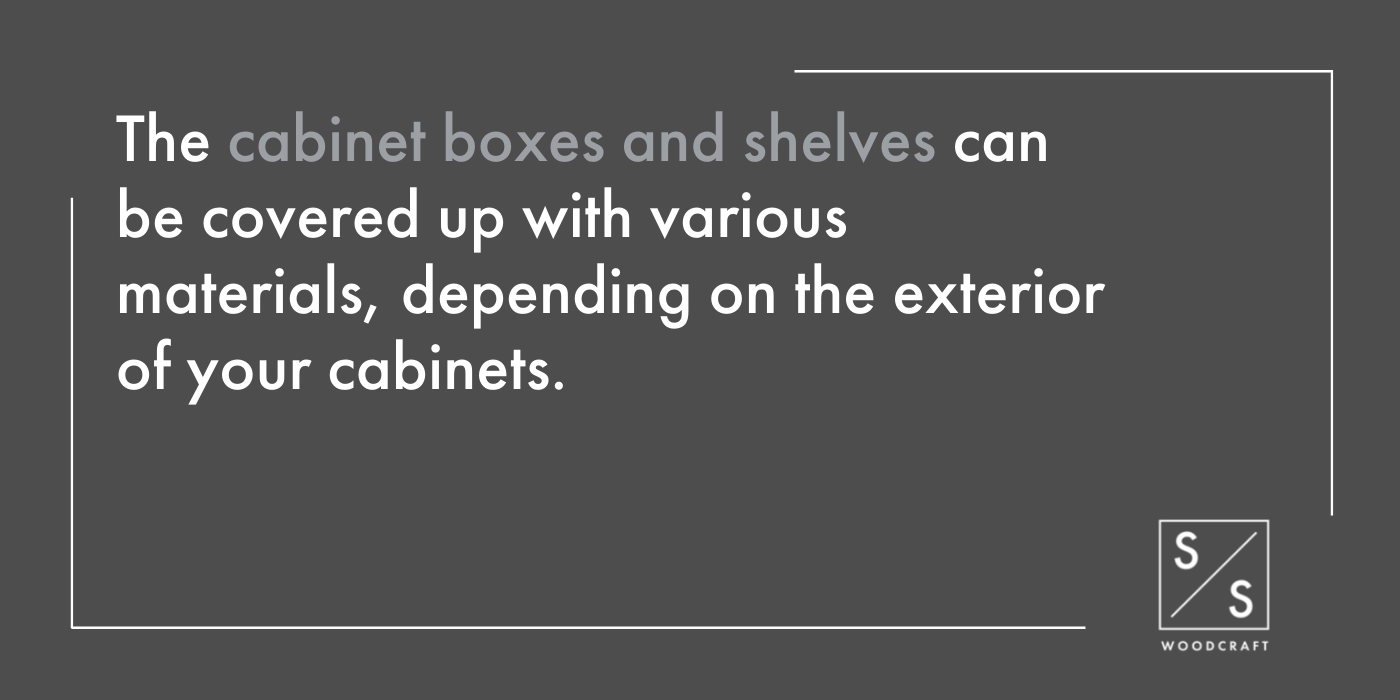 White Melamine
Melamine is a versatile material that crops up in a variety of different home renovation projects. It's a plastic-like resin that's used to cover particleboard, MDF, or plywood.
Melamine comes in a variety of different colours and is often used as a budget-friendly alternative to painted wood or other more expensive materials. It's fairly durable and easy to clean, which makes it a practical and cost-effective choice for use in a kitchen.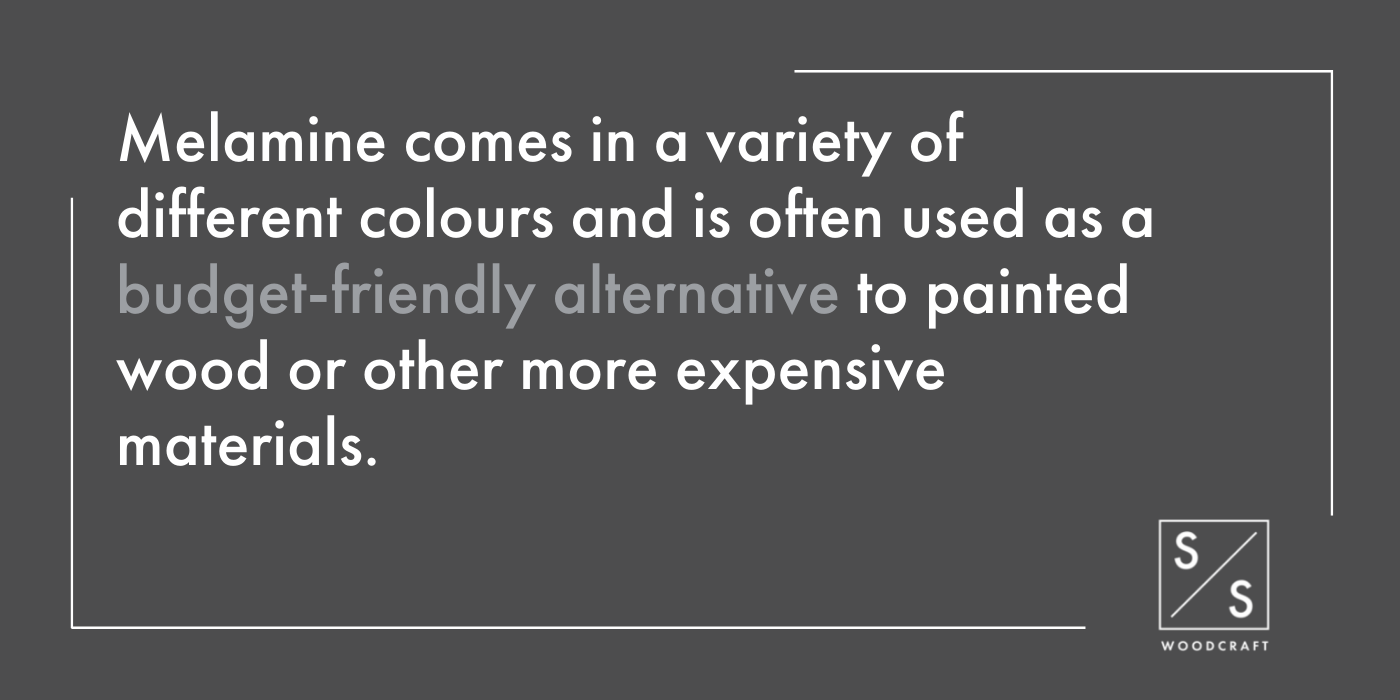 White melamine is our most affordable interior cabinet finish. It matches white cabinets, so it won't look out of place when you open your cabinets or if you have glass doors. If you want a budget-friendly material for your interior cabinet finish that also matches your new white cabinets, consider opting for white melamine.
Wood-Grain Melamine
Wood-grain melamine is a slightly more expensive version of white melamine. This type of melamine is manufactured to match different types of stained cabinets.
Like white melamine, wood-grain melamine is durable and easy to clean - it mimics wood while being lower-maintenance and replaceable if necessary. This way, you won't have to worry if something accidentally spills inside your cabinets.
If you're looking for a budget-friendly finish to match your wood cabinets, consider opting for wood-grain melamine.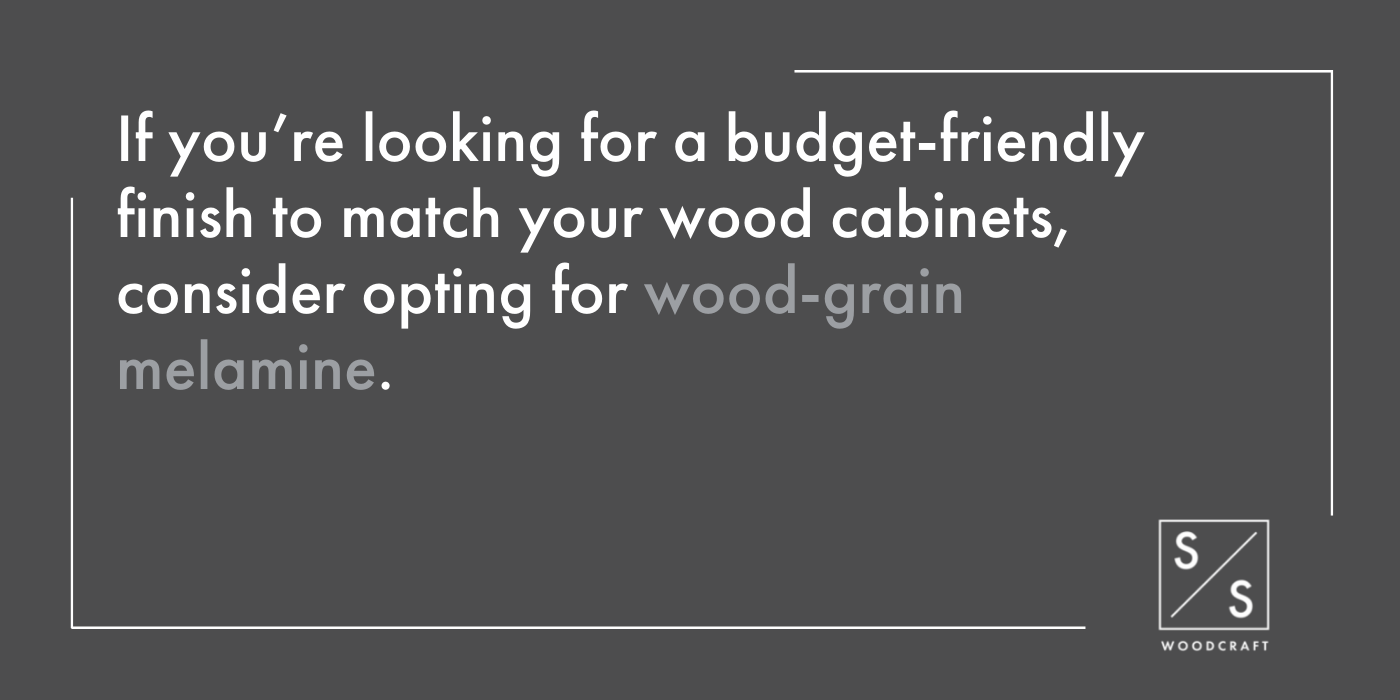 Prefinished Birch Plywood
The most high-end interior cabinet finish that we offer is pre-finished birch plywood. This type of finish uses plywood to create the cabinet box and shelves. In this case, the plywood isn't covered with another substance to create the finish - rather, it comes pre-finished, so it doesn't require any other treatment in order to look neat and match your cabinets.
This is the most expensive option we offer, but plywood makes for sturdy, long-lasting cabinet boxes and shelves. Plus, if you prefer the look of real wood inside and outside your cabinets, pre-finished birch plywood is the right finish for you.


Finalizing Your Decision
Have more questions about interior cabinet finishes? Want to see samples and examples in person? Curious how these finishes might look inside your own cabinets?
Make an appointment to visit our showroom here in Cold Lake (just a short drive from Edmonton), where we can walk you through options, show you past projects, and render a concept for your kitchen renovation in 3D! No matter your goals for your kitchen remodel, we can help you get every detail right - even the parts you don't always see right away.