How to Select the Right Cabinet Hardware
June 3, 2021
Cabinet hardware is an often overlooked part of a kitchen renovation, but it can play a huge role in changing the overall look of your space. Sometimes, a hardware update is all you need to freshen up your kitchen or lean into a new aesthetic.
There are no hard-and-fast rules when it comes to cabinet hardware, but we'll talk about a few guidelines to consider when choosing your new fixtures. You'll have to consider sizes, shapes, finishes, and installation before deciding on new hardware for your kitchen.
Knobs vs. Pulls
First off, it's important to make a distinction between the two primary types of cabinet hardware: knobs and pulls. Though the differences may seem inconsequential, making the right choice can be vital depending on your needs. So, what are the main distinctions to consider?
Knobs
Knobs are usually smaller and less conspicuous than pulls. Because of this, they're often also less expensive to buy in bulk. You can usually install a knob by drilling one hole and securing it with a single screw. Knobs can sometimes be difficult to grasp for people with motor conditions or disabilities, so if you have a household member in this group, consider using pulls instead.
Pulls
Pulls have a larger profile than knobs, making them more noticeable and easier to grasp. Because they're larger, pulls are more expensive to buy in large numbers. On the plus side, pulls also often tend to have more varieties to choose from, and they work with several different cabinet styles and setups.
Measurements and Installation
Your cabinet hardware layout can consist of all knobs, all pulls, or a mixture of both. Depending on your layout, some cabinets or drawers may need more hardware than others.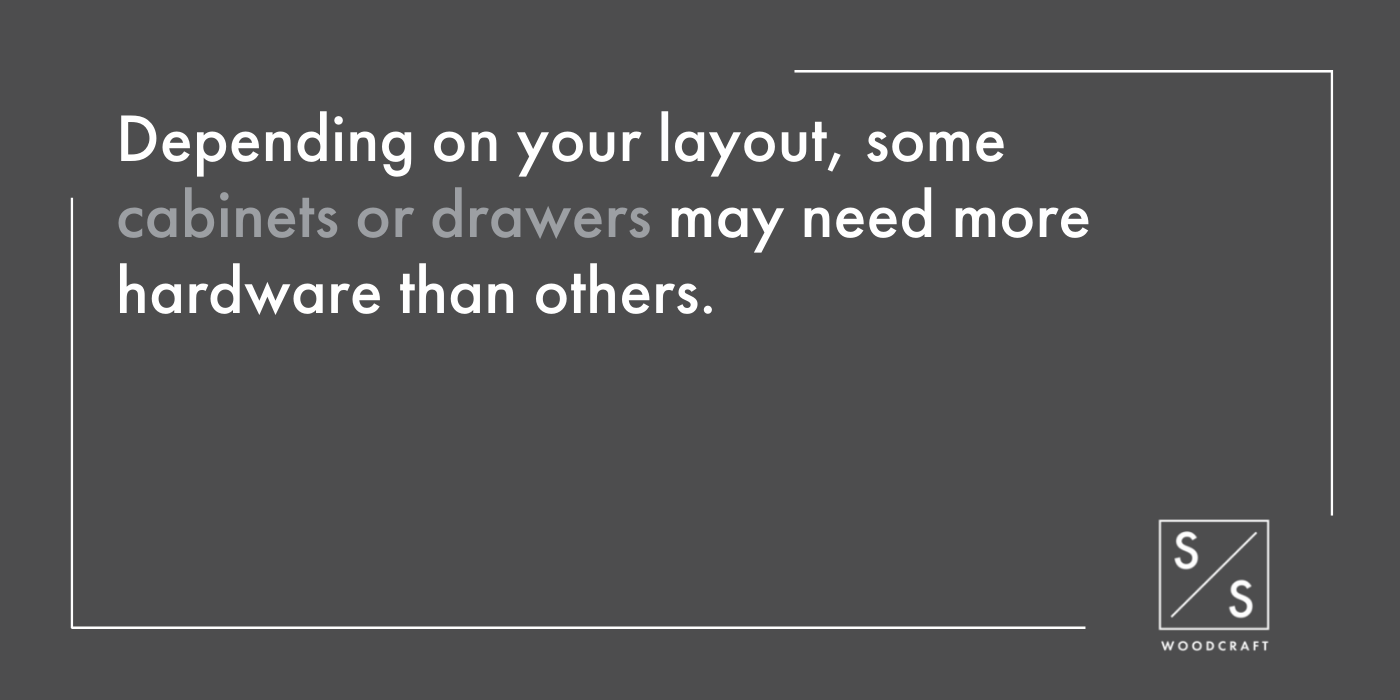 For example, a small or medium-sized drawer will only need one mid-sized pull. A big drawer may need a large pull, two small pulls, or two knobs. Aim to balance both the look and utility of your cabinet hardware as you plan your installations.
If you plan to install your knobs or pulls yourself, you may want to invest in a cabinet hardware guide. These handy tools help you drill holes in the right places and align your hardware correctly.
Setting Up Knobs
In general, knobs are easier to install than pulls. To secure a knob to a small or mid-sized drawer, simply center the knob on the front of the drawer and secure it with a single screw.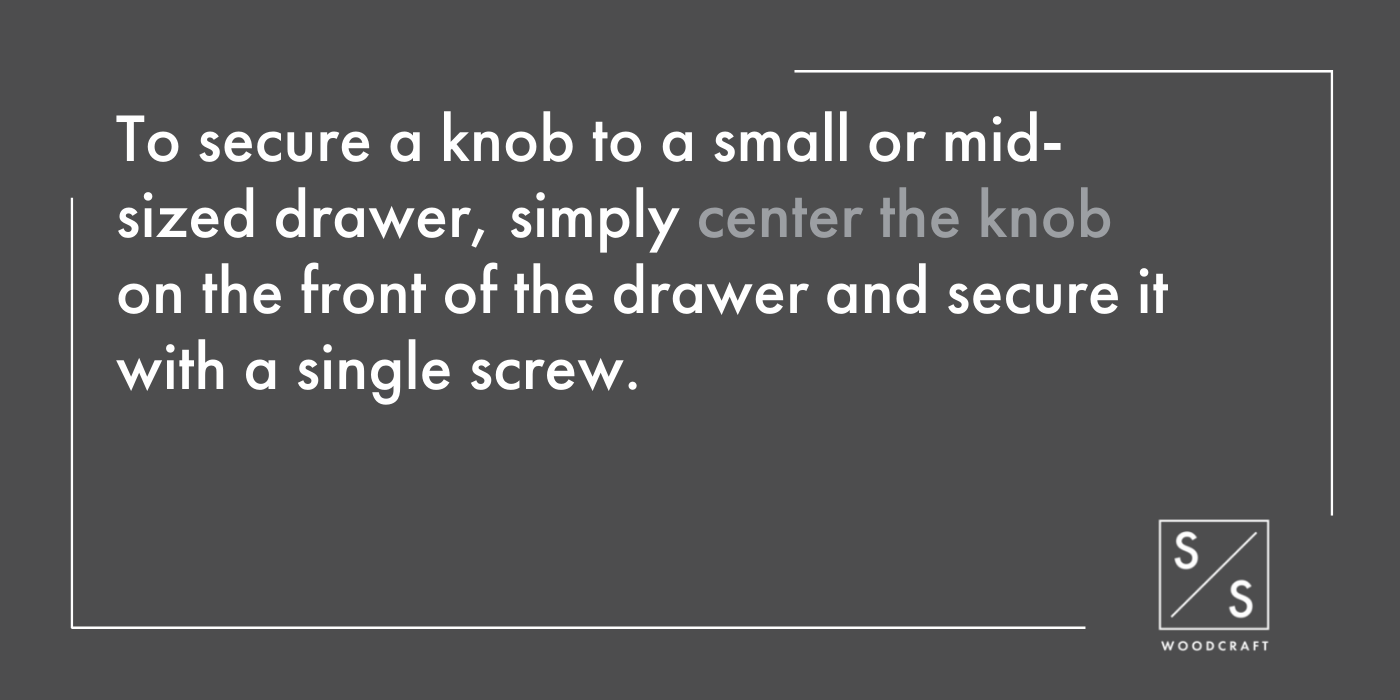 Homeowners often opt for offset knobs on cabinets. The installation process is the same as it is for drawers, but the knobs are installed on the innermost edge of the cabinet rather than the center. For upper cabinets, the pulls are at the bottom of the door, but for lower cabinets, they are at the top for easy use.
Measuring and Setting Up Pulls
Cabinet pulls require more careful measuring and setup than knobs. Pulls come in a variety of lengths, so it's important to purchase pulls of uniform size and shape.
Measure your drawers and cabinets before installation to make sure your pulls will fit nicely. In general, a 1:3 pull-to-drawer ratio (meaning that the pull is ⅓ the width of the drawer) looks the best and is easiest to use.
To install pulls, you'll typically have to drill two holes that match the width between the two screws that come with the pull. This width is usually shorter than the pull itself. Do not drill holes that match the width of the entire pull - this is a common mistake that results in extra drilling and, worst case, some wood filler and paint.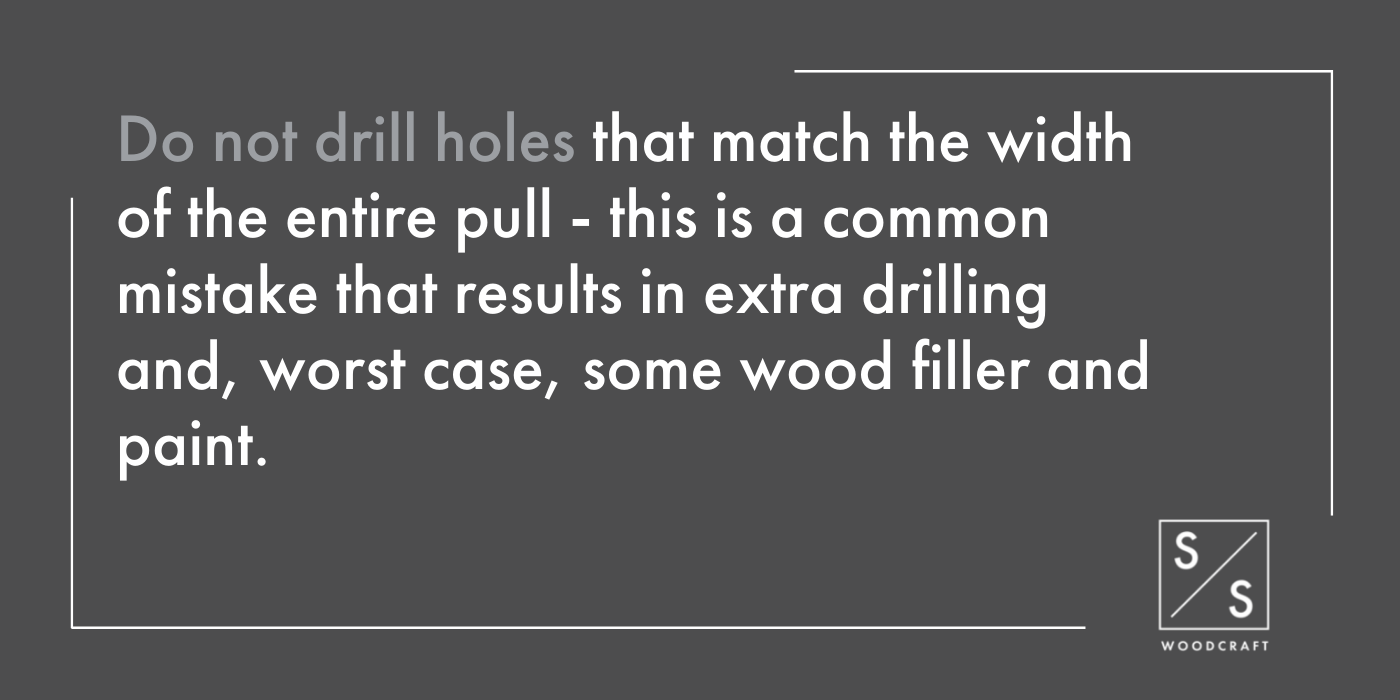 Styles, Colours, and Finishes
Consider the colour and texture of your cabinet finish before you select matching hardware. As a general rule, warm woods and colours go well with warm finishes, like brass and bronze. By contrast, cool-toned woods and paint colours match nickel and chrome hardware. Modern kitchens often make use of nickel and chrome, whereas traditional kitchens feature brushed brass and aged bronze hardware.
That said, there are no strict rules when it comes to choosing your cabinet hardware. If you like the look of warm bronze and cool wood, go for it! There are plenty of ways to make a non-traditional look work in your kitchen.
Styles
Cabinet hardware is typically categorized by style. If you're aiming to create a modern kitchen, choose sleek, minimalist hardware to avoid any visual clutter. Long pulls and simple square or round knobs can often find a place in a modern kitchen. Changing out your cabinet hardware can make a world of difference when it comes to modernizing your space.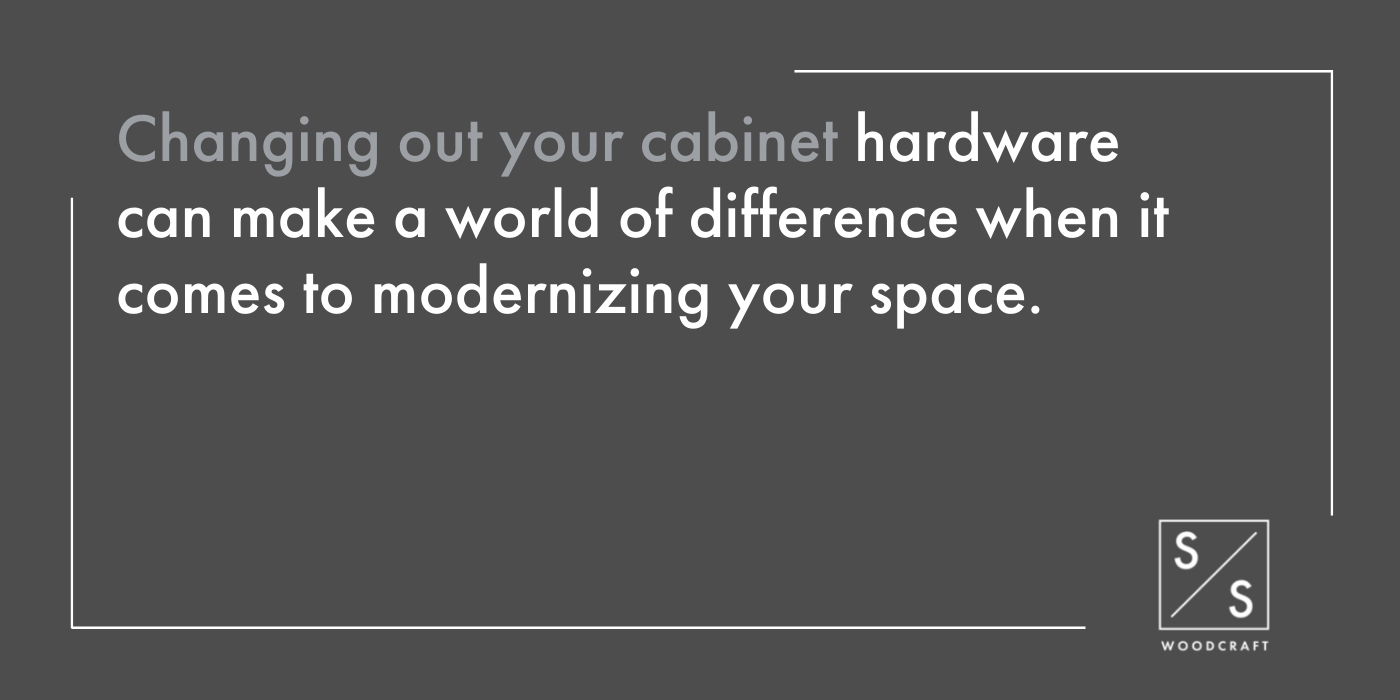 Prefer the detailed look of traditional hardware? Choose a design with a bit of extra flare. However, more ornate hardware usually comes at a higher price, so keep this in mind as you browse your options.
Colours and Finishes
Cabinet hardware is sold under lots of different names and styles, depending on where you buy it. Sometimes, the same finish can go by different names based on the place where you purchase your fixtures.
Here are some of the most common hardware finishes, as well as their aliases:
Satin Nickel (also known as brushed nickel): This finish is the most common in modern households and is well-loved for its hardiness and versatility.
Oil-Rubbed Bronze (also known as rubbed bronze): This chocolatey finish is mostly dark brown to black, often decorated with flecks of copper or lighter bronze.
Brass (also known as polished brass): This label often refers to the shiny brass finish most popular in the 80s and 90s.
Antique Brass (also known as brushed brass): Brass has made something of a comeback in recent years, this time emerging with a softer, more muted finish known as "antique brass."
Chrome and Satin Chrome: Like brass and antique brass, these are the shiny and muted versions of chrome hardware. While chrome is bright and reflective, satin chrome maintains a modern look without the shine.
Pewter (also known as satin pewter): This finish is gaining popularity in the world of interior design. It looks like a darker gray version of satin nickel.
Matte Black: Matte black pulls are often easily mistaken for antique bronze or pewter, so make sure to check all your hardware packages before making a purchase.


Be Creative
Cabinet hardware can add a spark of creativity to both a large kitchen overhaul or a small-scale renovation. Simply changing out your hardware can influence the look of your entire kitchen. If you're looking for a way to freshen up your kitchen without investing in a big project, experiment with hardware - and most importantly, have fun!
See some of our design examples at our showroom here in Cold Lake, AB (just a short drive from Edmonton).