Which Accessories Are a Good Fit for Your Cabinets?
June 3, 2021
Even the most beautiful cabinet isn't very practical without the right additions. Once you've decided on the basic materials for your cabinets, you'll need to choose the right accessories to bring the whole project together. At S&S Woodcraft, we pride ourselves on our expert craftsmanship of cabinets and countertops, but we also design and sell cabinet accessories of all kinds!

So, what types of add-ons do we offer? Here are some of our most popular and practical custom cabinet accessories.


Storage
We design and sell customizable storage accessories to add to your cabinet renovation. Depending on your kitchen needs, you can choose one or more of these additions to maximize your cabinet space.


Wastebasket Cabinet
A wastebasket cabinet is a special type of cabinet designed to hold a recycling bin and a trash can and keep them out of view. We build these cabinets to fit a regular-sized trash can and recycling can, and we also add soft-close slides for easy opening and closing.
Installing a wastebasket cabinet keeps your trash and recycling out of view, and it also makes your trash accessible when you're cooking or cleaning. This specialized cabinet is one of our most popular cabinet customizations.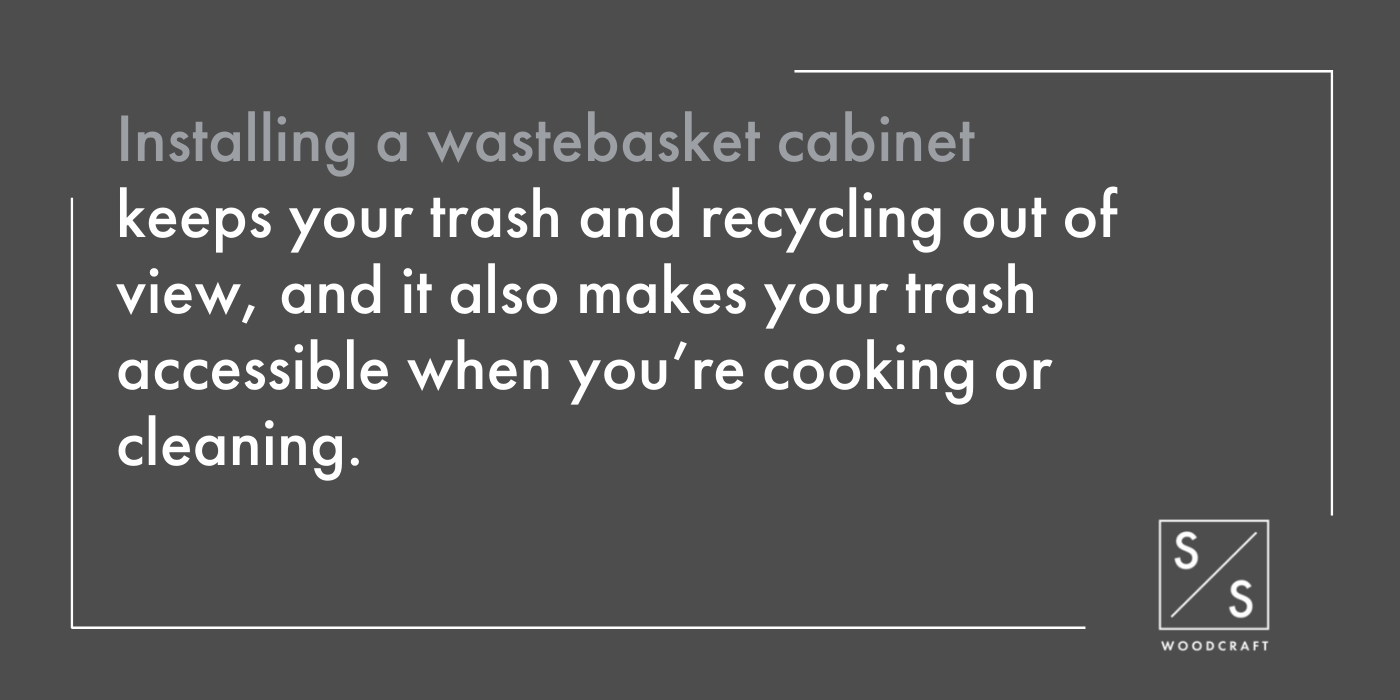 Dish Organizers
We design and sell dish organizers for larger drawers. Dish organizers keep pots and pans from banging against one another every time you close a drawer. Use these handy inserts to separate large items and keep them from getting cluttered in lower cabinet drawers.


Built-In Shelves
Cabinets typically come with two or three shelves, but often that's not quite enough to keep the space organized. Consider installing cabinets with custom built-in shelving to make the most out of your available space. This is helpful for storing dishes, as well as large items, like mixing bowls, pots, pans, and baking sheets.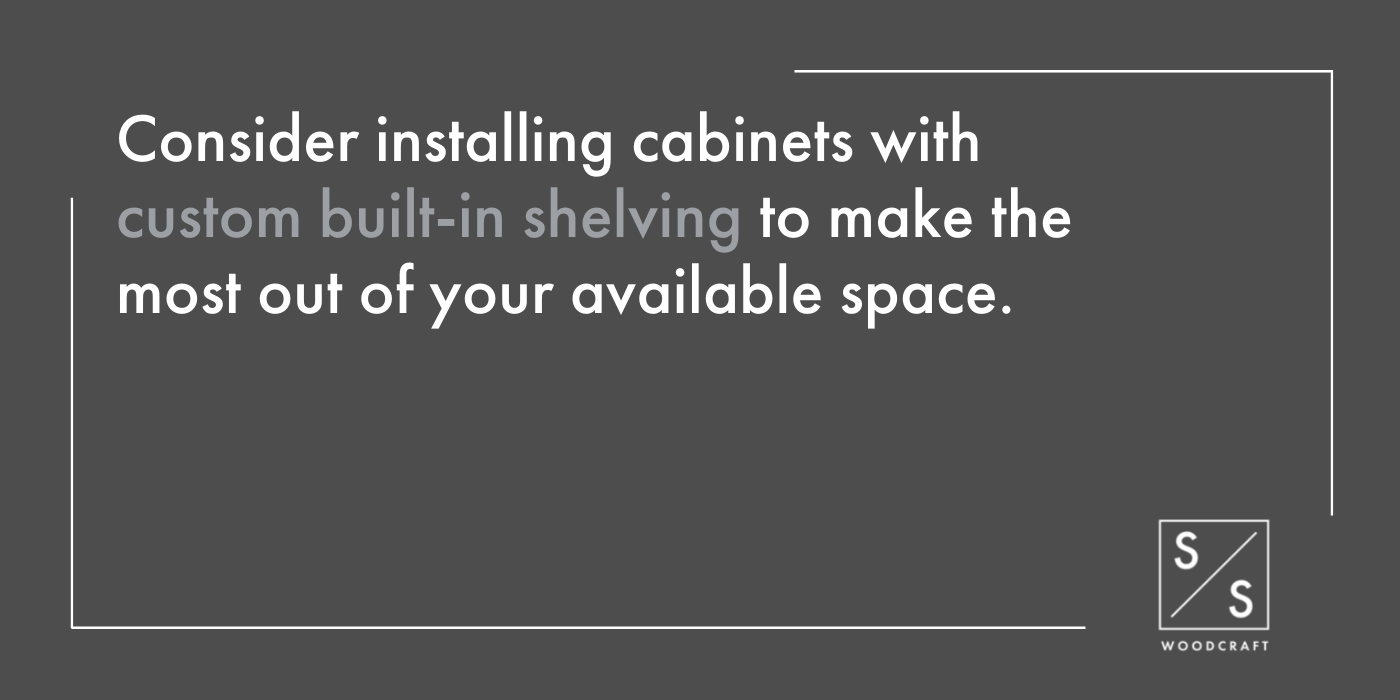 Silverware Cubbies
We craft custom storage cubbies for your silverware. Invest in silverware storage that is guaranteed to fit your new drawers (and that will last you for years to come!) and keep your kitchen clutter-free.
Wine Racks
Built-in wine racks are a stylish addition to any kitchen. They're beautiful to look at, and provide convenient storage for your favorite vintages. We can build them into islands or within a bank of cabinets.
Lighting
Cabinet lighting is both a practical and attractive addition that will enhance the look and feel of your new cabinets. We'll go over some of the different types of lighting that S&S Woodcraft can add to your home.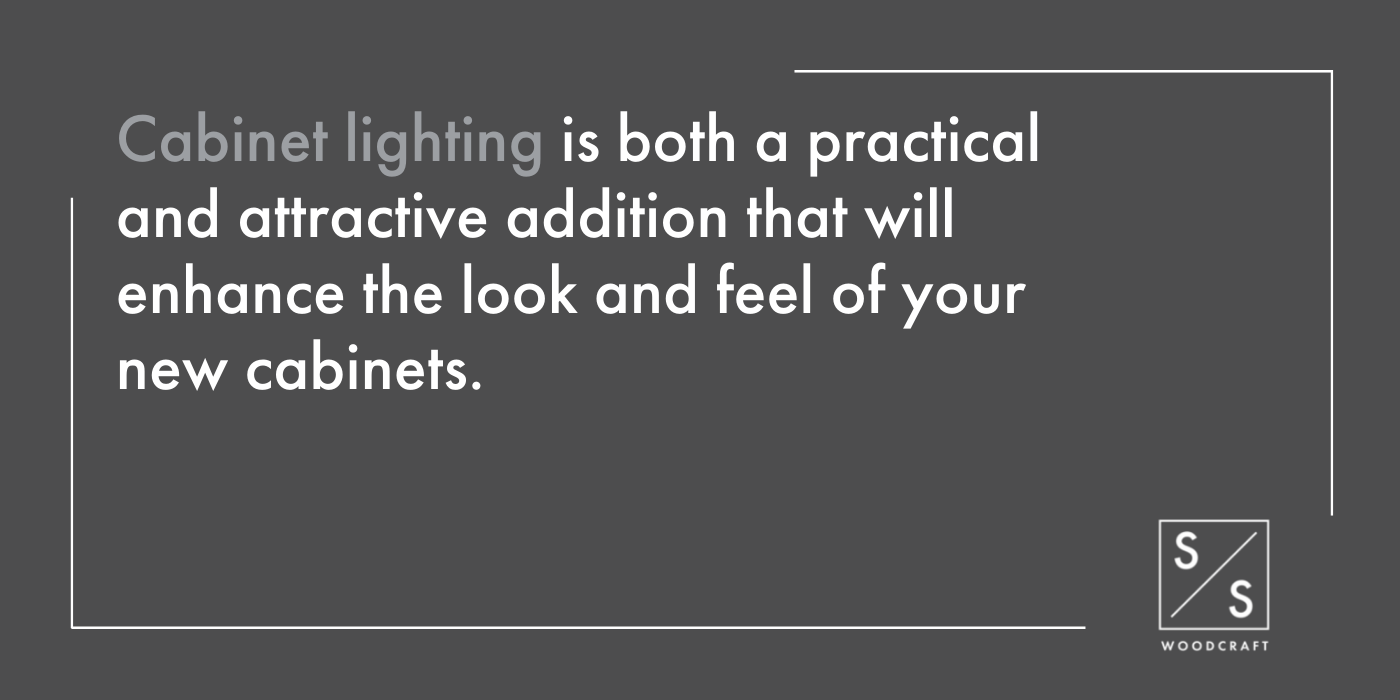 Under-Cabinet Lights
Under-cabinet lights make a great addition to cabinets that sit over a workspace, like in your kitchen, laundry room, or office area. The under-cabinet lighting can be used by itself or in conjunction with other lights to brighten your workspace.
Alternatively, under-cabinet lights also go well with stylized kitchen areas, such as a bar. Choose between different lighting temperatures to customize your cabinets for your aesthetic goals.
Wherever you need extra lighting for your tasks or your ideal kitchen design, consider installing under-cabinet lights.
Interior Cabinet Lights
Interior cabinet lighting can be both useful and attractive. Some homeowners like to have interior cabinet lighting for large, pantry-style cabinets. If this is where you store most of your non-perishable goods, it can be helpful to see where everything is (especially before a big trip to the grocery store).
If you have glass cabinets that show off decorative pieces or fancy dishware, consider adding interior lighting for extra effect. Interior lighting reflects off of glass and dishware, making spaces look brighter and larger.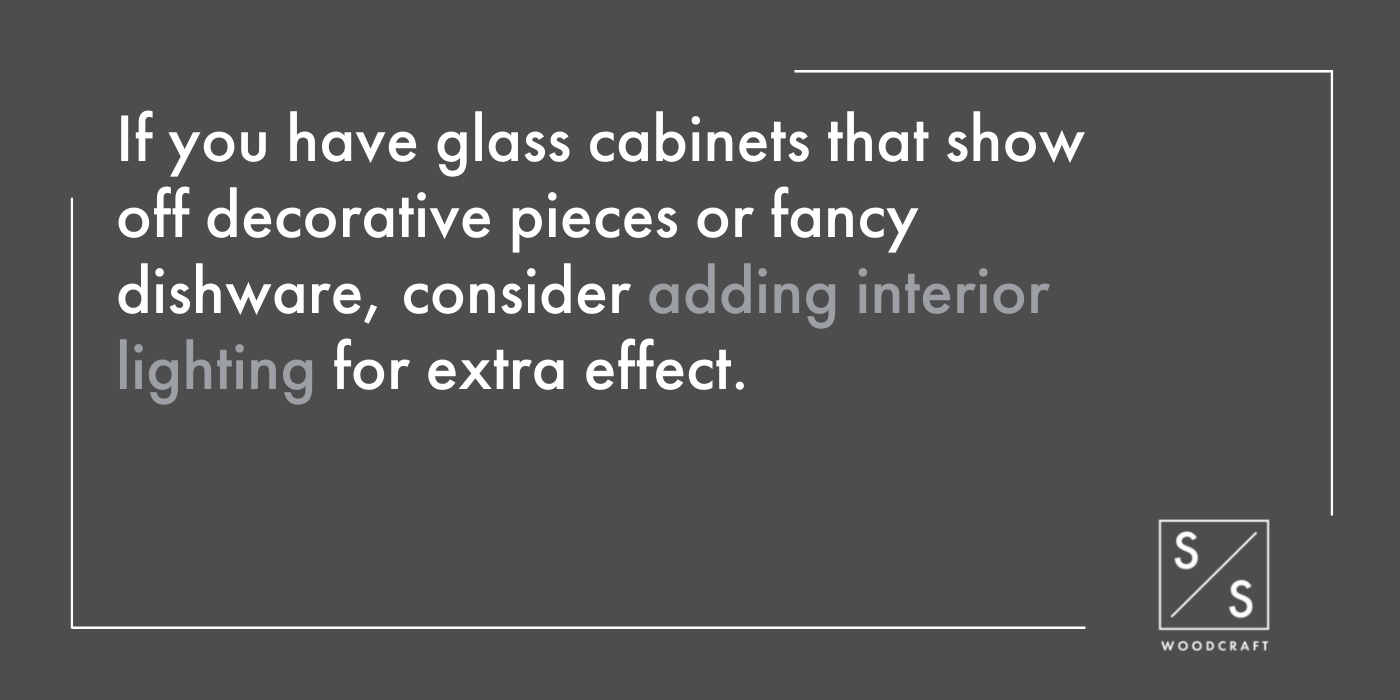 Hardware
Hardware is both a practical and superficial part of your cabinet remodel. You'll have to think about what works best for your kitchen logically, as well as how you want your cabinets to look.


Knobs and Pulls
Consider first whether you have any specific needs for your cabinet hardware. Knobs can be difficult to grasp for some people with motor-related disabilities, so pulls might be a more accessible option in some cases.


Additionally, pulls bought in bulk tend to run more expensive than knobs bought in bulk. Over time, hardware costs add up - especially if you're switching out hardware beyond your kitchen. If you'd prefer a more budget-friendly option, knobs might be the best choice for you.
Both knobs and pulls come in nearly endless styles and several different finishes, so they can be one of the most fun customizations for your space.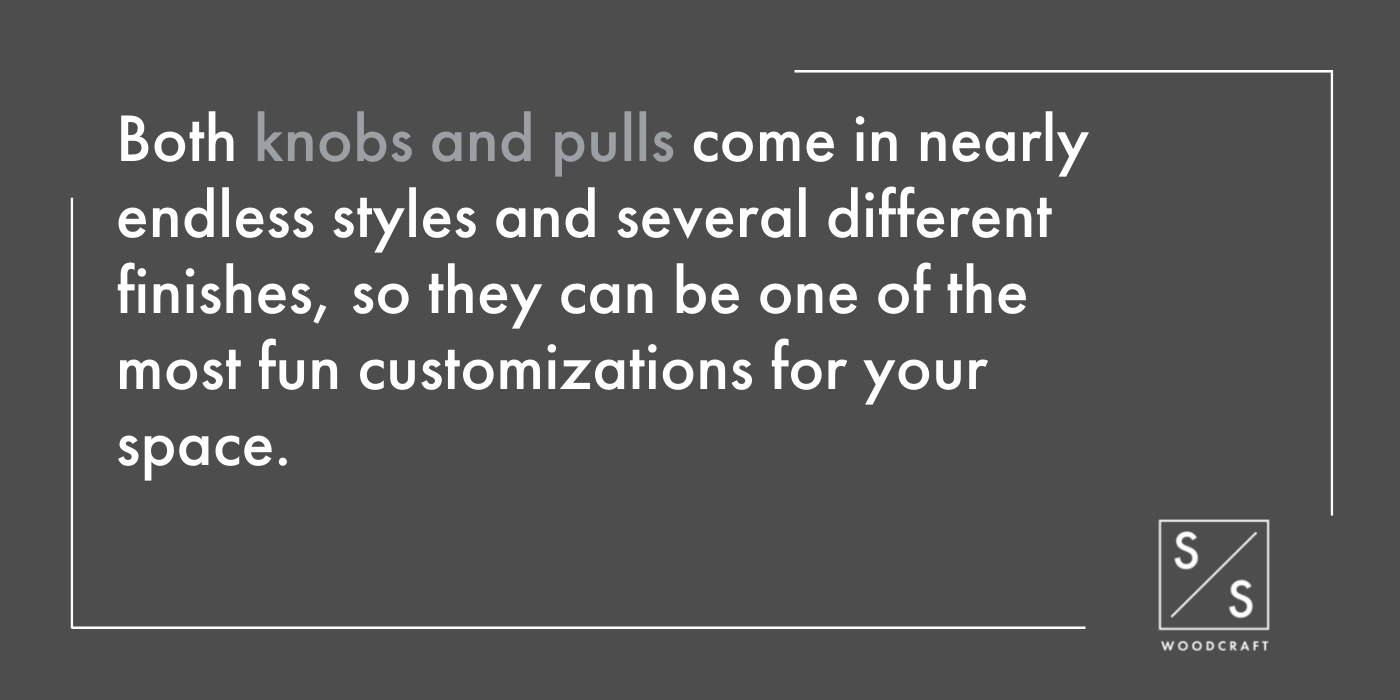 Soft-Close Hinges and Slides
Soft-close hinges and drawer slides are available in almost every size and shape to fit all types of cabinets. The soft-close mechanism protects cabinets and drawers from slamming, which can chip paint and damage certain types of materials over time (not to mention your fingers!).
Soft-close hinges and slides come standard in our cabinets and drawers. They're gentle on materials and virtually noise-free, which makes them a great investment for a fully functional and long-lasting kitchen.
Choosing Practical and Enjoyable Accessories
Selecting your cabinet accessories can be a fun part of the renovation process, because it comes after the tough parts, like deciding on measurements, materials, and finishes. Be sure to consider your must-haves before your design preferences, but remember to leave a little room for flair, too.

If you'd like to see some of the organization, pull, and other customization options we have, feel free to stop by our Cold Lake showroom anytime. You can also schedule a pressure-free design appointment to start putting all of the pieces of your renovation together.