How to Choose the Perfect Cabinets
June 7, 2021
Cabinets are one of the most visible parts of your kitchen, so they should be beautiful, as well as functional. This means a big cabinet renovation can be both exciting and a bit stressful. We want to help you enjoy your renovation, so we're sharing all of our best tips and tricks for getting the kitchen of your dreams.
In this article, we'll show you how to choose the right materials, finishes, hardware, and accessories for your cabinets. We also have helpful suggestions for budgeting and planning your renovation. If you'd like to have a fun, stress-free renovation, then read on.


Cabinets 101: Start with a Simple Design
Not sure where to begin with your cabinet design? Start with one key element, and build the rest of your project from there. Luckily, cabinets have several components, so you can begin by selecting one that appeals to you.
A few places to start your renovation are:
The material
Paint or stain colour
Hardware that you love
If you have strong preferences for one of the areas listed above, start there and build the rest of the elements off of that choice. If you're completely lost and not sure where to start, look for inspiration on Pinterest or in a design magazine. Then, bring ideas of what you love to our showroom and we can start working on your design together.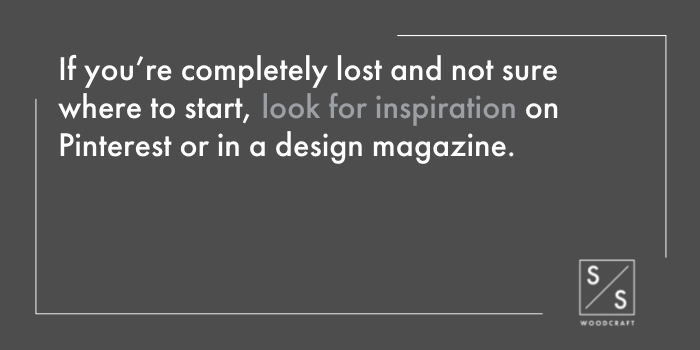 What Material Should My Cabinets Be?
How do you choose between the many different types of cabinet materials on the market? Each type of cabinet material has its own benefits and drawbacks. You'll want to consider your design preferences, desired maintenance, and budget before selecting the right cabinet material for your kitchen.
Some of the most popular materials that we offer are:
Hardwood
Particleboard
MDF (medium-density fiberboard)
Plywood
Wood veneer


Painted vs. Stained: Which Cabinets are Best for You?
When it comes to stain and paint, you have nearly endless options to choose from to achieve your desired cabinet finish. There are a few important factors to consider when choosing between stain and paint for your renovation.
First, do you know what material you're planning to use to build your cabinets? Stain shows off the natural grain and pattern of hardwood, while paint adds a smooth finish to composite materials like MDF.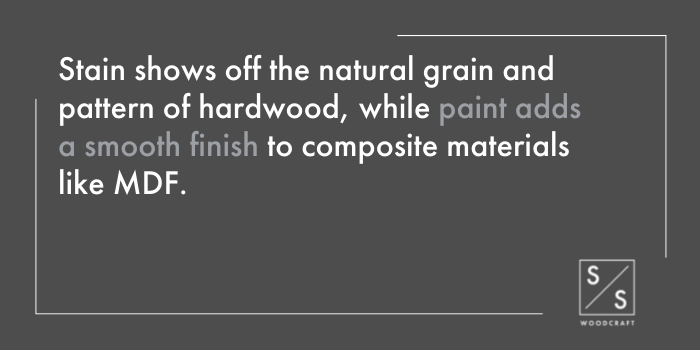 You'll also need to think about maintenance. Stains and paints have different levels of tolerance for everyday wear and tear. Plus, some finishes are easier to keep clean than others. Take your budget into consideration, as well. In most cases, paint is a little more expensive than stain.


Pros and Cons of White Cabinets
White cabinets are one of the most popular choices for many different types of homes. Their versatility makes them an appealing part of both modern and traditional designs. White reflects light, so adding white cabinets will expand the look of any space and make it appear bigger than it actually is.
Painting cabinets white makes for a low-effort renovation, and since they act as a blank slate, they make for easy home resale down the line. That said, white cabinets do require some extra maintenance to look their best.


Choosing the Right Size and Layout for Your Kitchen Cabinets
If you're planning to do a full kitchen remodel, you might be thinking about changing your cabinet layout. You'll want to establish a new layout early on in the renovation process to make sure you can easily fit other big additions, like appliances and countertops. Finding the right layout will streamline the workflow in your kitchen and help maximize your storage.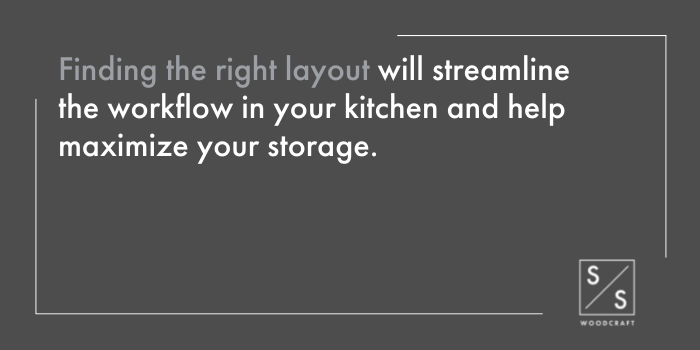 Guide to Interior Cabinet Finishes
The interior finish of your cabinets might not be top of mind when you start planning a cabinet renovation, but choosing the right interior finish is key to keeping your cabinets clean and attractive-looking. At S&S Woodcraft, we offer three main types of interior cabinet finishes: white melamine, wood grain melamine, and prefinished birch plywood. So, how do you choose between these three options?
When selecting an interior finish, it's important to consider your budget, as well as your desired maintenance and upkeep. We provide durable, low-maintenance interior cabinet finishes for every type of homeowner.


Get the Most Out of Your Cabinets with Custom Accessories
Adding the right accessories for your cabinets can help take your kitchen to the next level. We offer accessories that are both useful and decorative, including different types of lighting, organizational cubbies, Lazy Susans, and more. Investing in the right cabinet accessories beautifies your kitchen and makes it easier to use.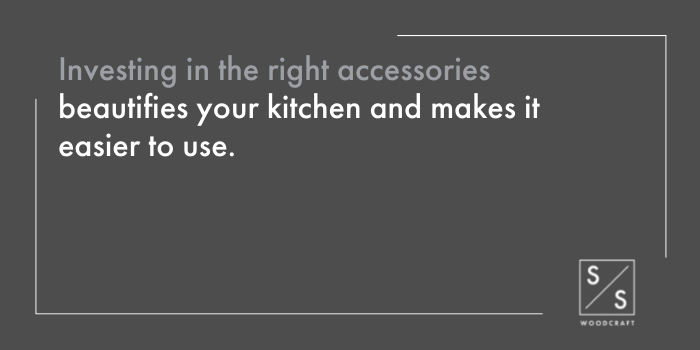 In addition to accessories, we also offer a wide range of styles and finishes for cabinet hardware. We can match your design tastes and practical needs to the best possible hardware options, so you don't have to worry about form or function after your renovation is complete.


Complete Kitchens: What's Included in an S&S Quote?
After you've picked all the components for your cabinets, it's time to receive your S&S quote. This quote will contain information about the entirety of your kitchen renovation, so if you're taking on a large-scale project, you should expect to see multiple line items in your quote. The quote will include cabinets (boxes, drawers, and doors), handles and knobs, soft-close hardware, storage accessories, countertops, sinks, and labour.
Among the items listed, some are produced and distributed directly by S&S Woodcraft, while others are outsourced from partner companies. If there's something we can't provide for you directly, we'll help you find another trusted contractor who can. Find out how to read and understand your S&S quote so that we can begin collaborating on your dream kitchen renovation!
Start Your Renovation Today!
If you're ready to move forward with your kitchen renovation, you can get started here. If you still need some inspiration, download our free Cabinet Inspiration Guide to see some of our most popular paint, stain, hardware, inlay, and accessory options. S&S renovates kitchens around Cold Lake and Edmonton, AB. Come by and see our showroom if you're interested in renovating your kitchen.