Painted vs. Stained: Which Cabinets are Best for Your Space?
June 7, 2021
When it comes to the finish of your new cabinets, you have two main options: painting and staining. Choosing to paint or stain will depend on a few different aspects of your project, including:
The look you want for your kitchen
The material you choose for your cabinets
Your desired maintenance
Your budget
We'll talk you through the guidelines for painting and staining your cabinets, as well as the pros and cons of many of the finish options we offer at S&S Woodcraft.
Staining
Stained cabinets are generally considered the most traditional option for your kitchen. Stains show off the grains, knots, and patterns in the wood, making them an attractive choice for homeowners who prefer the look of natural materials in the kitchen.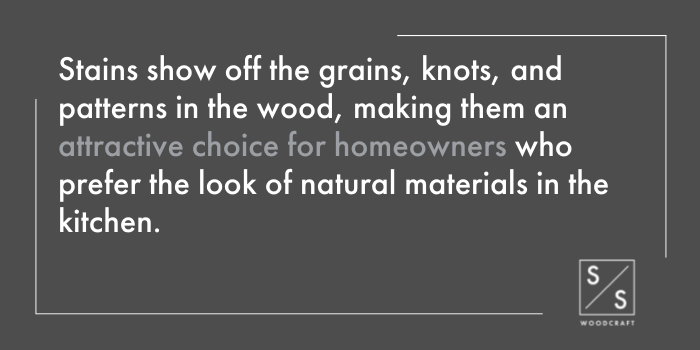 Though stained cabinets often fall into the more traditional camp, they also have a place in modern kitchens. Recently, modern design trends have put a spotlight on clean, minimalist designs that utilize natural elements and textures. Even If you're aiming for a modern look for your kitchen, keep your options open.
What Can I Stain?
First off, it's important to note that only certain types of cabinet materials can be stained. This includes hardwood cabinets or composite cabinets with wood veneers. On the other hand, MDF will need to be painted.


Types of Stains
We make our wood cabinet doors out of a wide variety of woods, and we offer almost unlimited stain options. Our most popular shades are brown, black, and gray, and within these classes, there are a variety of different shades to choose from. We also provide custom stains to match other parts of your decor.


Maintenance
Cabinet stain touches up easily, and it never requires much maintenance - even over a long lifespan.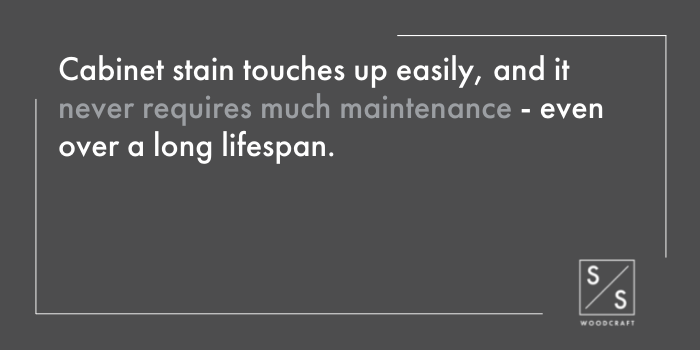 It's also important to remember that you can paint over stain, but you can't stain over paint. If you see yourself wanting to change your cabinets down the line, consider starting with a stain — you can always paint over it later if you change your mind.


Budget
Staining a wood-grade kitchen may be a bit more expensive than a paint-grade kitchen, mostly because hardwood doors are more expensive than manufactured material doors. That said, there are plenty of other aspects of cabinet renovation, including new materials, hardware, and more, that determine the overall price of your project. Remember to factor in all these elements before making a decision about painting/staining based on price alone.
Painting
When it comes to paint, there's a bit more flexibility than staining because you can paint any type of cabinet door.
Paint comes in a variety of colours and finishes, and you can change it up as your personal style evolves. Here are some suggestions to consider before you choose paint for your new cabinets.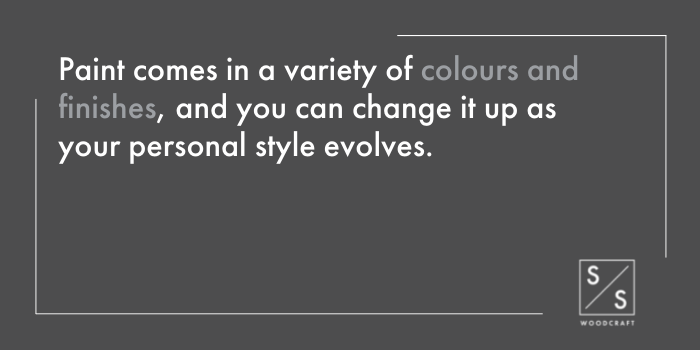 Paint Finishes
Painting cabinets is a little different than painting walls. To achieve a painted finish, we use a lacquer coating that's tinted with the paint color, which gives the doors and drawers an even, beautiful colour. Our most popular sheen level is a low lustre that's not full matte, but also not glossy. We find this to be the best option for kitchens because it hides fingerprints better than matte and is very easy to clean.


Paint Colours
When it comes to colour, you have a world of different shades and hues to choose from. If you're planning on white cabinets, our most popular shades are Swiss Coffee (an off-white colour that's a little softer on the eyes) and White Sand (a bit warmer than Swiss Coffee). We also offer black, various shades of gray, and Wedgeworth Blue, a shade of navy that's popular among customers who want their cabinets to provide a colourful pop in their space.


If you're painting your cabinets, you don't have to choose just one colour for the entire set. Recent design trends have seen an uptick in two-toned kitchens, which feature white upper cabinets and dark lower cabinets, or white circumference cabinets with a dark island. Consider going for a two-toned approach to subtly add dimension or colour to your cabinets.


Maintenance
With normal use, painted cabinets are as easy to maintain and as durable as stained doors. If damage does start to show on well-loved door faces or drawer fronts, it can be harder to touch up than stain. Since we spray on the color for a perfectly even finish, DIY touch-ups may leave brush strokes that do not appear on the rest of your door face.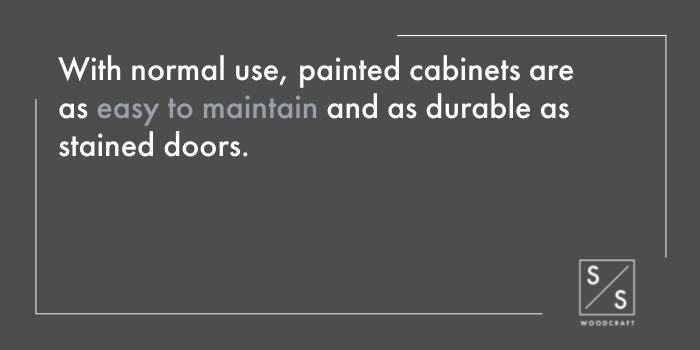 Also keep in mind that white cabinets show dirt more quickly than stained cabinets, so they need to be wiped down more often.


Budget
Since manufactured materials like MDF are more affordable than natural hardwood, painted door faces and drawer fronts are often well-suited to budget-conscious homeowners.
The Bottom Line
Your cabinet renovation ultimately comes down to more than staining vs. painting, but it's important to consider the pros and cons of both options before moving forward with your project. If you need more ideas or guidance on paints and stains, you can visit our S&S showroom in Cold Lake, AB (just a short drive from Edmonton) to see your ideal kitchen rendered in 3D. You can also schedule a design appointment with one of our kitchen design experts to discuss your options and get started on your project.