What Material Should I Choose for My Cabinet Doors?
June 7, 2021
When it comes to different cabinet materials, you have lots of different choices. Here at S&S, our cabinets have two major components:
The door face and drawer front
The body and frame
In this article, we'll talk about the different material options you have for each of the two major parts during your cabinet renovation.
Our most popular materials for door faces and drawer fronts are:
Hardwood
MDF (Medium-density Fiberboard)
Wood veneers
And the two primary materials that we use to construct the frame and body of our cabinets are:
Use this guide to determine which type of cabinet material is the best fit for your budget and design goals.
Hardwood
Many people assume that cabinet doors and drawer fronts are always made out of wood, but that's not always the case. Pure hardwood is only one of many options for your new cabinet faces and drawer fronts. Here are some useful guidelines for homeowners considering hardwood doors and drawers.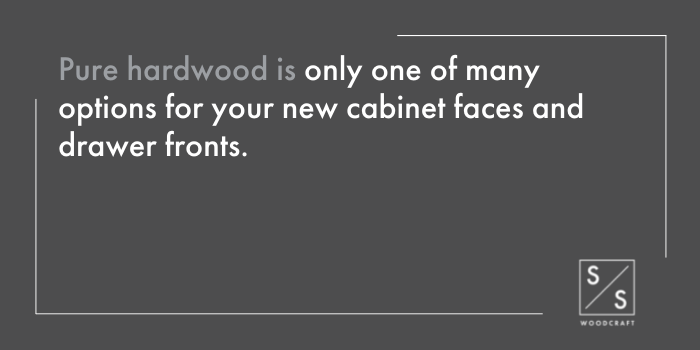 Budget
Choosing hardwood for your cabinets will run up your budget a bit because it's typically more expensive than manufactured materials, such as MDF. However, it's a classic choice for door faces and drawer fronts, especially if you prefer to preserve the appearance of the wood with stain rather than paint.


Quality/Lifespan
Hardwood is a high-quality material for doors and drawer fronts and can easily last for decades.
Because wooden doors typically have five different pieces, these pieces will shift slightly as the seasons and temperature change. If you paint a solid wood face or drawer front, the micromovements of the wood may cause cracks in the paint. Stain is not only a beautiful choice for hardwood components, but also a low maintenance option because it will not show wear and tear.


Maintenance
Wear and tear are unique to each family, but with minimal maintenance and regular use, the doors and drawer fronts will still look pristine for well over a decade or two.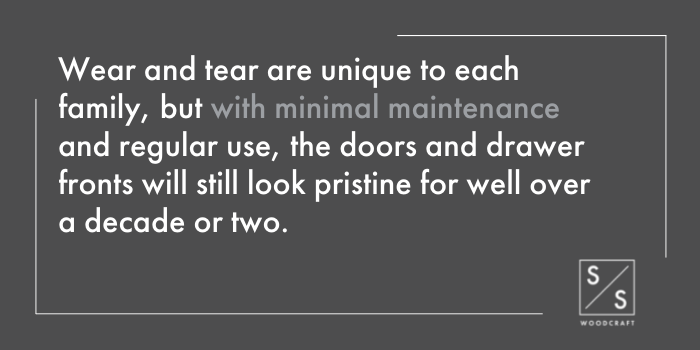 Medium-Density Fiberboard
Medium-density fiberboard (MDF) is a fine-grained wood composite that's made of wood fibers, wax, and adhesive. It can be used for interior cabinet components, like boxes and shelves, and is also very popular for exterior doors and drawer fronts.
MDF cabinets are great for painting, but they can also be covered with stained wood veneers. They're a great option for homeowners who want the look of a hardwood door face at a slightly lower price point.
Budget
MDF is budget-friendly, costing less than hardwood while still providing a sturdy base for cabinet construction. This material provides a great balance of quality and affordability.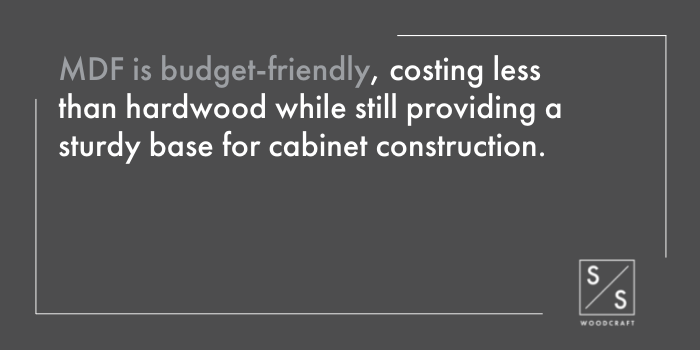 Quality/Lifespan
The wood fibers in MDF are smaller than the chippings in melamine, which makes MDF denser and more long-lasting. It's smoother and more paint-friendly than plywood. Unlike solid wood, MDF cabinet doors are only made from a single piece of material. This means MDF won't expand or contract after changes in temperature, so painted cabinets will stay smooth and resist cracking.


Maintenance
We make our MDF doors and drawer faces in-house at S&S and offer a warranty on the product, should anything go wrong. Because MDF is sturdy and long-lasting, we believe it's a great option for customers who want a budget-friendly, paint-grade material for their cabinets.
Wood Veneers
You can layer wood veneers over top of any of the composite materials to create beautiful door faces and drawer fronts. This is one way to create the outward appearance of wood cabinets without committing to expensive hardwood.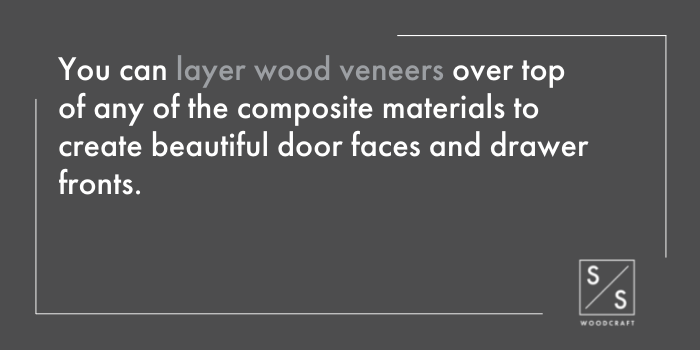 Budget
When selecting wood veneers for your cabinets, you should remain conscious of the price of the stained veneers in addition to the base cabinet materials. Both these elements will make up the complete budget for your cabinets.


Quality/Lifespan
Wood veneers are often added to wood alternatives to create the outward appearance of natural wood. However, the quality of your cabinets is also dependent on the material underneath. To assess the quality of your overall cabinet structure, review the information on other materials listed above.


Maintenance
As we mentioned earlier, stained wood often requires less cleaning and attention than painted surfaces. Stained wood veneers offer a low-maintenance exterior, without the price tag of hardwood.
Melamine
Usually, melamine is the standard material for cabinet construction, including the cabinet body and frame, which includes the interior shelves. White melamine is our most popular option, and we also offer wood grain melamine.


Budget
White melamine is a sturdy, affordable option for the interior and structural portions of your cabinet that fits nearly any renovation budget. Woodgrain melamine is slightly more expensive, but of the same high quality.


Quality/Lifespan
Melamine's lifespan will vary depending on how it's used. With gentle upkeep and regular cleaning, it can easily last for decades.
Plywood
Plywood is an alternative to melamine for the cabinet frame and body. Plywood is made from thin layers of wood chippings that are stacked on top of each other and held together by an adhesive.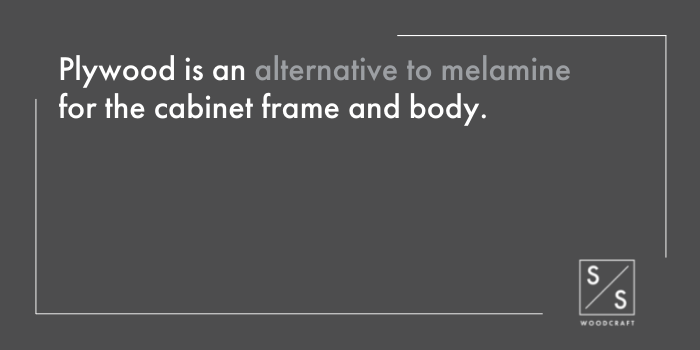 Budget
Plywood is more pricey than other composite materials that we offer, such as MDF or melamine.
Quality/Lifespan
Like MDF, plywood is strong, stable, and water-resistant. It's difficult to say that one of these two options is always better than the other, and choosing between the two might come down to preference or budget. For further guidance on choosing a composite material for your kitchen cabinets, schedule a free, no-obligation design appointment with one of our cabinet experts.
Moving Forward with Your Cabinet Renovation
Choosing a material for your cabinet exterior and interior is just one step in the process of renovating your cabinets, but it's an important one. If you still have questions about which material you'd like to use for your cabinets, visit our showroom here in Cold Lake, AB (just a short drive from Edmonton). We can look at samples in person and create a 3D rendering of your new kitchen to help you make your decision.