Cabinets 101: Start with a Simple Design
June 7, 2021
Choosing your cabinets can be one of the most exciting parts of a kitchen renovation. Since cabinets are at eye level, they're one of the first things you see each time you walk into your kitchen. Taking your time choosing the design and finish is essential to creating a room that you love. Plus, cabinets are key for the function of your kitchen, so choosing the right size and layout will ease the workflow in your space.
There are thousands of cabinet finishes, colours, and designs out there, so choosing just one look for your kitchen can get a bit overwhelming. We've talked to many homeowners who have pulled samples for cabinets, flooring, paint, and countertops, only to get frustrated and confused by fitting them all together. We recommend focusing on just one element of your ideal cabinet first and then building your design step by step from there.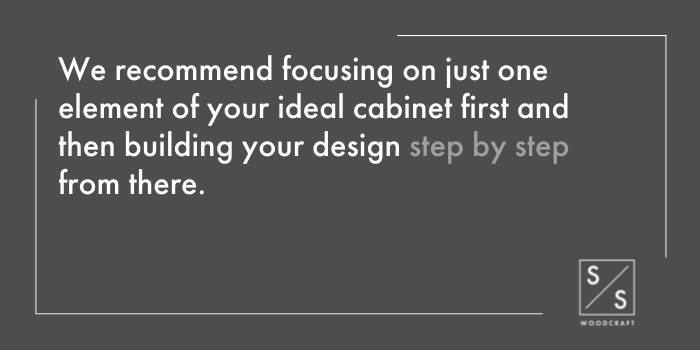 In this article, we're sharing some simple ideas that will help you get started with your cabinet renovation. Remember, start with a simple design and build from there.
Step 1: Select a Material
Cabinets are built from a variety of materials. At S&S Woodcraft, we offer cabinets door faces and drawers made out of:
Hardwood
Medium-density fiberboard (MDF)
Wood veneer
Our cabinet interiors, like the frame and shelves, are made from:
Some materials are better suited to certain applications than others. For example, if you're planning to paint your cabinets, you may like to use an engineered material like MDF. The entire door is made from a single piece of material, so paint along the edges of an inlay won't crack over time as it can with hardwood doors. However, if you plan to stain your cabinets, you may prefer natural hardwood so you can highlight the unique, beautiful texture of the wood.
Before you decide on a material for your cabinets, you should also consider your budget. Hardwood is typically more expensive, especially if you choose doors with elaborate inlays. One great way to disqualify certain materials is to set your budget and then look at materials that fit into your price range (keeping in mind all of the other renovation items you also need to purchase, like appliances, flooring, and countertops).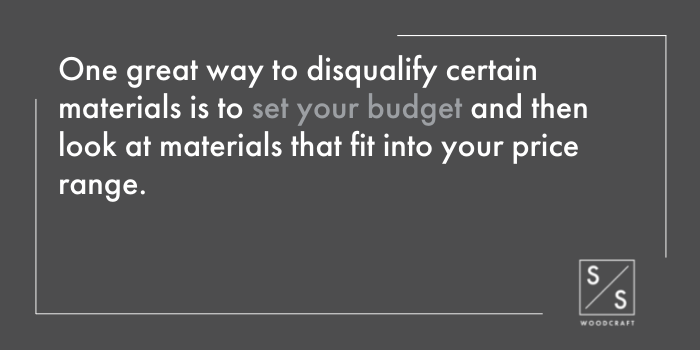 Step 2: Pick a Door Profile You Like
If you have a certain aesthetic in mind, such as modern or traditional, then you may want to start with your door profile. Flat cabinets with little or not patterning on the front are ideal for clean, modern spaces.
The opposite is true for traditional kitchens. Classic cabinetry often features ornate door profiles. If you're aiming for a classic or antique look, focus on doors with elaborate designs early in your design process.
Typically, most kitchen cabinets are somewhere between the uber-modern and the highly traditional. If you find yourself in this group, consider starting your cabinet planning process with another feature and coming back to the door profile later in the process.
Step 3: Choose a Colour
Still feeling overwhelmed by the ideas listed above? For many homeowners, the easiest place to start with your cabinets is colour.
In general, there are two "types" of cabinet colour that will determine where you'll begin. If you're aiming for more natural wood cabinets, then you'll be selecting a stain for them. If you're planning to paint your cabinets, you can instead look at a wide range of paint colours.
First, decide whether you'd like to stain or paint your cabinets. Both options can look great in all types of kitchens, ranging from classic to contemporary designs.
If you decide to paint your cabinets, start with the overarching "feel" that you want for the room. Do you like warm, earthy tones, or cool, gray/blue tones? We recommend visiting your local hardware or home improvement store to browse the paint swatches to get an idea of which tones appeal to you.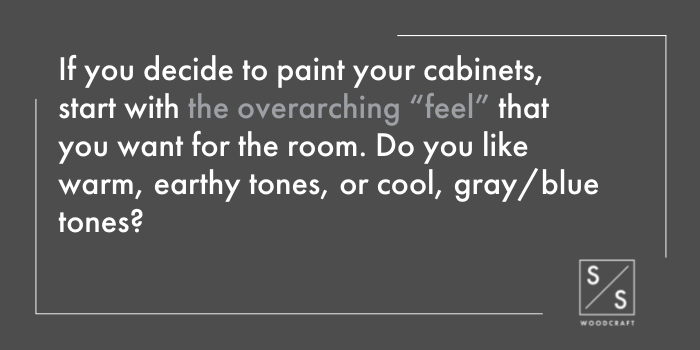 Step 4: Find Hardware You Like
Many homeowners have strong opinions about the type of cabinet hardware they prefer, so this may be easier to choose than your cabinet colour or finish. Once you know what colour and style of hardware you want in your kitchen, it's easier to narrow down cabinet colours that will match.
Though there are nearly endless hardware options, start with the basics. Do you prefer knobs or pulls? Do you want gold, silver, or bronze hardware, or something more decorative? Answering these two questions can quickly trim down your hardware choices so you can make a selection.
Then, you have a few options when it comes to browsing the hardware options that match your criteria. You can visit your local hardware store to get ideas - usually, hardware stores have samples on display that you can view and touch. Alternatively, you can visit your contractor's showroom to look at samples and pick a style you like. When it comes time to actually order hardware for your cabinets, consider buying in bulk from either a hardware store or your contractor to save money.
Still Stuck? Seek Inspiration Online
When you start planning out the cabinetry for your new kitchen, you don't have to start from scratch. There are thousands of existing cabinet designs out there on a variety of different physical and web platforms. Consult social media or Pinterest to get inspiration for your cabinets. Bring pictures into our showroom so we can get an idea of what you like. Sometimes, the easiest way to get a jump-start on your project is to look at what other homeowners have done on their projects.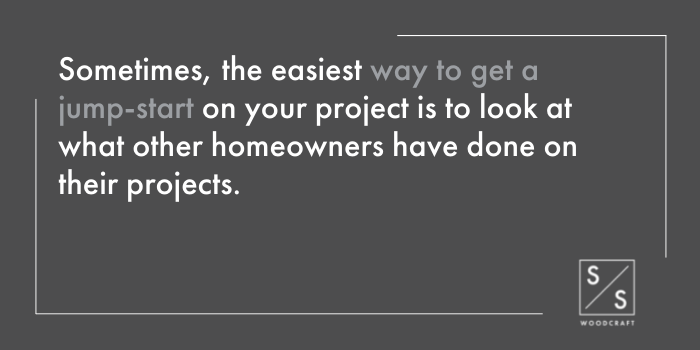 That said, you should be aware of some of the common pitfalls of browsing online for cabinet inspiration. Always remember that online photos are often edited to make the rooms appear brighter and larger. This can distort the way cabinet colours and finishes look in some spaces.
In addition, colours and finishes will probably look different in your kitchen than they do in photos. All kitchens have different space and lighting that affects the appearance of fixtures, like cabinets. Before you commit to a design you see in a photo, make sure to test real samples in your own kitchen and get advice from a contractor you trust.
Stay Calm, and Design On
As you move forward with your cabinet renovation, remember to enjoy the process! Just one choice at a time, and the rest will follow.
Feel free to stop by our showroom in Cold Lake, AB (just a short drive from Edmonton) to see and feel your material options. You can also schedule a design appointment so we can look at pictures together and discuss your options. We have a lot of experience with kitchen and bath renovations, so we can help you pull together your ideas and inspiration into a cohesive, beautiful design.