The 4 Most Important Considerations For Your Cabinet Layout
June 7, 2021
Deciding on the size and layout of your new cabinets is an early and important part of any cabinet renovation. If you're replacing your cabinets or starting from scratch, you'll want to plan a layout that will be attractive and convenient for years to come.
Different types of kitchens have varying advantages and limitations when it comes to cabinetry. Here, we'll answer 4 of the most common questions we get about how to arrange your cabinets.
1. Where Should I Put a Tall Cabinet?
A tall cabinet works great as a pantry for small kitchens that can't accommodate a walk-in pantry. Depending on whether you have a flat or vaulted ceiling, we may be able to go up to the ceiling to provide maximum storage. The upper unit of the cabinet usually matches the height and style of the upper cabinets throughout the kitchen. The bottom cabinets typically have convenient pullout shelves.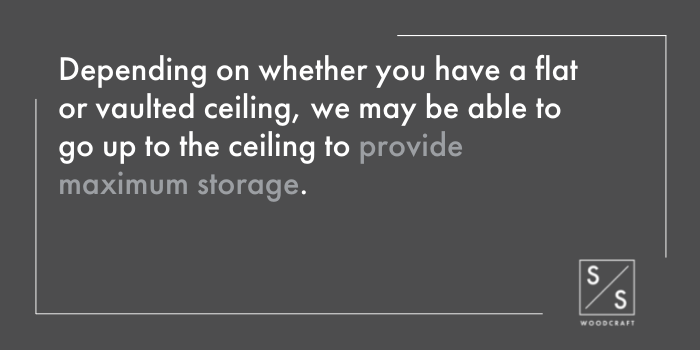 Depending on the size and scope of your kitchen, it can be a bit tricky to decide where a tall cabinet might fit. As a general rule of thumb, it's a good idea to keep this cabinet close to your appliances and cooking station. When it comes to the details of placing your pantry unit, you have a few different options:
Next to your fridge
Next to double ovens
At the end of your cabinets
Beside an entryway or door
Placing your cabinet next to a tall appliance, such as a fridge, maintains a certain level of visual symmetry. Plus, it's practical: keeping pantry items and fridge items close together makes cooking more efficient.
You can create the same effect by placing your tall cabinet next to double ovens, an entryway, or a door.
2. Should I Build My Cabinets to the Ceiling?
Ceiling-high cabinets are a classic design trend that has been extremely popular for the past decade or more. We like to encourage our customers to take advantage of ceiling-high cabinets when possible because they offer plenty of benefits, including a lovely appearance and extra storage. However, there are a couple of things you should consider before committing to this type of cabinet.


Consider Ceiling Height
If you have a particularly tall or pitched ceiling, it's not practical to build your cabinets all the way up. Additionally, accents like ceiling beams can get in the way of cabinetry in certain homes. Consider the layout of your walls and ceiling before committing to tall cabinets.
Be Prepared to Use a Stepstool
In the last fifty or so years, cabinets have been built to leave a gap under the ceiling for practical reasons. In a typical kitchen, this leaves the cabinet at an easily accessible height for most people.
Building cabinets all the way up to the ceiling makes things a little more complicated. If you install tall cabinets, you might need to keep a stepstool handy to reach items on the tallest shelf. Try to save this space for things you don't need as often, like fancy dishware or seldom-used appliances.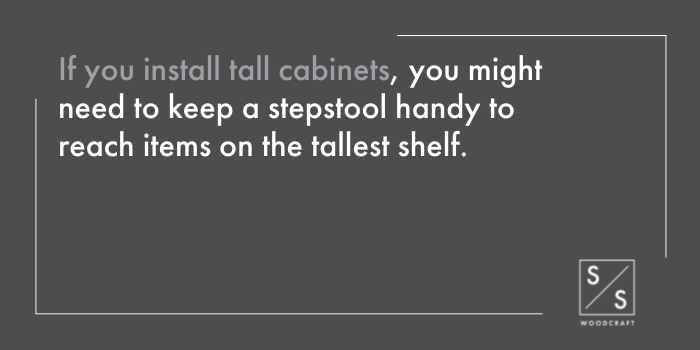 Size Up Your Storage
If you prefer to keep your wares hidden from view, you might appreciate the extra storage that comes with ceiling-high cabinets. However, a homeowner who likes to keep certain decorations or dishware on display might appreciate leaving space between the top of the cabinets and the ceiling. Take storage and design preferences into consideration before landing on a design for your cabinets.
Keep Cost in Mind
Building cabinets to the ceiling is always more expensive than building them slightly lower. Consider the extra costs of this type of cabinet in advance. Standard cabinet height is overall 86 inches, so anything larger than that is considered custom.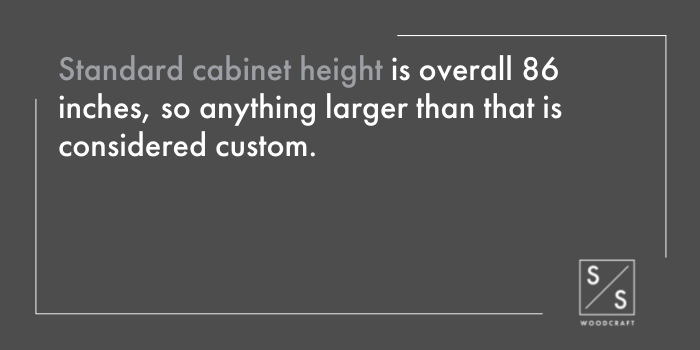 3. Where Should I Put the Trash and Recycling?
You don't have to put your trash and recycling in your lower cabinets, but that can be a good place to hide them from view. If you plan to use your cabinets as a storage place for trash and recycling, here are a few helpful guidelines:
Use the cabinet underneath your sink for easy waste and food disposal
Build any new cabinets large enough to accommodate an average-sized waste can
After building your cabinets, measure the space exactly to buy the right-sized cans
So, what should you do if you don't want to put your trash can in your cabinets? There are plenty of low-profile garbage cans on the market that fit at the end of an island or countertop. If it's not practical for you to put your garbage in a lower cabinet, consider opting for exposed bins instead.
4. Do I Need an Island with Cabinets?
When it comes to kitchen islands, there are countless styles, sizes, and shapes on the market. Plenty of kitchens are built to accommodate moderately-sized islands, but sometimes, an island might not be the best choice for your kitchen.
For starters, most traditional islands - and even some smaller alternatives, like bar carts - come with at least some cabinet storage. If you're building an island into your kitchen, adding extra cabinets will be a great way to extend your storage and counter space at the same time. If you prefer the appearance of open shelving, you can also incorporate it into your island, as many islands beautifully pair cabinets with open shelving in their design.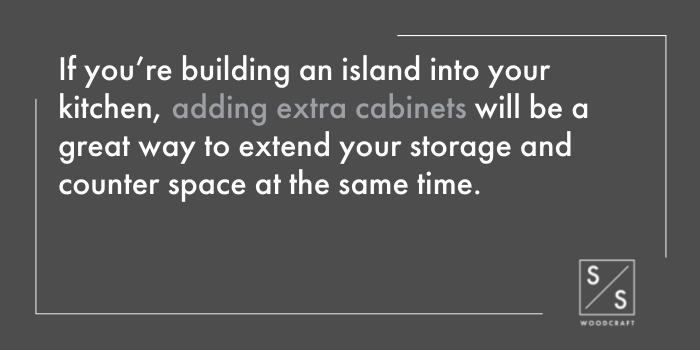 Alternative types of islands - like tables, for instance - are less storage efficient (but more budget-friendly) than traditional islands. If you need the workspace but more cabinets aren't in the budget, this might be a great option for you.
Need Additional Cabinet Layout Guidance?
Once you've determined where you'd like to start with your cabinets, contact S&S Woodcraft over the phone or in our showroom here in Cold Lake (just a short drive from Edmonton) for more guidance, as well as material and finish options.
We'd love to partner with you for every step of the cabinet renovation process, so schedule your design appointment today!