Install the Right Island for Your Kitchen
August 17, 2020
Islands are integral to many different kitchen designs. They provide valuable storage and countertop space, and they often house appliances or sinks to streamline workflow. That said, not every kitchen can accommodate an island. Sometimes, it's best to adapt your island idea into a peninsula. In other cases, you might need to keep your kitchen island-free.
We'll discuss some of the dos-and-don'ts of kitchen island life, as well as alternatives for kitchens that can't accommodate islands. If you're looking to expand your kitchen's storage and workspace, this guide will help you accomplish that without messing up your layout and workflow.
Basic Considerations
Before you begin to plan your island, you'll want to ask yourself a few key questions about your kitchen. What kind of layout do you have? How much square footage is there to work with? What needs will your island fulfill? Do you need it for storage, counter space, a seating area, or an appliance? What's your budget?
Installing an island can be costly, and it subtracts a lot of floor space from your kitchen. You'll want to be sure you have a solid plan in place before you get attached to any specific ideas.

Kitchen Type
Before you start planning your kitchen island project, you should make sure your layout can accommodate an island. Some kitchen designs — like galley kitchens, for example — aren't suited to islands. They don't leave enough space for people to comfortably navigate the kitchen without bumping into things. Other times, semi-detached peninsula islands are a better choice for homeowners who need extra counter or storage space.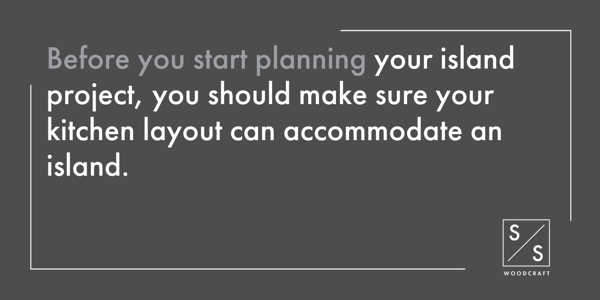 Think about your kitchen layout and how it would best accommodate an island. In addition, make sure to think about how much work you're willing to do to get the island you want. If putting in an island means you have to expand your entire kitchen, you'll have to decide if the work is worth the result.

Measure Your Space
If you're thinking about installing an island, one of the first things you should do is measure your available space. This might look different depending on the layout of your kitchen. Essentially, you'll want to make sure you have enough room to walk around the perimeter of the island without bumping into anything. You'll also want to be able to open your fridge, oven, and any other nearby cabinets or appliances without feeling cramped.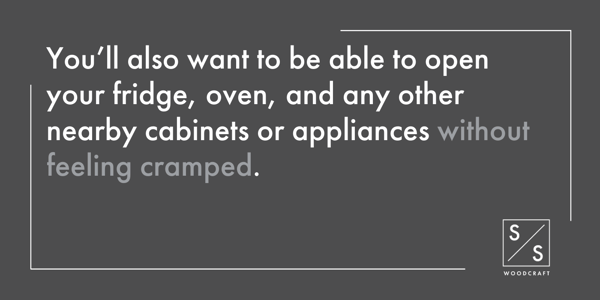 Determine the breadth of each drawer, cabinet, and appliance that will fall near your island. Ideally, you'll want to be able to open any one of these things while still having space to walk around the island. After you've taken your measurements, map out your desired island with masking tape and make sure you still have enough space to navigate your kitchen.


Types of Kitchen Islands
Once you've taken your first measurements, it's time to think about the type of island you want. You probably already have some ideas in mind, but if you need more inspiration, consult Pinterest or interior decoration sites for examples. Look for pictures of kitchens that match your layout or style. These images will help you picture an island that's suitable and realistic for your home.
There are an abundance of different islands to choose from. Different styles might work better for certain kitchen layouts or budgets. Islands can be built into the ground, or you can use a table as a mobile and less expensive option. Rolling islands or bar carts work as both a serving cart and mobile countertop space. Peninsula islands are attached at one end to the rest of the countertop. You can even install two smaller items instead of one large one for extra symmetry and utility.
Details
Once you've measured your space and decided on the style you want, it's time to think about add-ons. Here, you'll want to return to the question we asked above about your island's purpose. What will you mainly use it for? Will it mainly work as a storage space, a food prep area, a countertop, or a home for an appliance? Tailor the details of your island to fit your goals and ensure it slots in nicely to your existing kitchen.
Storage
One of the advantages of installing a full island is extra storage. Large, anchored islands offer more cabinet space and room to work. Island cabinets can also fit under and around sinks or appliances.
You can also incorporate storage into your island without building a large fixture. Tables with shelving storage can function as low-cost alternatives to built-in islands. Exposed shelves are part of current design trends, so if you're concerned about overspending on your island, try a table instead.



Seating
If you plan to use your island as a seating area, you'll have to accommodate chairs or barstools. This means building indentations into your island so that you can sit around it. A table island also works for easy seating.
Some homeowners might want their island to double as a kitchen or dining room table. This can be especially helpful for people with smaller households or kitchens. If you have more space, your island can act as a casual breakfast bar that's separate from your kitchen or dining room table. In any case, an island can help you extend your seating area while also doubling as a useful workstation.
Adaptations
Depending on your design ideas and kitchen layout, you can make adjustments to your island so that it works in your home. Some islands come with flip-up countertop extensions that can expand your workspace without cutting into the kitchen. Other islands have shelves inlaid on the side for small items like spices or jars. If you want the convenience of an island but you don't want anything permanent, consider purchasing a roll-away island, a bar cart, or a table. All of these options work flexibly as islands, but they can also serve other purposes.

Costs
The cost of your island can vary widely depending on what kind you choose and how large it is. Sizeable built-in islands can be very expensive, so you'll want to really commit to the idea before jumping in. Some of the less permanent options mentioned above will also run cheaper than built-in islands, so if you're still in the experimentation phase, consider trying one of those.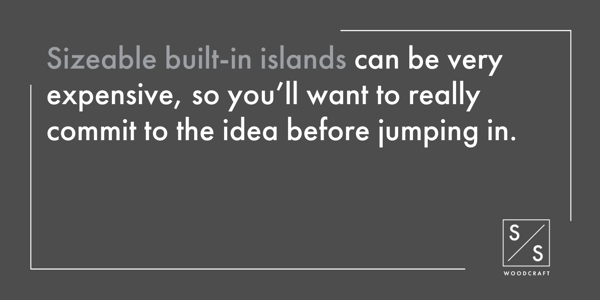 An island is a useful, versatile addition to your kitchen. There are several ways you can adapt an island to your needs and kitchen layout. If you need further guidance for your kitchen renovation project, stop by our showroom here at S&S Woodcraft in Cold Lake, Alberta (just a short drive from Edmonton!). We'll listen to your ideas and provide help where we can so that you can start enjoying your kitchen to the max!