Go with Your Gut: Advocating for Yourself During a Renovation
August 24, 2020
Partnering with a kitchen contractor on a renovation can be a huge help. Contractors provide guidance on your design ideas, and they also manage all the labour and materials on your behalf. However, it's important to establish a trusting relationship with your contractor and advocate for yourself throughout the project. Outline all costs and schedules at the beginning of your project, and make sure you and the contractor are on the same page before breaking ground.
As easy as this sounds, there are still some sticky situations that can arise when shopping for contractors or working on a project. We've created this guide so that you can go with your gut and stay in control of your kitchen renovation. Use these tips to find the right contractor so you can get your project done well for the best possible price.


Obstacle #1: Contractor Adds Costs During Project
This problem can turn your relationship with your contractor sour pretty quickly. The circumstances probably sound familiar: you're halfway through a project and you think you already know the full price, but your contractor comes to you one day and announces that he has to make some additions. Maybe he's run into some problems with your plumbing, or he has to replace a part that wasn't in the original budget - in any case, your bottom line goes up.
It's true that full renovations are large projects with many moving parts, and it can be difficult to plan for every expense ahead of time. However, your price point should never fluctuate drastically throughout the project. Your contractor should perform a thorough assessment of your kitchen and bathroom before beginning, and he should let you know ahead of time if he thinks certain costs will arise.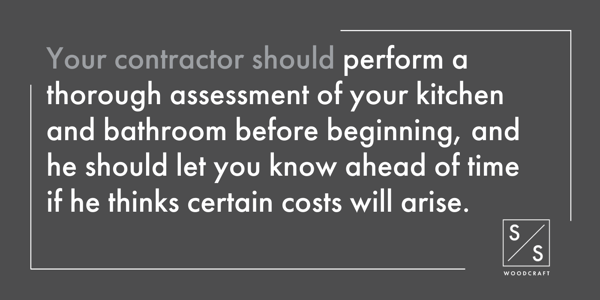 Make sure to ask about "hidden costs" in advance. These include plumbing, wiring, flooring baseboards — anything that can't be seen outright but might need some fine tuning during the renovation. These parts of a renovation can sometimes go unnoticed until the later stages of a project. By then, it's already too late to plan for extra costs in advance.
Before your renovation begins, your contractor should give you a thorough rundown of expected costs. This should be a detailed price sheet - not just a single number - so that you can make adjustments where needed. Agree on a budget limit before the project begins, and leave room for unexpected costs. If an emergency purchase arises, plan to make cuts to another part of the renovation. You shouldn't feel forced to pay more than the initial limit you set with your contractor.
A good contractor will help you come up with a budget that's comfortable for you and also realistic for the scope of the project. You should never be pushed to splurge on items you don't need, and your contractor should be willing to give you solid reasons as to why you might prefer certain choices. A contractor's goal should be to help you create the most valuable kitchen or bathroom — not just the most expensive one.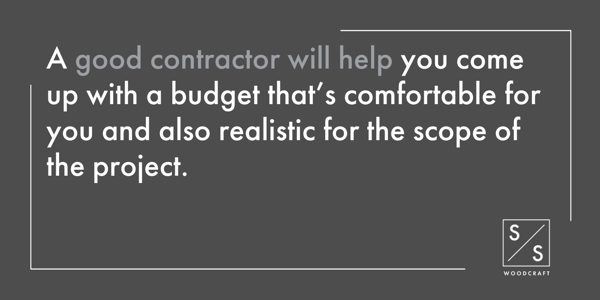 Obstacle #2: Contractor Extends Schedule
This is another common problem that probably rings a bell for many homeowners. Your renovation schedule can sometimes suffer the same fate as your budget — it might be extended beyond your initial expectations. To avoid this issue, make sure to come up with a deadline with your contractor in advance. The contractor should be honest about their estimated completion date. Some renovations take time, and the contractor should make this very clear to you before work begins. Agree on scheduling when you're first laying the groundwork for a renovation.
Like budgeting, most scheduling issues can be solved by simply establishing expectations for your contractor ahead of time. The most difficult and uncomfortable situations arise when these expectations are not set early on, so form good communication channels with your contractor from the start.
Obstacle #3: Contractor Isn't Listening to Ideas
Contractors can be really helpful for suggesting ways to make your renovation dreams come to life, but they shouldn't control everything. If you're struggling to get your contractor to listen to what you want, you may need to switch companies before starting your renovation. A contractor should always strive to manifest your ideas in the most valuable way possible. This means connecting you to quality materials that he or she thinks you'll like, as well as helping with budgeting and, of course, all the project labour.
Ultimately, you're the one who's going to be living in your house and using your kitchen or bathroom for years to come. You should always get the last word on any design decisions. Make sure to develop a really solid plan for your renovation before any actual work starts. This will smooth out the rest of the renovation so that you can stay stress-free.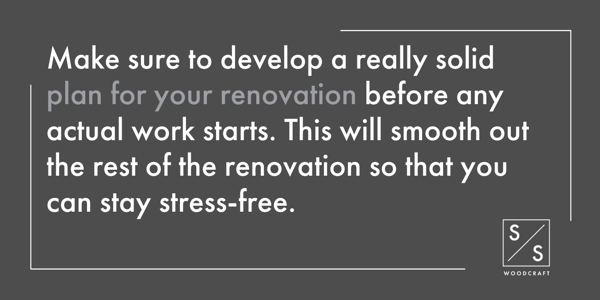 Obstacle #4: Contractor "Carousel"
Some companies constantly rotate their workers so that you rarely see the same face twice during your renovation. It's best to instead work with the same person throughout your project. This is beneficial both for you and the contractor, as you can establish a good relationship and stay up to date on the status of the renovation.
Be wary of working with contractors who seem to rotate around constantly. Choose a company that matches you with someone who'll stick with you throughout the project. This will make it much easier to handle any issues that may arise throughout the process. Though you can plan your renovation in advance, you can't always predict every little thing. Having a good relationship with a contractor you've gotten to know a bit can help smooth over any unexpected troubles.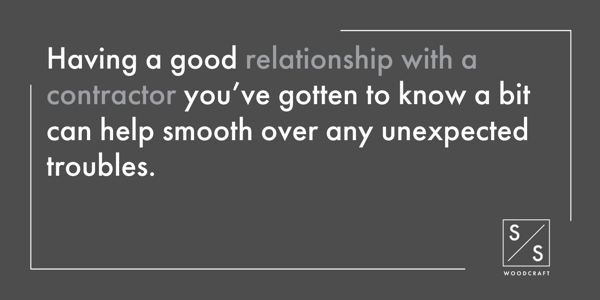 Choose Wisely!
For the most part, contractor woes can be solved with a bit of planning and vetting before you start work on your project. Make sure your budget, schedule, and expectations are clear before any work begins. Ensure that they listen to your ideas and remain helpful throughout the process. At the end of the day, you're the boss of your renovation. Advocate for yourself and your ideas — a good contractor will listen well so that he or she can help you get the best possible result for your renovation.
If you're ready to get started on your renovation project in Cold Lake or Edmonton, get in touch with our cabinet craftsmen today.