Plumbing Mistakes to Avoid When Remodeling Your Kitchen
September 1, 2020
If you're planning a kitchen remodel, plumbing might not exactly be top of mind for you. After all, it's more fun to pick out attractive countertops and fancy cabinets. Not many people want to think about the invisible parts of a kitchen renovation, but that doesn't make them any less important.
There are a few key plumbing considerations to make when you're remodeling your kitchen. We'll discuss some common mistakes and how to avoid them so that you can move onto the fun stuff. No matter what, it's important to start with a good foundation!
1. Choosing Your Sink Too Late
When you start your kitchen remodel, it can be tempting to pick the most fun parts first. You'll have to fight the urge to immediately choose countertops and cabinets. Picking your sink first can save you plenty of hassle later on. Even though it's not exactly the flashiest part of your kitchen, it's one of the most important features.
If you install your cabinets first, your sink might end up being the wrong size, or it might not match your cabinets and countertops. You'll either have to redo your cabinets or go with your second choice of sink.
Installing cabinets first might also jeopardize the location of your pipes. Often, your sink won't match up with the plumbing layout, and you'll have to make some costly adjustments. This might mean sawing into your brand-new cabinets to make holes for plumbing.
Building cabinets around a sink is a lot easier than building a sink around cabinets, so make sure to choose your sink first when planning a kitchen renovation.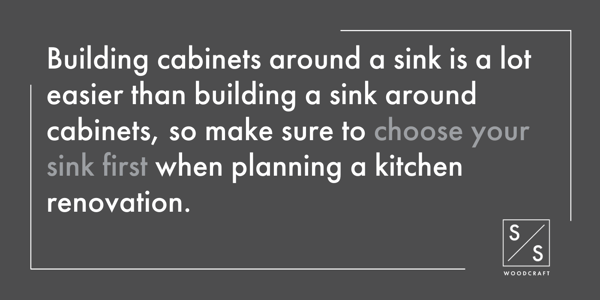 2. Cutting Corners with Flooring
Flooring is another important part of any kitchen, and it should be top of mind in the early stages of your renovation. Flooring mistakes can cause a lot of plumbing trouble, especially when you're replacing appliances.
Contractors sometimes cut corners by putting flooring around appliances and cabinets, rather than underneath them. This will cause problems later on if you have to replace or install appliances. Make sure to install flooring first so that it goes beneath appliances and cabinets.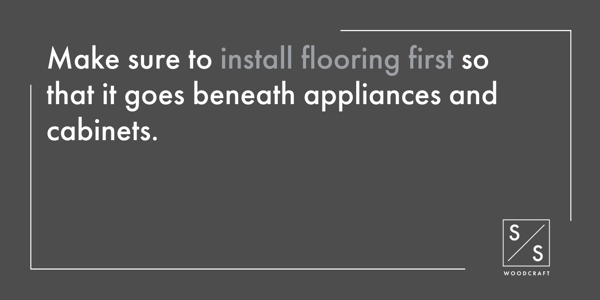 3. Not Giving Thought to Appliances
Like your sink, appliances might be a little ways down on your list of renovation priorities. However, you should always measure the dimensions of your appliances first and build cabinets and countertops around them.
Consider how your kitchen workflow corresponds to appliance hookups. Do any of them need to be changed? You'll want to do any appliance plumbing adjustments early on in your renovation. Trying to change plumbing fixtures later on will set your renovation budget and schedule back quite a bit.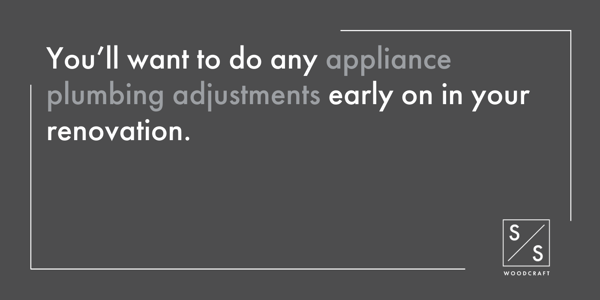 4. Using Mismatched and Overloaded Fixtures
Plumbing fixtures and connections affect water pressure in your kitchen. Invest in quality plumbing fixtures, and make sure they match one another. Using mismatched fixtures — or fixtures with too many hookups — might make for poor water pressure in one (or all) parts of your kitchen. The unseen parts of your kitchen are just as important as the flashy bits, so be sure to give your plumbing fixtures some extra attention.
5. Forgetting the Vent
A plumbing vent is an important feature that funnels dangerous sewer gases out of your house. It also facilitates the flow of oxygen in your pipes, helping maintain adequate pressure and low waste levels. Forgetting your plumbing vent might expose you to harmful gasses, and your pipes won't drain as well. Luckily, most building codes require plumbing vents, so contracted workers won't forget to install them. If you're doing your own plumbing, however, make sure to include this crucial fixture.
6. Overcommitting to DIY
We get it — renovating your kitchen yourself can seem like a fun project, especially for creative people with construction experience. That said, DIY projects that don't have perfect planning can end up being more costly than hiring a contractor to complete the work. Never hesitate to reach out to a trusted contractor or plumber for help during your renovation.
This is especially true for plumbing. Plumbing requires a good deal of experience and practice, and not every homeowner has what it takes to do their own plumbing. Experimenting with a DIY project doesn't mean you have to go it alone the whole time. Many self-sufficient homeowners can benefit from a hybrid project. The homeowner can take care of the renovation aspects where he or she has the most experience. Other duties can go to a trusted contracting partner.
Only DIY the parts of your renovation you feel most confident about. If you have any hesitations at all, reach out for help. Here at S&S Woodcraft, we're always happy to help you complete your kitchen or bathroom renovation. Get in touch if you're looking for assistance with your project.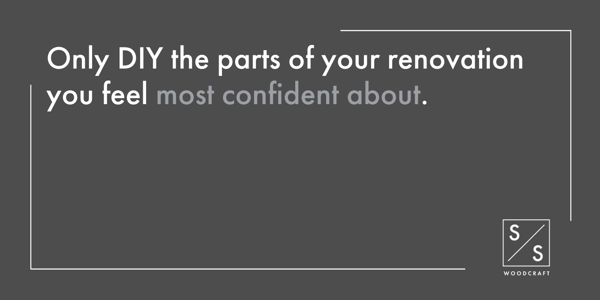 Final Thoughts
It can be easy to overlook plumbing when you're planning your kitchen renovation, but it's one of the most important parts of a functional space. Your plumbing is a big part of a functional, lasting kitchen, so make sure to keep it top of mind when making plans for your project!
If you're ready to get started on your renovation, schedule a free design meeting with our team. We'll help you create a beautiful design and make sure you don't miss any of the essential steps so your renovation project is seamless.