How to Design a Low-Maintenance Kitchen
September 8, 2020
The kitchen can have many roles in your household. It might be a food prep zone, a sitting area, storage space, or homework hub. Plenty of busy families use their kitchens as a place to touch base with each other between work, school, hobbies, and meals.
Just because the kitchen sees a lot of action doesn't mean it has to be a high maintenance room. You can install fixtures that are both attractive and low-maintenance to save yourself time every single day. This guide will outline a few different ideas for building a low-maintenance kitchen that still looks beautiful and chic.
1. Choose Your Countertops Wisely
The countertop world is full of high-maintenance materials. Marble and butcher block, for example, require a lot of regular care and are prone to stains and marks. There are lots of alternative options out there that require much less work — and they're just as pretty!
Quartz is a low-maintenance alternative material that can look almost identical to marble. Because quartz countertops are man-made, they can be manipulated to resemble a wide variety of more expensive (and more delicate) options. If you like the look of marble but you don't want to commit to the constant care, opt for quartz instead.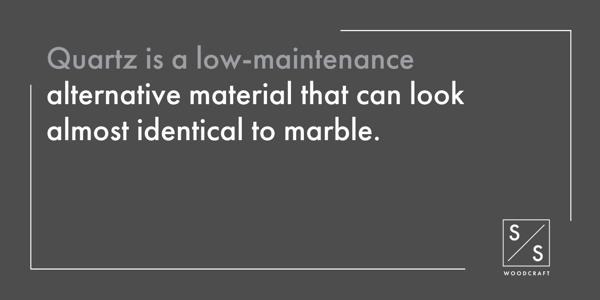 Homeowners who are drawn in by butcher block countertops might consider layering butcher block cutting boards over a hardier material. A butcher block cutting board is an attractive kitchen feature, so don't hesitate to take it out of the cupboard. Since butcher block ages faster than other materials, you'll eventually have to replace the cutting board — but that will be much less expensive than replacing your countertop!


2. Weigh Your Flooring Options
Flooring is another important part of any kitchen, especially if you're planning to stay in your house for several years. You'll want to choose a material that's attractive, long-lasting, and easy to care for. Hardwood floors fit the first two criteria, but they require a bit more up-keep than some other materials. Faux wood flooring can look just as nice as real wood, but it doesn't need the same level of care over the years.
You can also consider using some alternative types of flooring for easy maintenance. Concrete flooring, for example, is a modern choice that's relatively inexpensive and easy to care for. Concrete can be stamped, stained, dyed, or glossed to create a myriad of looks. It can mimic tile without accruing grout problems, or it can be coloured and glazed to resemble water or granite.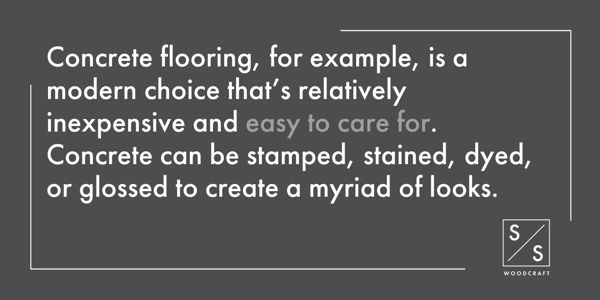 The more industrial homeowner might even prefer the look of plain concrete. A concrete floor can fit with almost any kitchen design, and the cleaning process is simple. If you want a lasting, unique material for your floor, consider going with concrete.


3. Streamline Your Cabinets
As time goes on, simple cabinets will be the easiest to clean. Think flat, slab-style cabinet facings and glossy or semi-gloss paint instead of matte. Though detailed cabinets are attractive, they accumulate dust and grime over time and have to be cleaned regularly. If you truly want a low-maintenance kitchen, then make sure your cabinets don't come with complex detailing that you'll have to clean frequently.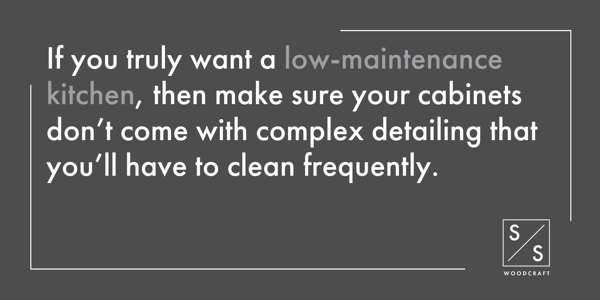 Certain colours and wood grain can even help hide cooking messes, while other finishes show every mark and smudge and need to be cleaned daily. Choose your finish carefully if you want an easy to care for space. Steer clear of pull-free cabinets, as these will accumulate fingerprints quickly.


4. Keep Workflow in Mind
One of the most important aspects of kitchen design is workflow. If you're remodeling your kitchen, make sure your new layout makes it quick and easy to move between your appliances and your sink. Place your trash can near your sink (which should also be close to your dishwasher if you have your workflow planned correctly). This will minimize messes in the long run, and it'll make it easier for you to cook and clean efficiently.
5. Avoid Grout Where Possible
Homeowners often consider going with tile for their kitchen floor or backsplash. Tile is a popular kitchen design addition, but it's not the best low-maintenance option. Consider choosing a quartz or granite slab for a smooth, easy-to-clean backsplash.
If you're set on tile, try to find a design that minimizes grout lines so there's less to clean. The wider the tiles, the more manageable the grout, so keep this in mind when you're going over your options.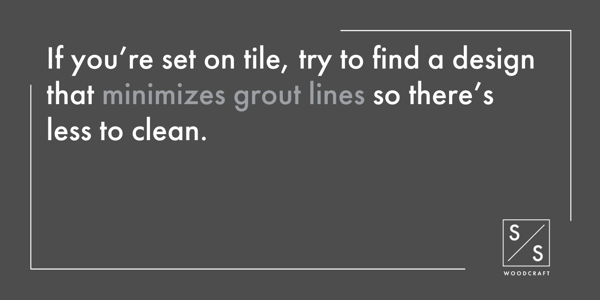 6. Stainless Steel is Your New Best Friend
The explanation is in the name — stainless steel is one of the easiest appliance materials to clean and care for. It also fits in with many different types of kitchen design, often blending into the background so that other features can be front-and-center.
Avoid materials that stain easily — especially anything that's white. A white sink might look pretty at first, but it will quickly accumulate stubborn stains. This also goes for the rest of your appliances. Unless you want to invest in a lifetime supply of magic erasers, choose appliances that are easy to clean.


7. Rethink Gas
Some homeowners aren't willing to compromise on having a gas stove. If this is you, then this next section won't apply. However, if you're not too fussy about your stove, consider going with an electric or convection cooktop. These are much easier to clean since they're flat and don't have all the crooks and crevices of a gas stove. Plus, newer convection stove tops are almost as easy to manipulate as gas stoves, so they're perfect for picky chefs.
If you're willing to think twice about your stove, opt for an electric or convection stove to make cleaning easy.

To Sum it All Up
If a low-maintenance kitchen is a priority for you, consider applying one or all of these tips to your kitchen renovation. Keeping things simple doesn't mean you have to sacrifice quality or great design!
For more advice on crafting the right kitchen for you, reach out to us here at S&S Woodcraft or visit our showroom in Cold Lake, AB (just a short drive from Edmonton!) for ideas.